Crispy on the outside and super soft on the inside with toppings of marinara sauce and fresh mozzarella cheese. This Air Fryer eggplant parmesan will be a super hit in the family. Serve on the side of whole grain pasta for a perfect wholesome healthy meal.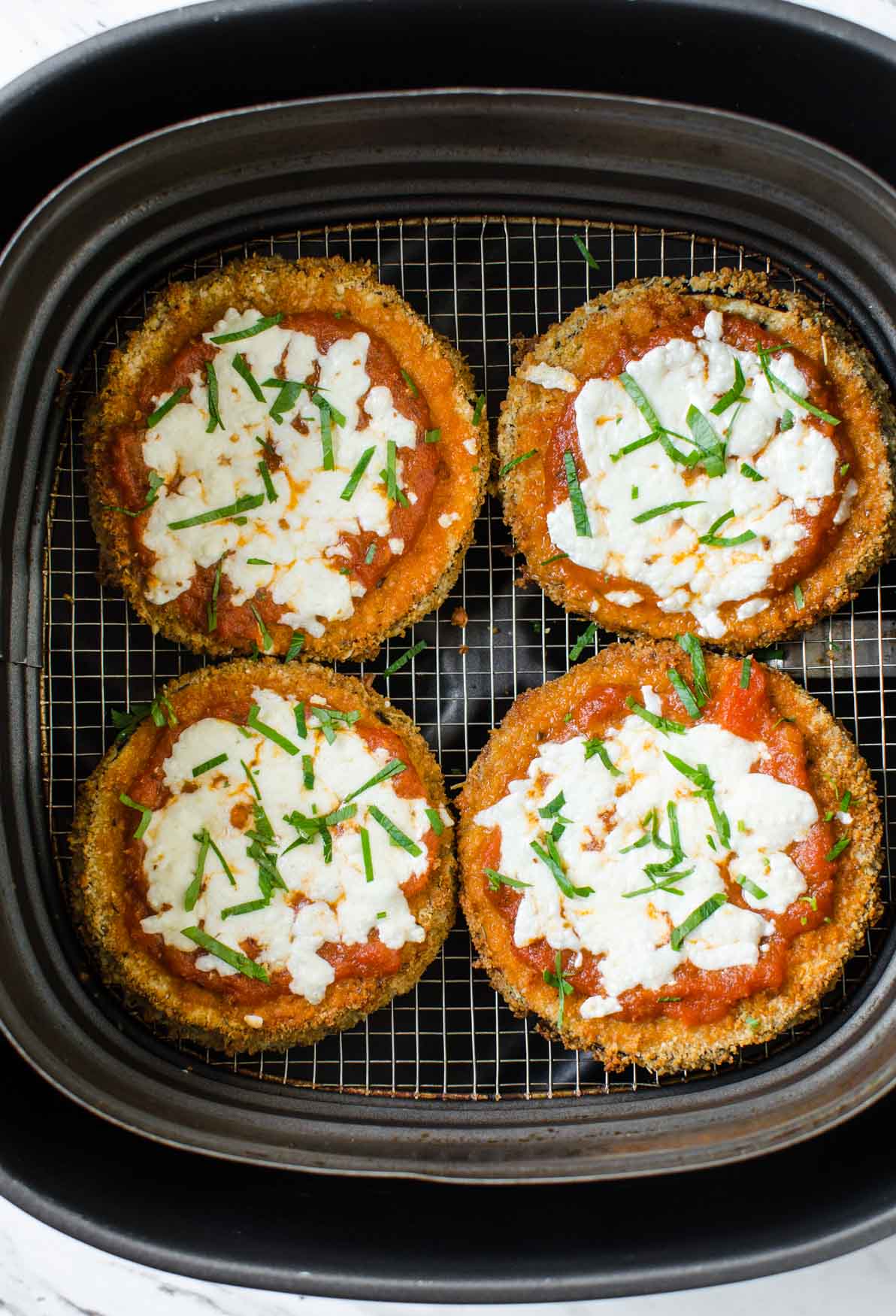 I love eating eggplant parmesan in the restaurants. And, the only thing I don't like about them is the amount of oil that goes into the breaded crust of eggplants. Did you ever notice it?
I never tried making this Italian dish at home until now. But my recent investment in Air Fryer encouraged me to make a healthy version of breaded eggplants. And after trying a lot of recipes in it such as homemade french fries, crispy zucchini fritters in it to name a few, it was not a total surprise how well this eggplant parmesan came out.
Jump to:
How to bread eggplant?
This is a three-step process. Start with cutting thick slices of a large eggplant.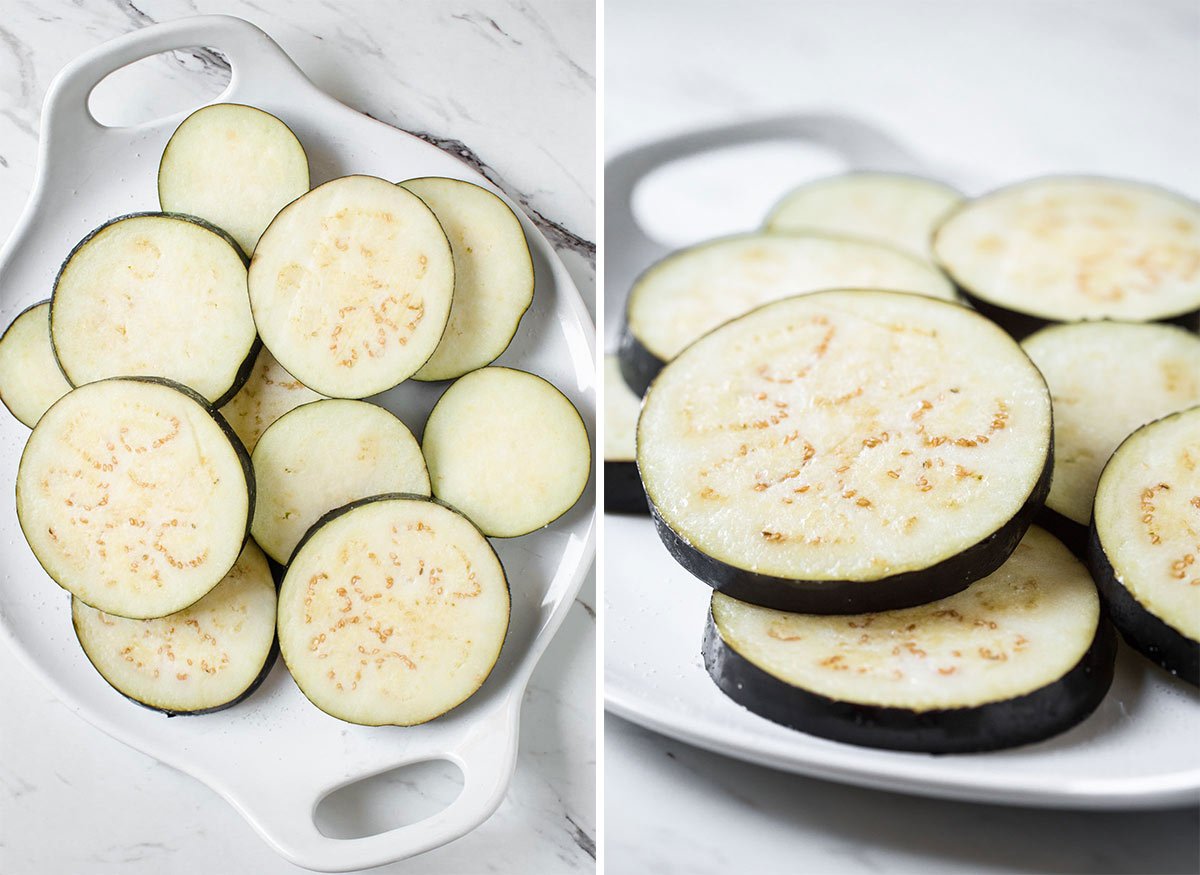 Thinly apply the egg batter on all sides of the eggplant slices. Then put these slices in the breadcrumb mixture and turn around a few times to completely cover them.
Find detailed ingredients list and step-by-step instructions below for making these healthy breaded eggplant parmesan.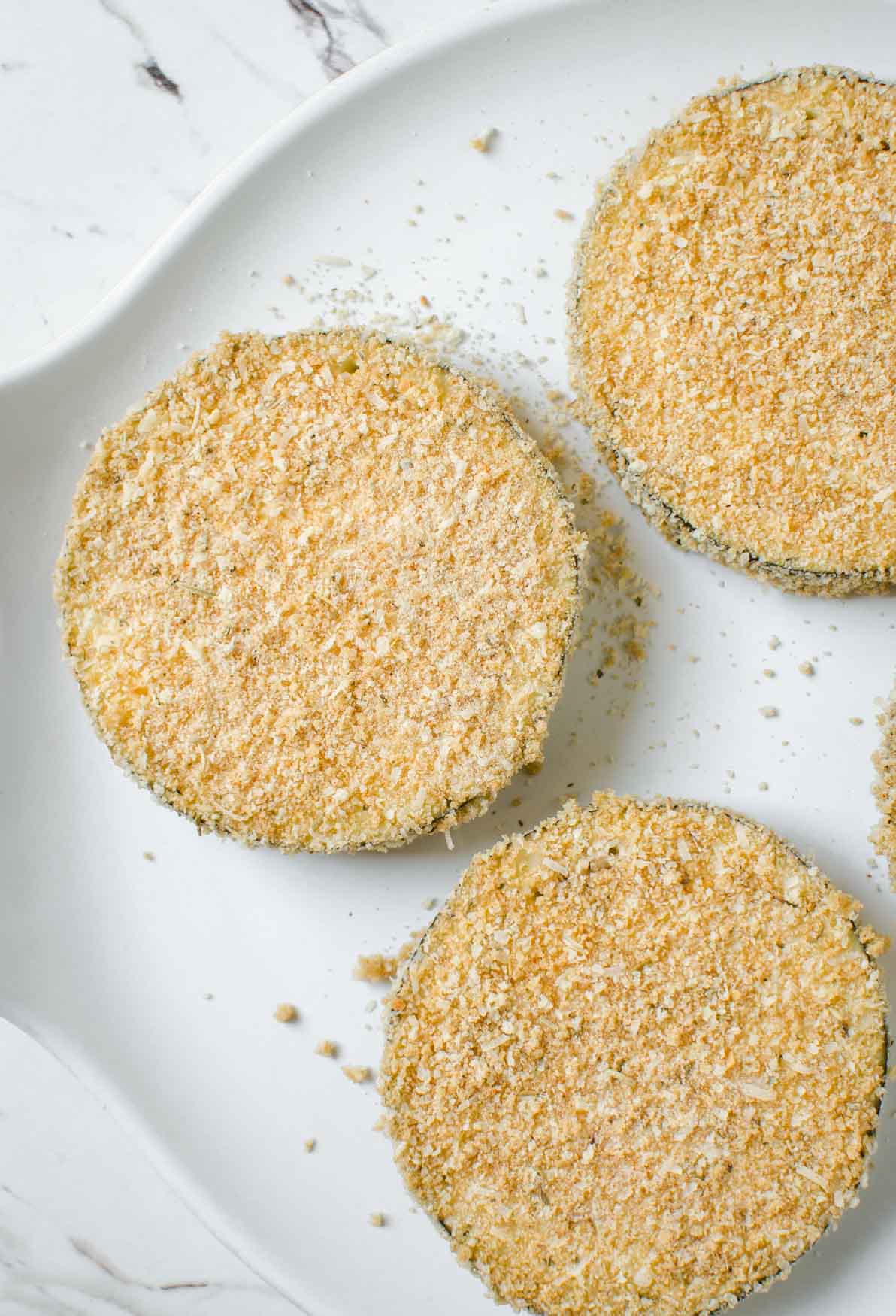 How to make eggplant parmesan in the Air Fryer
Using Air Fryer is very simple for any recipe. Preheat the Air Fryer before placing any food. It hardly takes a few minutes. My Philips XL Air Fryer takes only 3 mins to preheat.
In the preheated Air Fryer place breaded eggplant slices. Lightly spray some olive oil to develop a nice golden brown crust. Once the crust is formed and the eggplant is almost cooked spread some marinara sauce and mozzarella cheese on the top of each slice. Cook further until the cheese melts. Or, simply serve crispy breaded eggplant as an appetizer with some marinara sauce as a dip on the side.
You need to cook eggplant in 2-3 batches depending upon the size of the Air Fryer. Our XL size Phillips Air Fryer can cook four larger slices of the eggplant at a time.
This delicious and healthy eggplant parmesan will make you feel proud about your investment in the Air Fryer!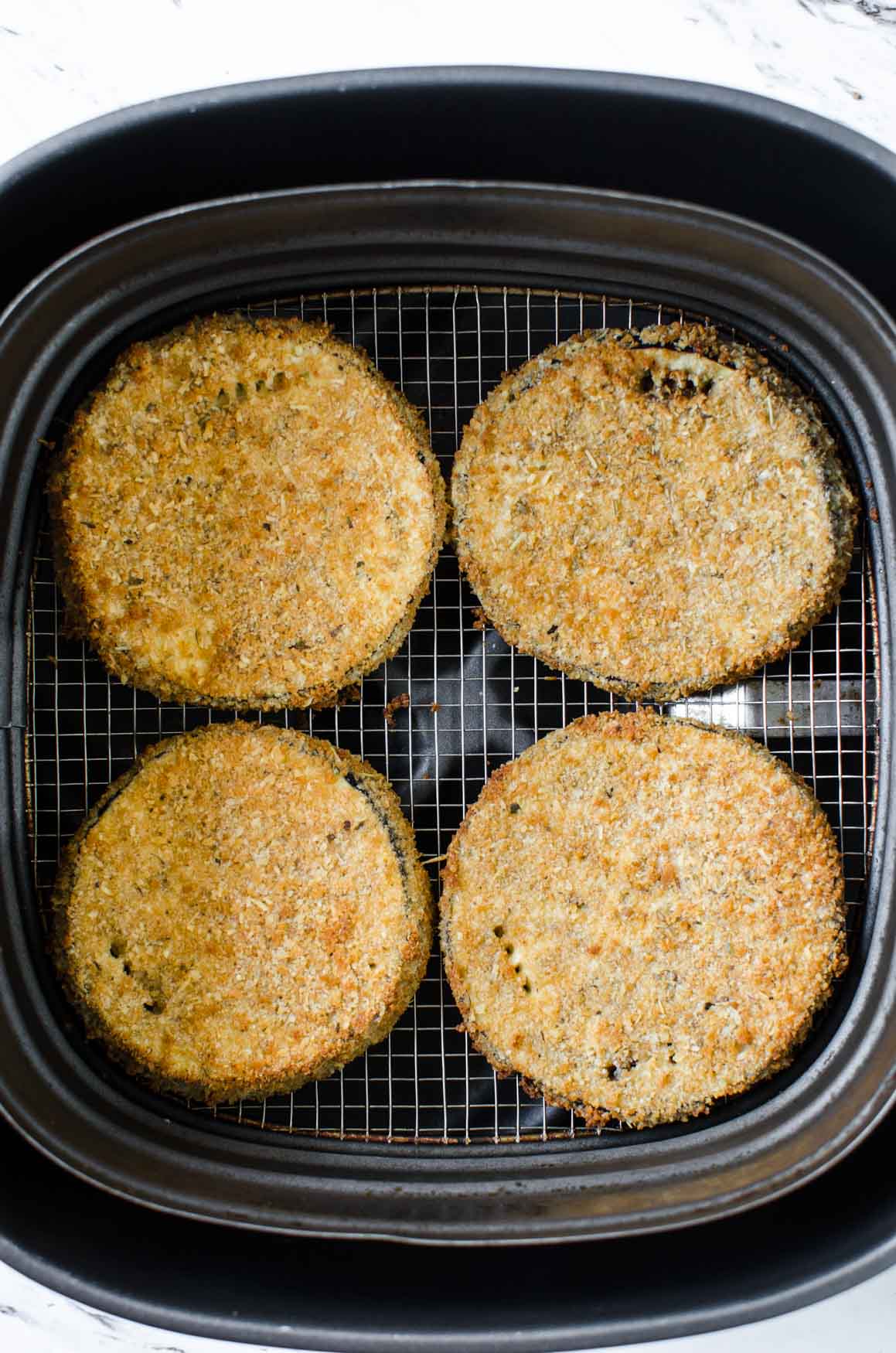 Helpful tips!
Buy organic eggplant if possible. It tastes much better than regular ones.

Use whole wheat bread crumbs to make this dish even more healthy.

To bread the eggplant use fork to hold the eggplant slices. This really makes applying the breadcrumb crust without getting your hands dirty. Insert a fork in the eggplant slice and hold it in one hand. Then using a small clean brush apply a thin layer of egg-flour batter evenly on all sides. Put the battered slice in breadcrumbs and turn it over to coat the breadcrumbs on the other side. Repeat it a few times to apply a nice and even coating.

Use fresh mozzarella cheese on the marinara sauce for a more fresh taste. You can easily find fresh mozzarella in local grocery stores.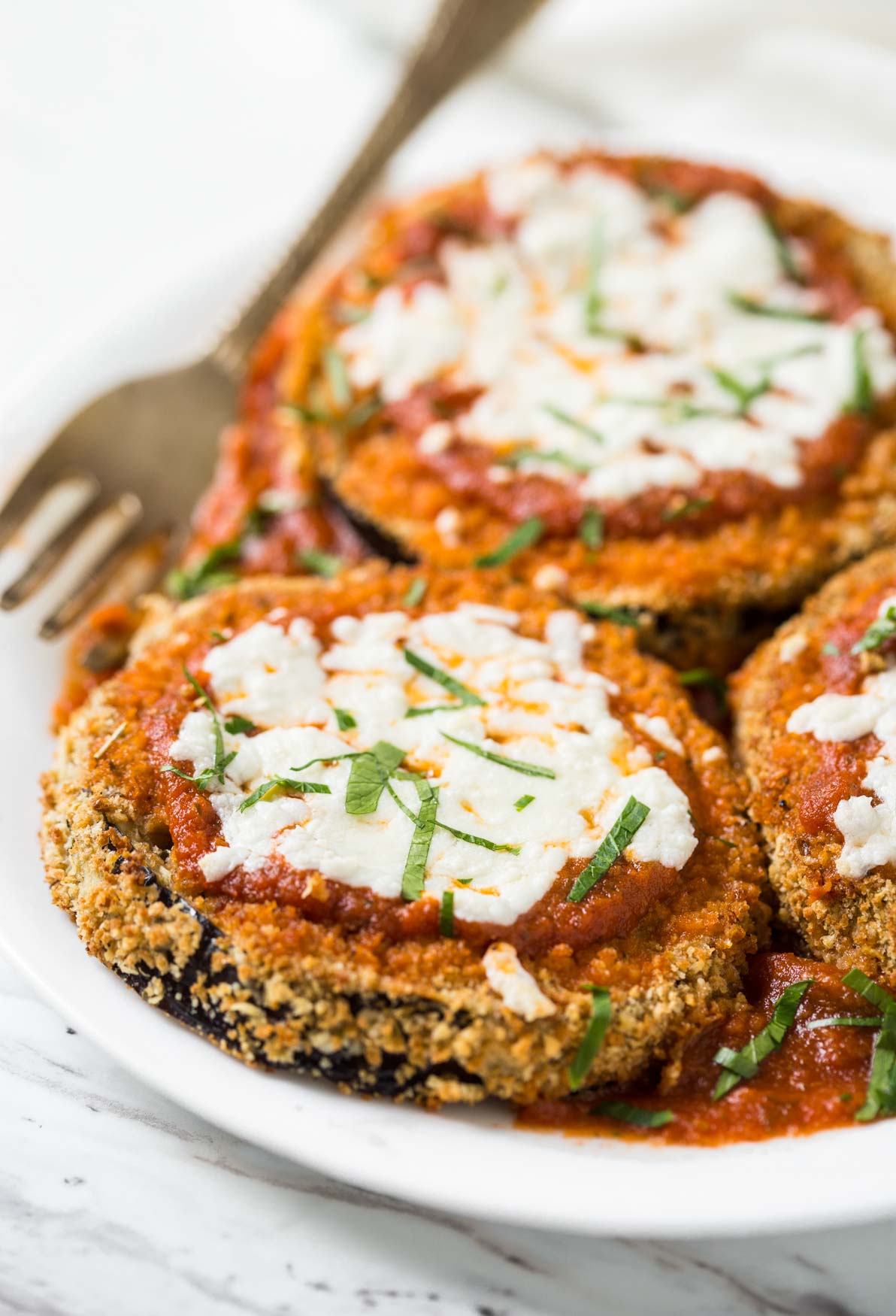 More Air Fryer recipes you will love to try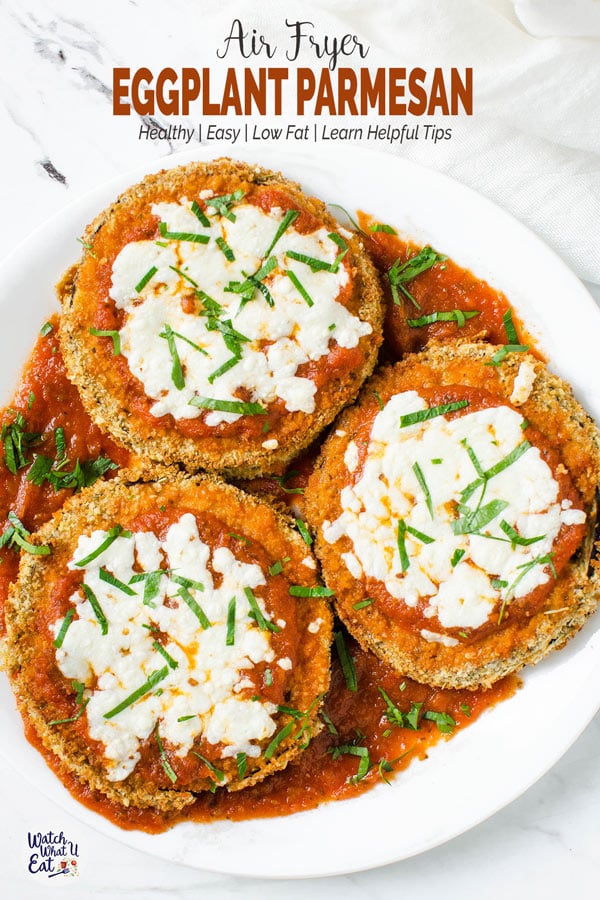 Love this recipe? Please leave a 5-star ⭐⭐⭐⭐⭐ rating in the recipe card below & a review in the comments if you REALLY like this recipe. Thank You!
📖 Recipe
Easy Air Fryer Eggplant Parmesan
Eggplant parmesan fried in Air Fryer for the perfect crispy crust that exactly mimics the deep fried texture. Crusted eggplants topped with marinara sauce and fresh mozzarella cheese. Perfect side dish to try with pasta for a healthy lunch or dinner.
Instructions
Cut eggplant into roughly ½″ slices. Rub some salt on both sides of the slices and leave it for at least 10-15 mins.

Meanwhile in a small bowl mix egg with water and flour to prepare the batter.

In a medium shallow plate combine bread crumbs, parmesan cheese, Italian seasoning blend, and some salt. Mix thoroughly.

Now apply the batter to each eggplant slice evenly. Dip the battered slices in the breadcrumb mix to coat it evenly on all sides. See the helpful tips section above to do this task perfectly.

Place breaded eggplant slices on a clean and dry flat plate and spray oil on them. See notes section for details.

Preheat the Air Fryer to 360F. Then put the eggplant slices on the wire mesh and cook for about 8 min.

Top the air fried slices with about 1 tablespoon of marinara sauce and lightly spread fresh mozzarella cheese on it. Cook the eggplant for another 1-2 min or until the cheese melts.

Serve warm on the side of your favorite pasta.
Notes
Rubbing some salt to eggplant slices ahead makes it leach out the water from the inner cells. This step makes eggplant soft when cooked.
First, spray oil on the breaded eggplant slices when stored in the plate. Then put the oiled side down on the wire mesh of the Air Fryer. Now spray oil to cover the other side. This way both sides of the eggplant will have an even brown color when cooked.
I cook the parmesan-crusted eggplants in two batches. Our Phillips XL Air Fryer holds 4 large slices at a time.
If you prefer meat you will also love this Chicken Parmesan In the Air Fryer.
 
Nutrition
Tried this recipe?
Tag us on Instagram @watchwhatueat or tag #watchwhatueat! OR leave us a comment & rating below. Your feedback is very important to us.