Super soft melt-in-mouth texture of these healthy ground turkey meatballs, along with creamy, delicious gravy, makes this dish into a satisfying meal.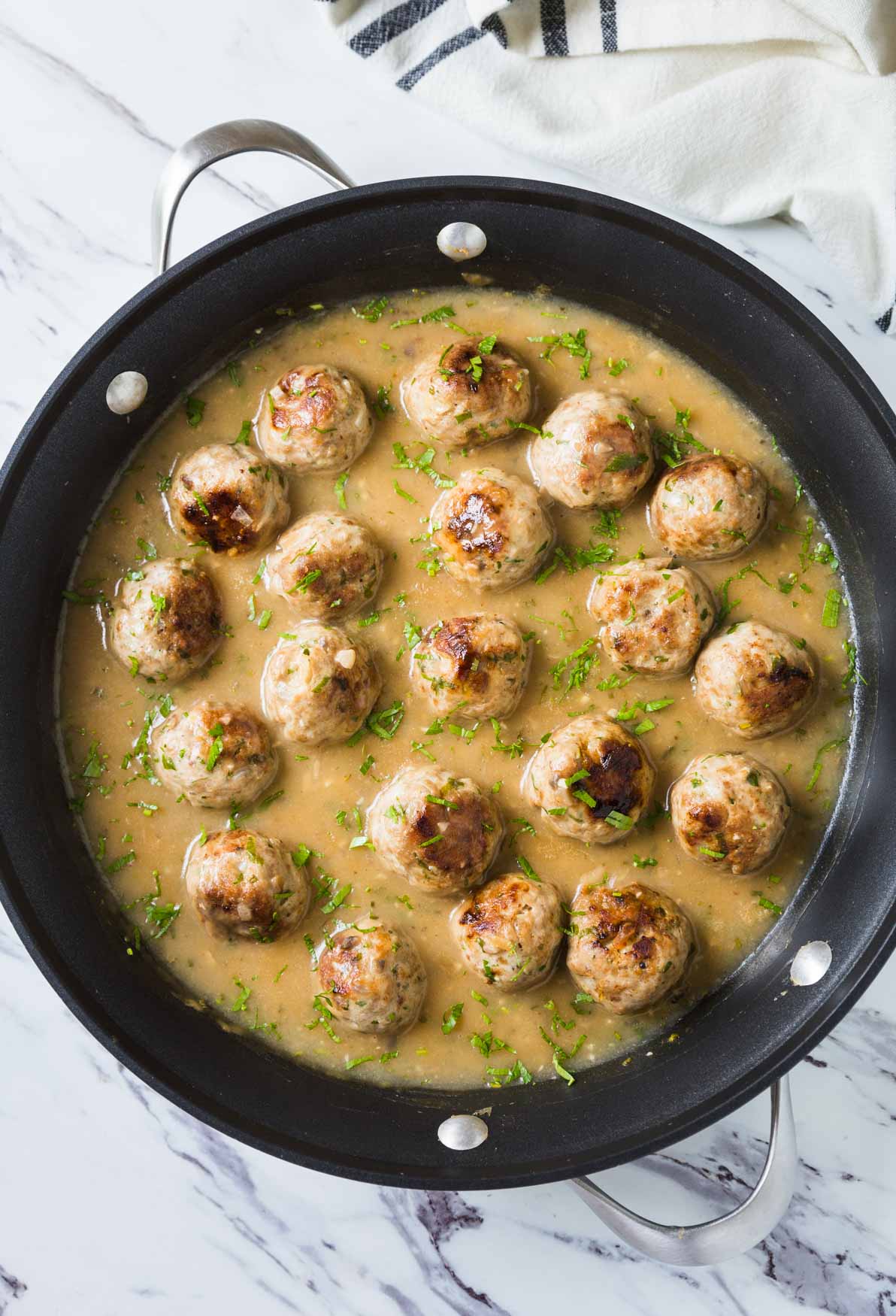 Turkey meat is considered to be low in saturated fat and cholesterol, unlike red meat. So it's a perfect alternative for incorporating in a healthy eating lifestyle.
This white meat perfectly blends with different spices that bring out a delicious aroma and taste. For example, during a grilling season, you can make grilled mini turkey meatloaves that are perfect appetizers and prepare turkey chili for cold nights. Or make them into meatballs that can be served as appetizers or in a creamy sauce to pair with side dishes like pasta, polenta or grits, etc.
Here I am sharing with you these healthy turkey meatballs in mushroom gravy.
Jump to: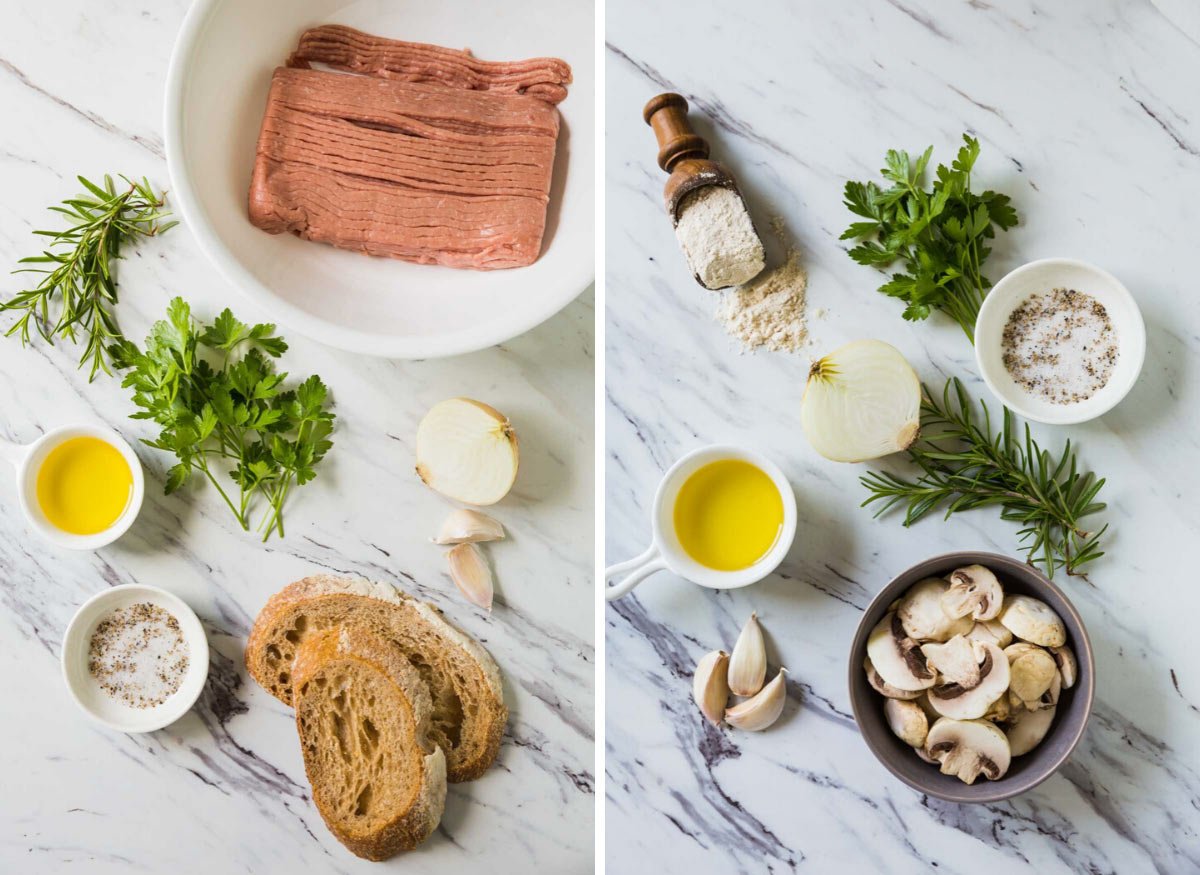 Ingredients
Ground turkey meat – Get organic meat whenever possible
Fresh bread slices – give a super soft texture to meatballs
Onion – chop them finely
Garlic – chop or mince finely
Fresh herbs – use fresh parsley and rosemary. Chop them finely
Mushrooms – finely chopped
Flour – it helps to thicken the gravy
Chicken stock or broth – makes the gravy more flavorful
Salt and pepper – use it according to your taste
How to make turkey meatballs with gravy
Making turkey meatballs in gravy is a two-step process as the name suggests; 1. preparing meatballs using ground meat and 2. cooking delicious gravy to go with it.
Preparing turkey meatballs
In a large mixing bowl, combine ground meat with fresh bread crumbs (see helpful tips below), chopped onion, minced garlic, and fresh herbs like parsley and rosemary. Also, add salt and pepper to taste. Mix everything well to distribute the flavorings in the meat evenly. Divide the mixture into small portions and give them a round shape.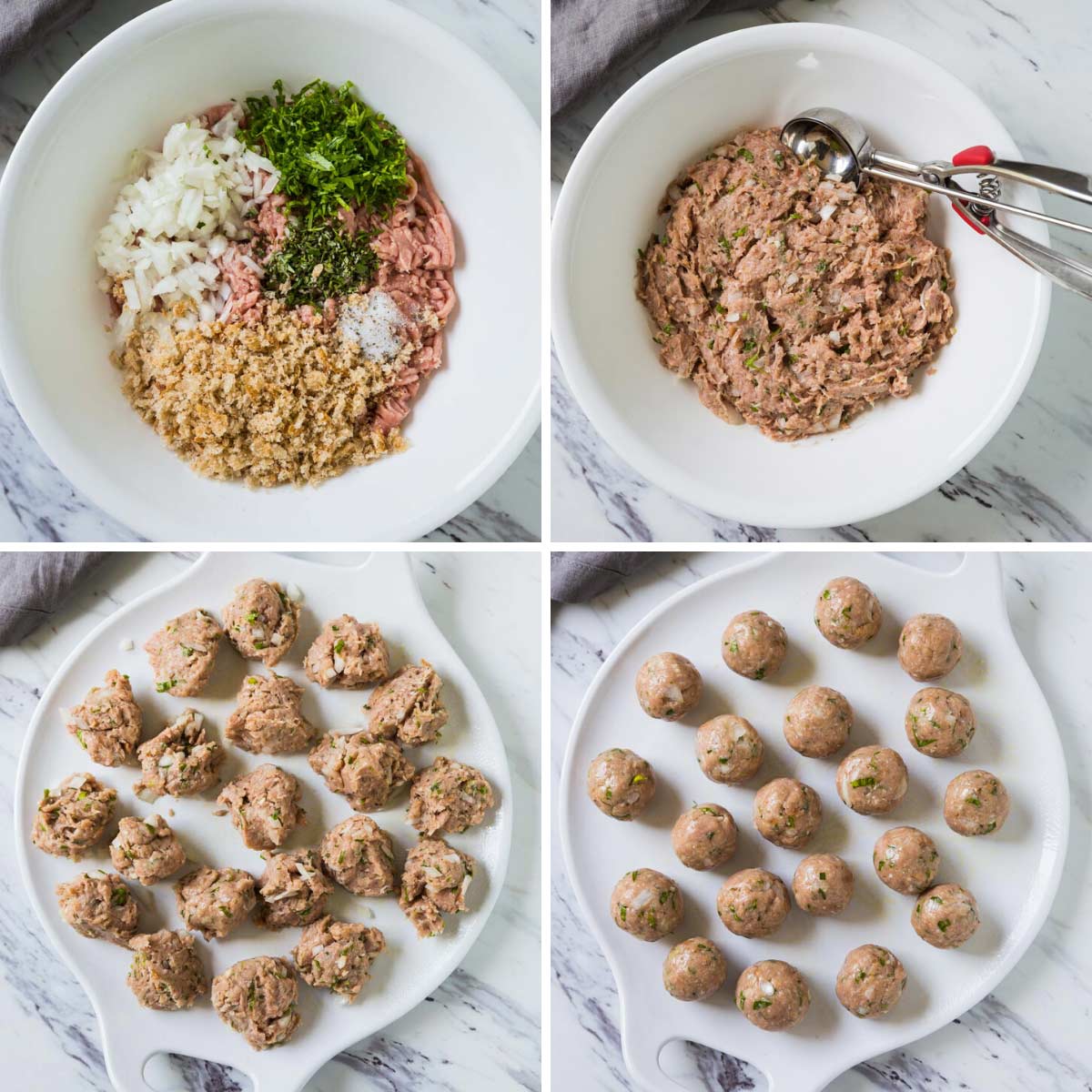 Cooking meatballs on the stove
Heat some oil in a large frying pan or skillet. Place the prepared meatballs leaving some space in between, and cook them until well done. Once done, take them out and keep them aside. Find detailed instructions and helpful tips below.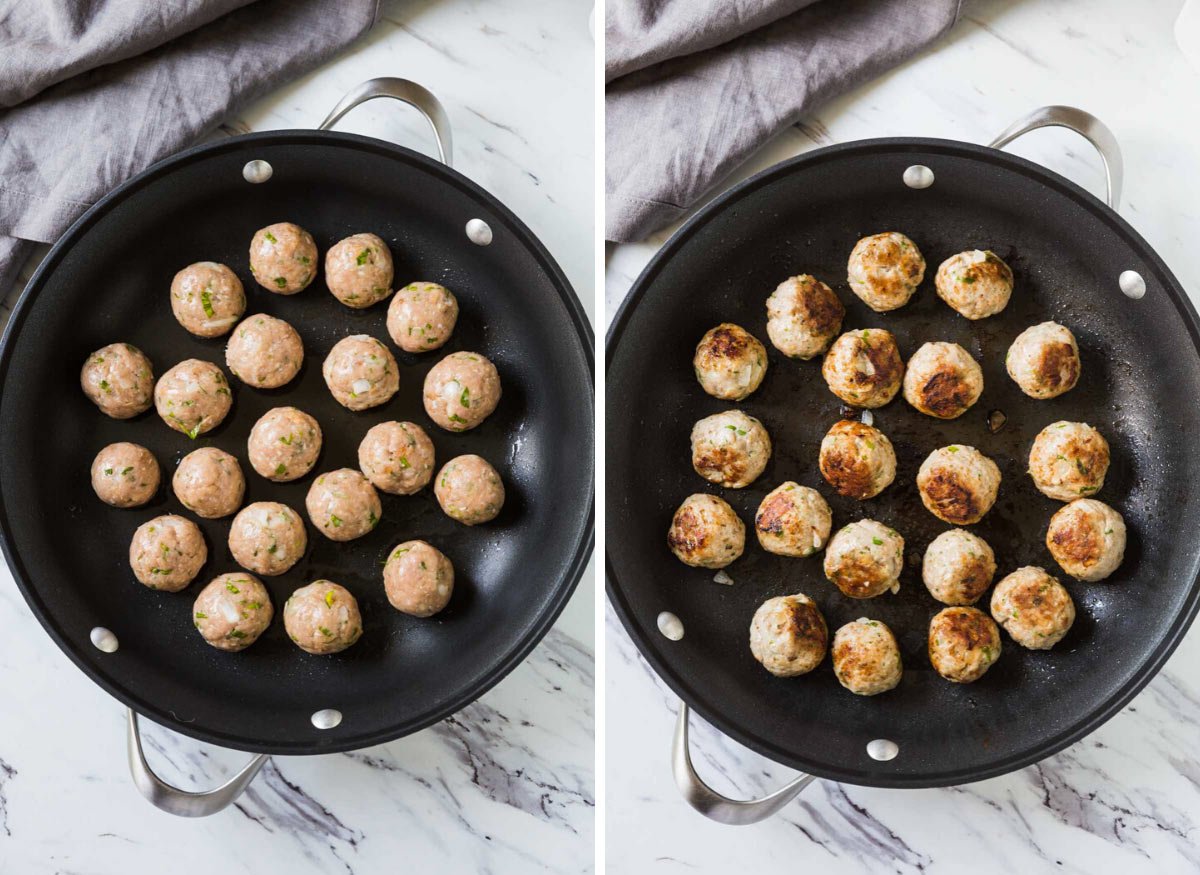 How to make mushroom gravy
After cooking the meatballs, add garlic, onion, and chopped mushrooms to the same pan and cook for a few minutes. Then add some flour and cook the mixture for another couple of minutes. Slowly add the chicken stock and simultaneously mix everything using a whisk. Bring the mixture to a boil and then simmer on low heat for a few minutes.
Finally, add cooked meatballs, some fresh herbs, salt, and pepper to taste. Mix well, cover, and simmer for another minute or so. Turn off the heat and keep covered.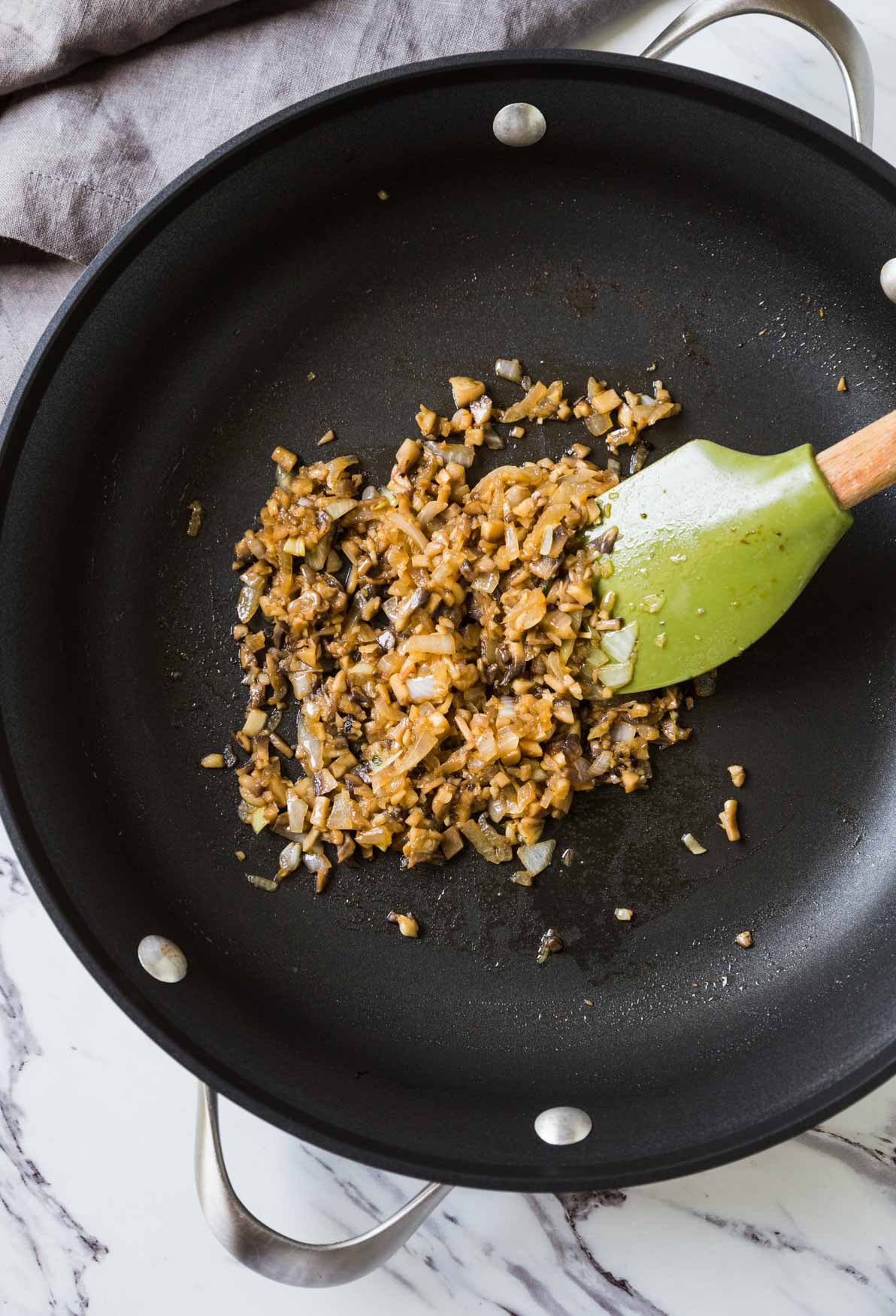 Learn helpful tips!
Buy organic turkey meat whenever possible.
Finely chop the bread slices or pulse them in a food processor to make into soft bread crumbs. These fresh bread crumbs help to bind and give a soft texture to the turkey meatballs.
Do not cook the meatballs for a longer time. Overcooking the meat makes them chewy and tough in texture.
Use a metal cookie scoop to divide the meat mixture into equal parts. Put these small portions of the meat on parchment paper or a large plate, whichever is available. Spray some oil over the divided meat, or rub some oil on your palms. Then turn each meat portion into a round shape. The oil helps to roll the meatballs without sticking them to your hands.
You can also add an egg to the ground turkey mixture in this recipe. It helps to bind the meatballs and make them moist.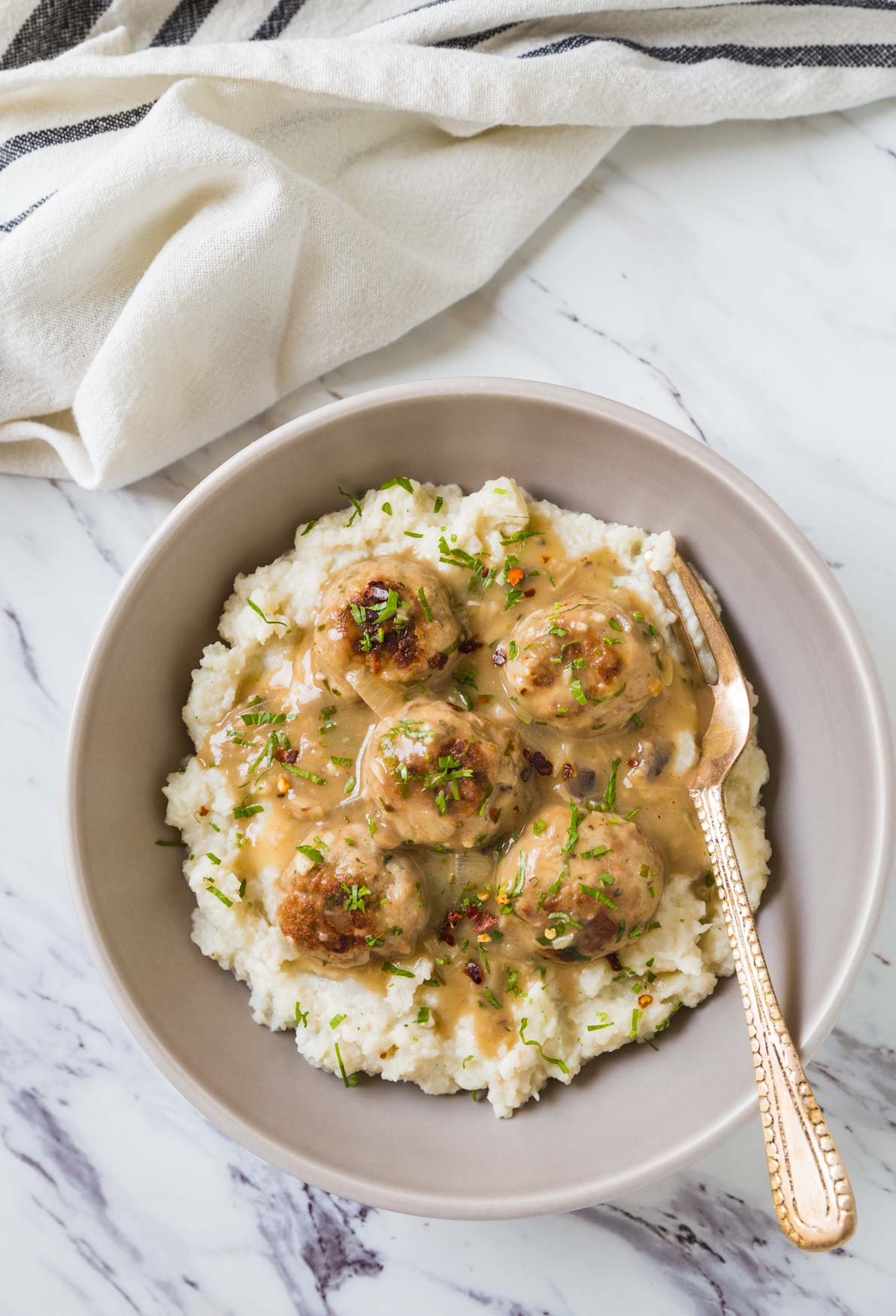 What goes well with turkey meatballs

FAQs
How to make turkey meatballs moist?
Adding freshly chopped bread or fresh bread crumbs to the ground meat helps to make the meatballs moist and soft in texture. You can also add an egg along with the bread crumbs to the mixture to get a moist texture. 
How do you know when turkey meatballs are done?
When the center of the meatballs is no more pink, you can safely say that they are cooked. For this, you have to cut open a meatball in half to check the center.

You can also use a thermometer to check when it reaches 165 F at the center of the meatballs if they are well done and safe to eat. 
Are turkey meatballs healthy?
Yes! They are a very good source of protein. Turkey meat is lean with less fat compared to red meat. Moreover, these meatballs are cooked in a frying pan with very little oil. 
You will also love these non-traditional Thanksgiving recipes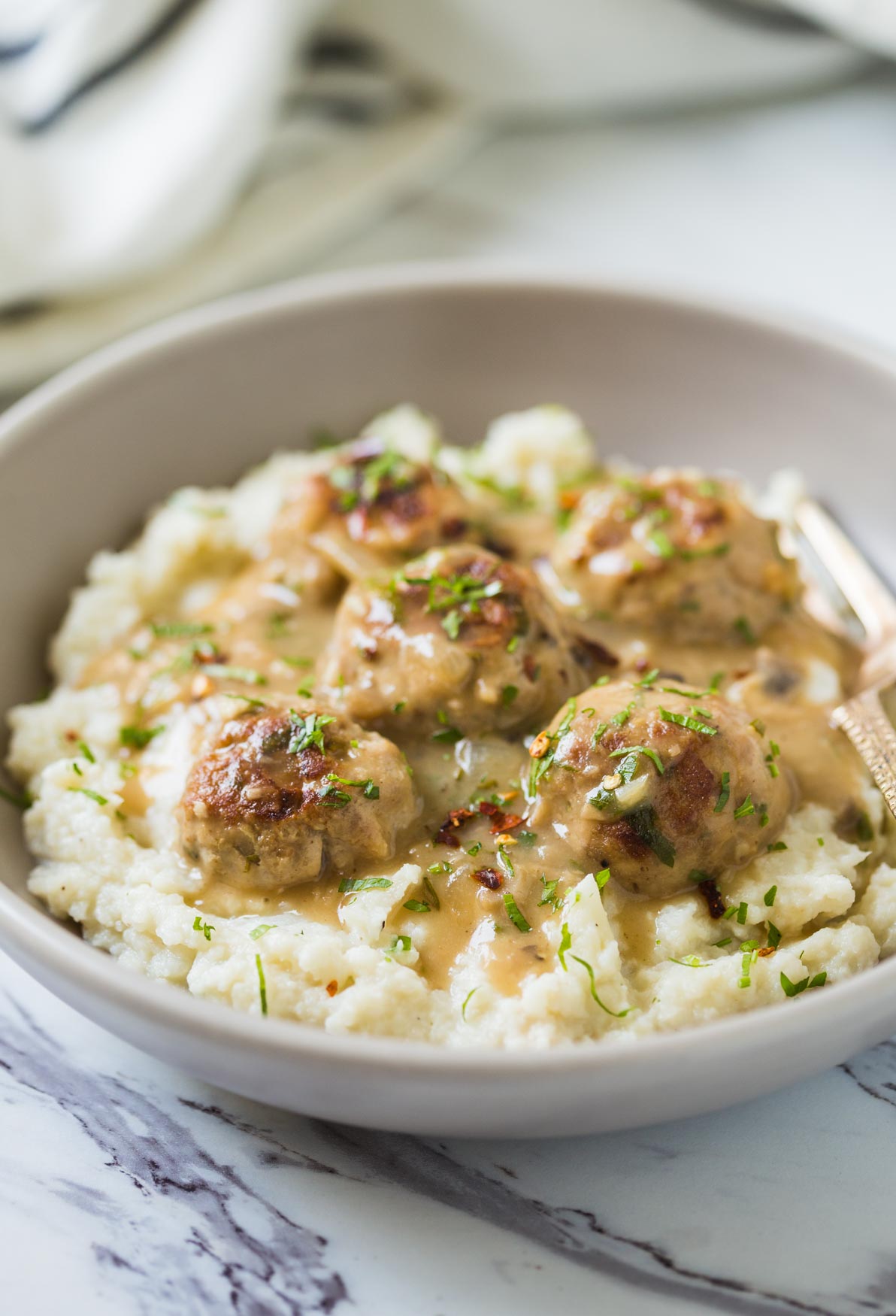 Love this recipe? Please leave a 5-star ⭐⭐⭐⭐⭐ rating in the recipe card below & a review in the comments if you REALLY like this recipe. Thank You!
📖 Recipe
Healthy Turkey Meatballs With Gravy
These moist & melt-in-mouth healthy turkey meatballs with gravy will make you love lean turkey meat. Also, learn unique tips on making healthy meatballs at home.
Ingredients
Turkey Meatballs
1

lb

ground turkey

2

bread slices

½

small onion finely chopped

1

teaspoon

freshly chopped parsley

2

garlic cloves finely minced

1

teaspoon

freshly chopped rosemary

salt and pepper

1

tablespoon

cooking oil
Gravy
2-3

garlic cloves minced

½

small onion finely chopped

½

cup

finely chopped mushrooms

3

tablespoon

whole wheat flour

1

teaspoon

freshly chopped parsley

1

teaspoon

freshly chopped rosemary

3

cup

chicken stock

or half stock or half water

salt and pepper
Instructions
Making Turkey Meatballs
Cut bread slices into large pieces. Pulse them in a blender or food processor to make them into crumbs.

In a large mixing bowl combine ground turkey, fresh bread crumbs, onion, parsley, minced garlic, chopped rosemary, salt, and pepper. Mix everything well.

Roughly divide the mixture into 20 parts and form them into small meatballs (see helpful tips or notes).

Heat oil in a large skillet. Place meatballs keeping some distance in between

Cover the pan and cook for about 3 minutes. Flip the meatballs, cover and cook for another 3 minutes.

Once done take them out
Making Gravy
In the same pan add garlic, onion, and mushrooms. Cook them for 3-4 minutes. Add more oil if necessary.

Then add flour and cook the mixture for another 1-2 minutes.

Now slowly add chicken stock. Simultaneously mix continuously using a whisk.

Bring mixture to boil. Cover and cook the gravy on low heat for about 5 minutes.

Finally add meatballs, herbs, salt, and pepper. Mix well, cover and cook for about one minute.

Take it out from the heat and keep covered until serving.
Notes
You can also use all-purpose flour for making gravy instead of whole wheat flour
If you are using a non-stick frying pan or skillet then make sure to use silicone whisk to prevent scratching.
Use metal cookie scoop or meatball maker to divide the ground turkey mixture and make uniform sized meatballs
Nutrition
Tried this recipe?
Tag us on Instagram @watchwhatueat or tag #watchwhatueat! OR leave us a comment & rating below. Your feedback is very important to us.