This healthy baked chicken and vegetables with rainbow colors will make you fall in love with this recipe. It is a one-pan chicken dish cooked in the oven in under 30 mins. Filling, satisfying and loaded with all the goodness from fresh veggies.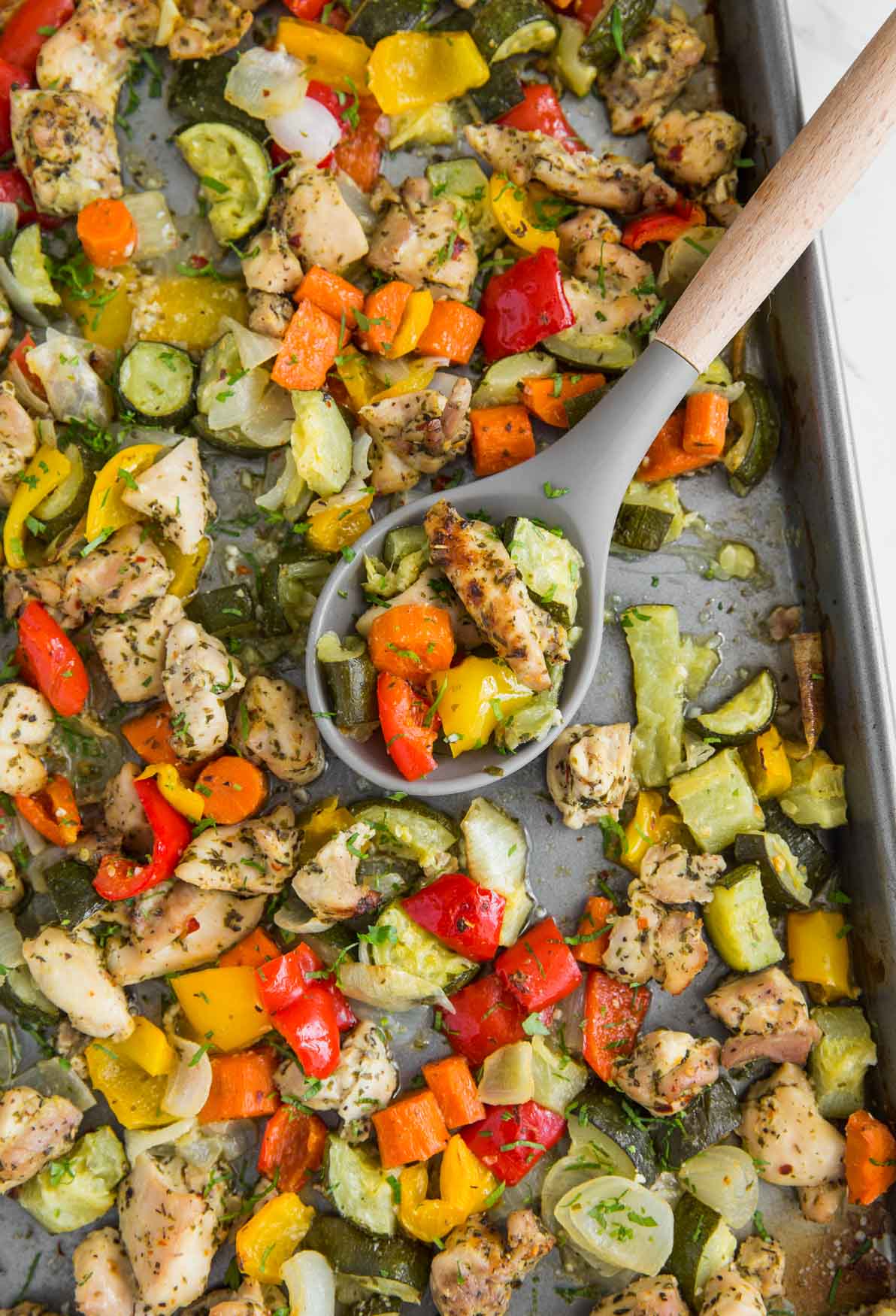 This oven-baked chicken and veggies recipe is a variation of one pan salmon and vegetables that I published a few months back. So by any chance, if you want to make a seafood version of this awesome dish then you can simply click on the link above. Otherwise, continue reading…
Here, I repeat myself again as to how much I am in love with one-pan recipes. This healthy baked chicken and vegetables with multi-colors is sure to be your favorite. It is a one-pan chicken dish cooked in the oven in under 30 mins. Less mess, less cleanup blah blah!!!
Seriously, I am not going to say any more about how much I love one-pot dishes. Let's get to the recipe now!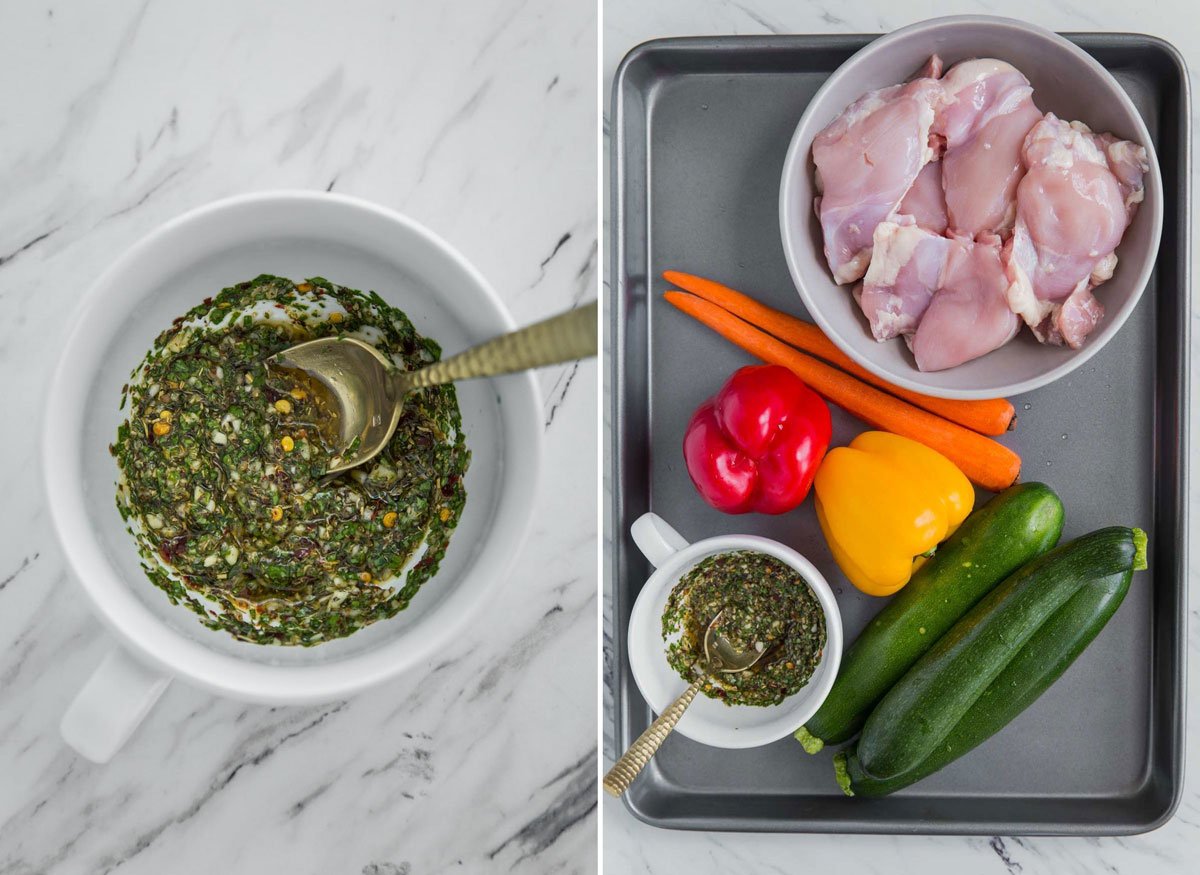 What you will need for making healthy chicken and vegetables
chicken thighs – use boneless and skinless, cut into bite-size pieces
fresh vegetables – use a variety of vegetables like carrot, bell peppers, and zucchini, etc. dice them all into 1″ long pieces
onion – peel and dice into 1″ long pieces
fresh parsley – clean and chop it finely
garlic cloves  – mince it
spice blend – use Italian seasoning, black pepper, red chili flakes, and salt
olive oil – I use extra virgin olive oil.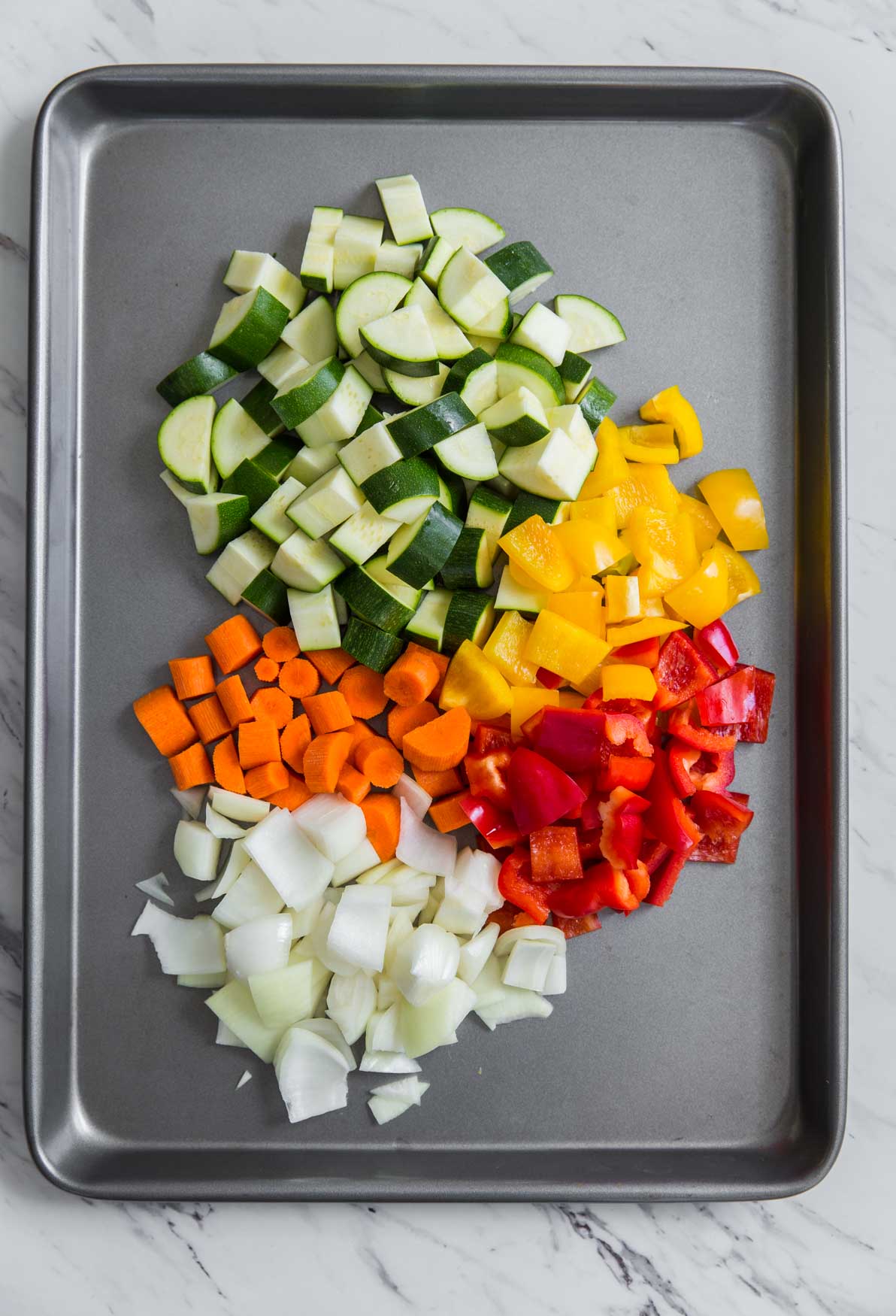 How to make oven baked chicken and veggies?
In a small bowl, mix garlic, parsley, olive oil, and dry spice blend including salt.
On a large baking sheet add onion and diced vegetables like carrot, bell peppers, and zucchini.  Also, add chicken pieces. Then mix the chicken and vegetables with prepared garlic, oil and herb mixture to coat them evenly. Spread them on to the sheet in a single layer.
Bake veggies and chicken in the preheated oven until well done. Once the cooking is done, garnish with more fresh parsley and serve warm. Find instructions in detail below.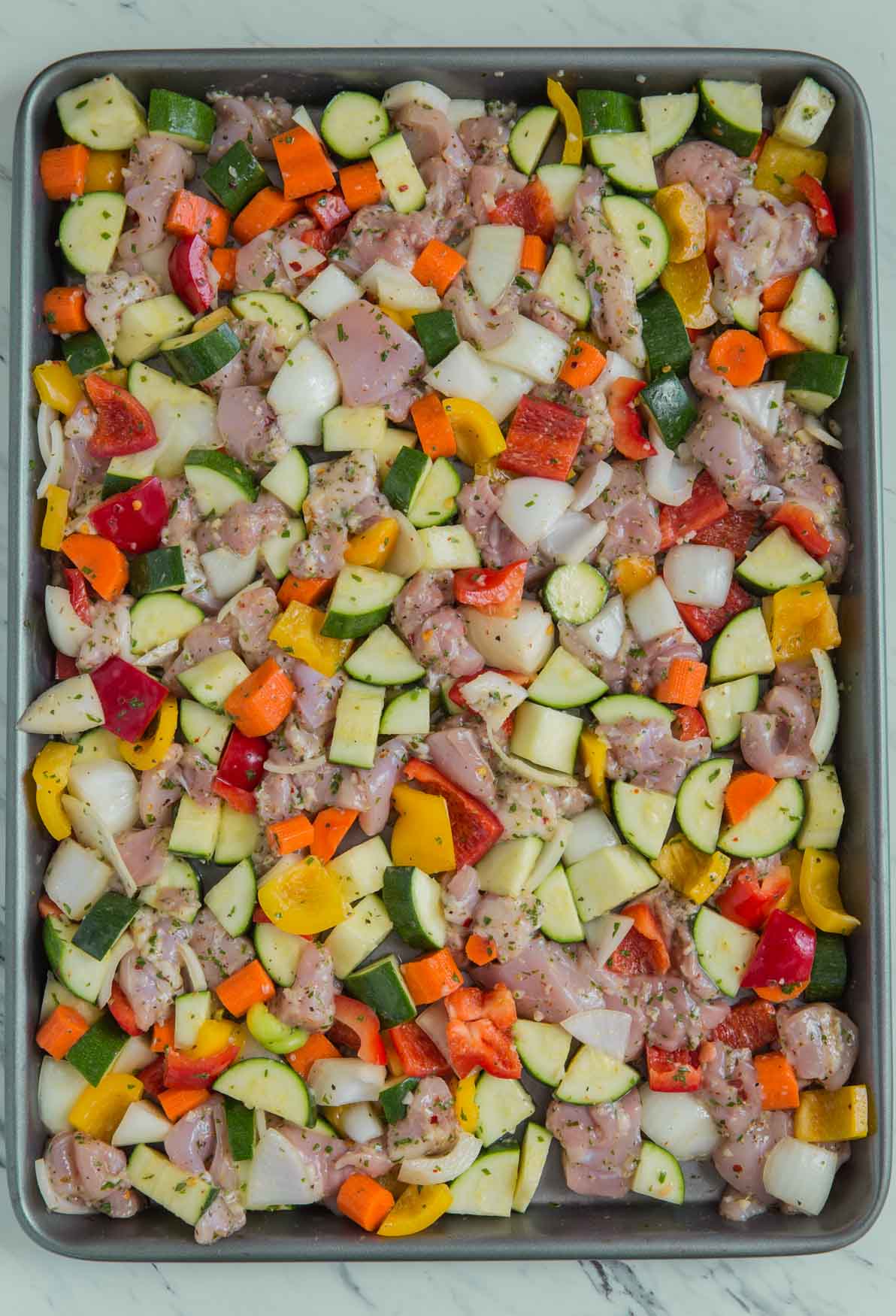 Helpful Tips!!
Buying chicken – buy organic, hormone-free, pasture-raised chicken whenever possible. Here I used boneless and skinless chicken thighs. However, you can also use breast pieces if you prefer. Boneless chicken takes less time to cook compared to bone-in.
Use a sharp knife for cutting the chicken. It will take less time and effort to cut the chicken into your desired size.
Cut all the vegetables to roughly the same in size. These veggies will then cook evenly.
Use a large baking sheet (I use 12 X 17″ size) for this recipe. It will make your life easier to spread out the chicken and vegetables evenly in a single layer.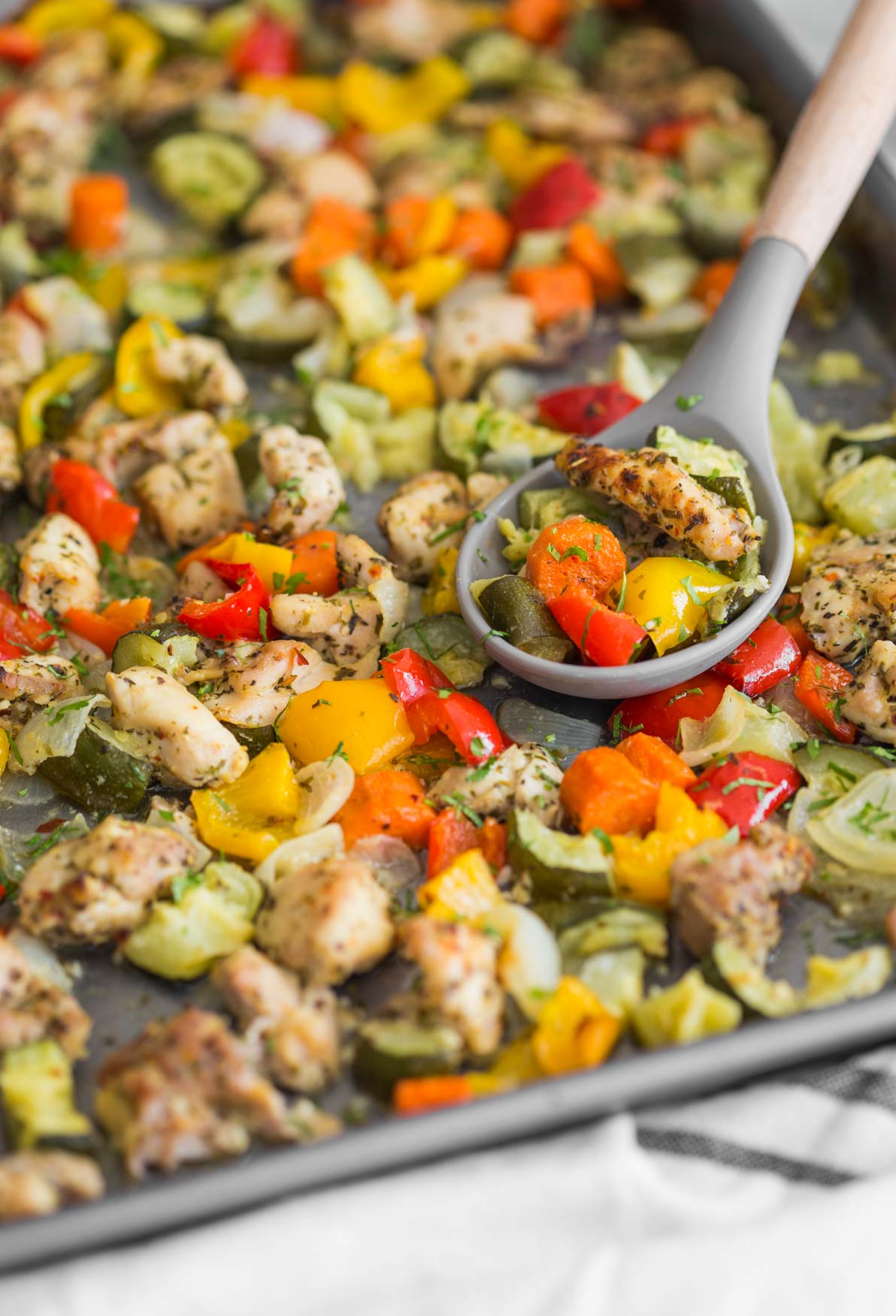 You will also love these more chicken recipes
One Pan Baked Chicken And Vegetables
A variety of vegetables and chicken rubbed with spices, garlic, and herbs and then cooked in the oven for the roasted taste. An awsome dinner with full of flavors and healthy ingredients that you can make on weeknights.
Ingredients
6

small chicken thighs

boneless and skinless cut into bite-size pieces

3

medium carrot

peeled

1

red and yellow pepper each

3

medium zucchini

1

large onion

2-3

tablespoon

chopped fresh parsley

2

large garlic cloves

finely chopped

1

teaspoon

Italian seasonings mix

½

teaspoon

red chili flakes

1 ½

tablespoon

olive oil

1

tablespoon

lime juice

Salt and pepper
Instructions
Preheat the oven to 400F.

In a small mixing bowl combine parsley, garlic, Italian seasoning mix, chili flakes, oil, lime juice, salt, and pepper. Mix well and keep it aside.

Cut carrots, peppers, zucchini, and onion into roughly 1" pieces. Spread them on a baking sheet pan. Also, add chicken pieces to the pan.

Then add the garlic and herbs mixture. Using hand mix thoroughly to coat the chicken and vegetables.

Spread the chicken and veggie mixture evenly on the baking pan and cook them in the preheated oven for 20 min. Then using a long spatula, stir the mixture and cook for another 10-15 mins.

Finally, garnish with some fresh parsley and serve warm.
Notes
Disclaimer: Vegetables in this recipe won't be crunchy--they will be tender. Vegetables will be perfectly ready in the first 20-25 min of cooking. However, in order to evaporate the water from the chicken completely, and get the roasted color and texture, it takes 30-35 min in total. That's the reason your veggies would get slightly overcooked. However, it doesn't affect the deliciousness of this dish.
You can also use chicken breasts instead of chicken thighs. It may take less time to cook compared to thighs.
You can skip the red chili flakes if you don't prefer it.
We always purchase organic chicken. And about 6 small pieces of chicken thighs roughly weighs 1 ½ lb. You can keep a note of this when deciding how many chicken thighs you would use in this recipe. 
Nutrition
Tried this recipe?
Tag us on Instagram @watchwhatueat or tag #watchwhatueat! OR leave us a comment & rating below. Your feedback is very important to us.
This post contains affiliate links. For more information on our Affiliate and Advertising Policy, please click here.