Enjoy authentic Indian flavors in this Healthy Chickpea Tikka Masala. Perfect vegetarian tikka masala for a weeknight meal or to serve in the party.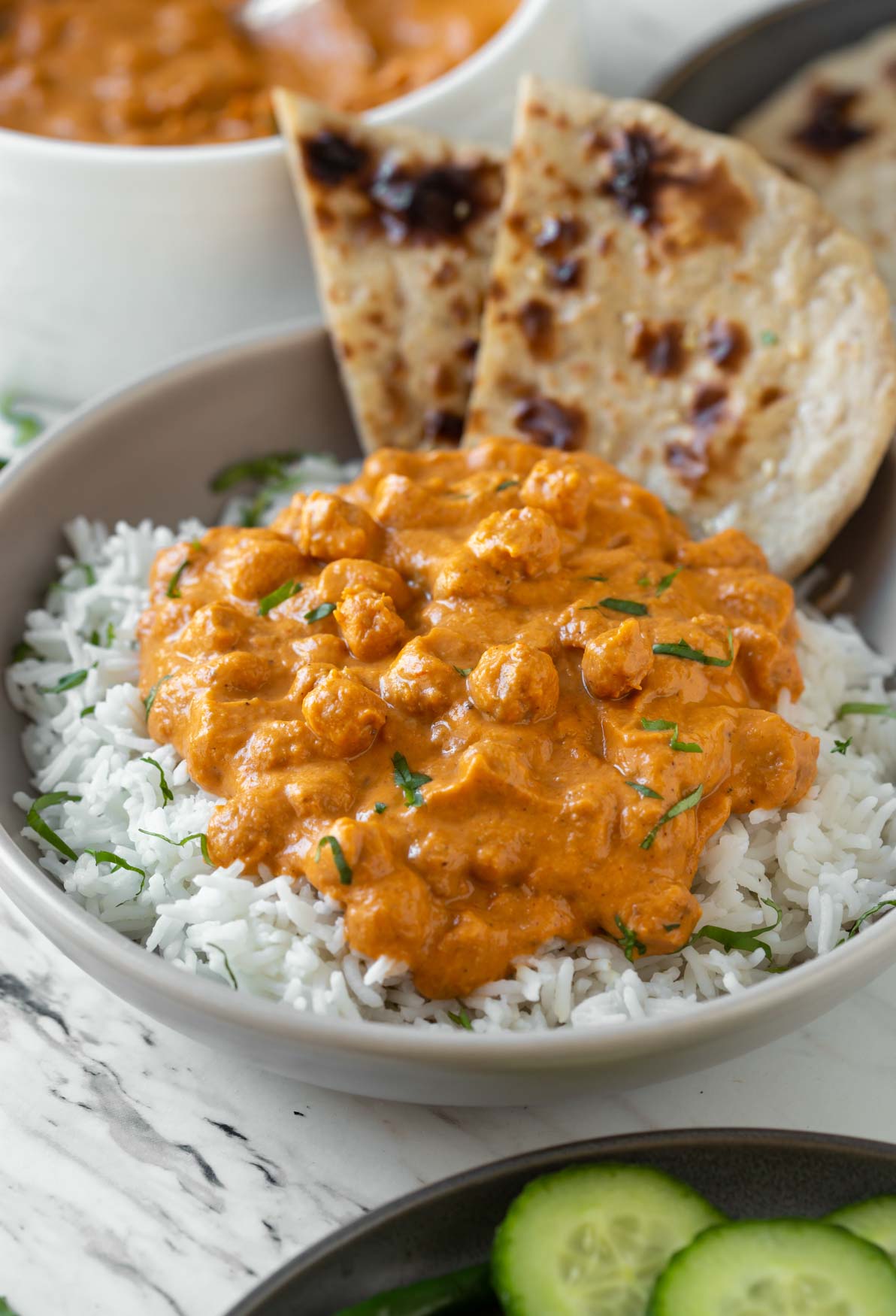 Have you ever tried tikka masala dishes in any Indian restaurant and wonder how they make it? Then you have come to the right place.
Yes, here I am sharing with you our all-time favorite healthy tikka masala recipe. Usually, you will find chicken tikka masala or paneer tikka masala in Indian restaurants. However, going out of the box I make this healthy tikka masala recipe using chickpeas.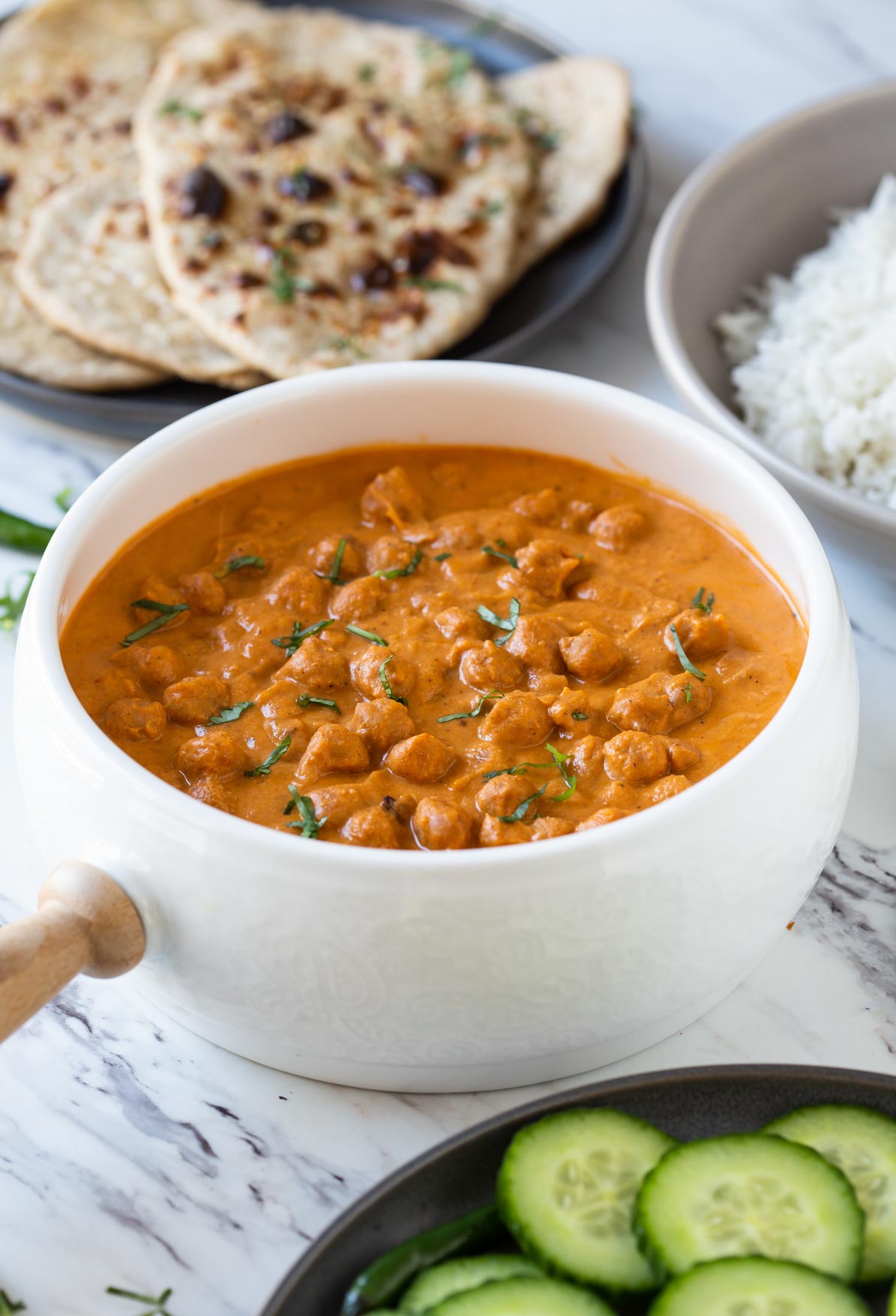 Why chickpeas?
Because chickpeas are among some of the perfect options for making a protein-rich vegetarian and meatless dish. And you still get all the authentic flavors in this tikka masala recipe.
I am sure you won't miss chicken or paneer in this dish. I have made it several times for potluck dinners in the last few months. And every time I got a request to share the recipe from our friends and family.
Let's get started.
How to make Restaurant Style Chickpea Tikka Masala
This recipe involves a two-step process.
1. Making chickpea tikka
In a medium mixing bowl add cooked chickpeas. Mix them with little oil, finely minced fresh garlic and ginger, garam masala, some chili powder, and lemon juice. Also, add salt to taste. Bake these spiced chickpeas in a preheated oven to develop the roasted taste.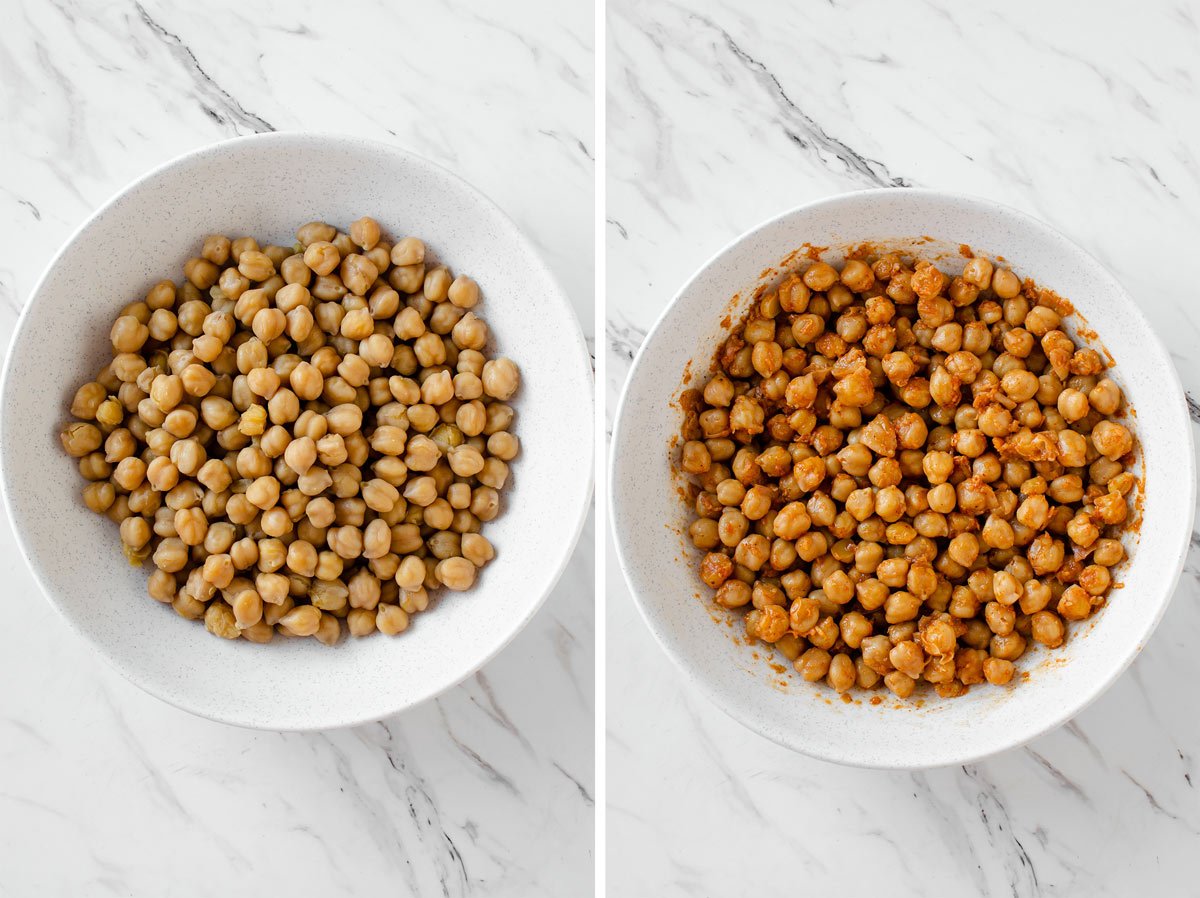 2. Preparing authentic tikka masala sauce
To prepare the sauce cook onion, garlic, ginger, tomato and raw cashews in little oil. At the end add cumin powder and coriander powder. Blend this masala base with water in a blender until smooth. Fry some chili powder in little oil in the frying pan and then add prepared masala. Finally, add some garam masala and salt according to taste. Once the sauce is ready, add toasted chickpeas. Mix well and serve warm.
Find instructions in detail below.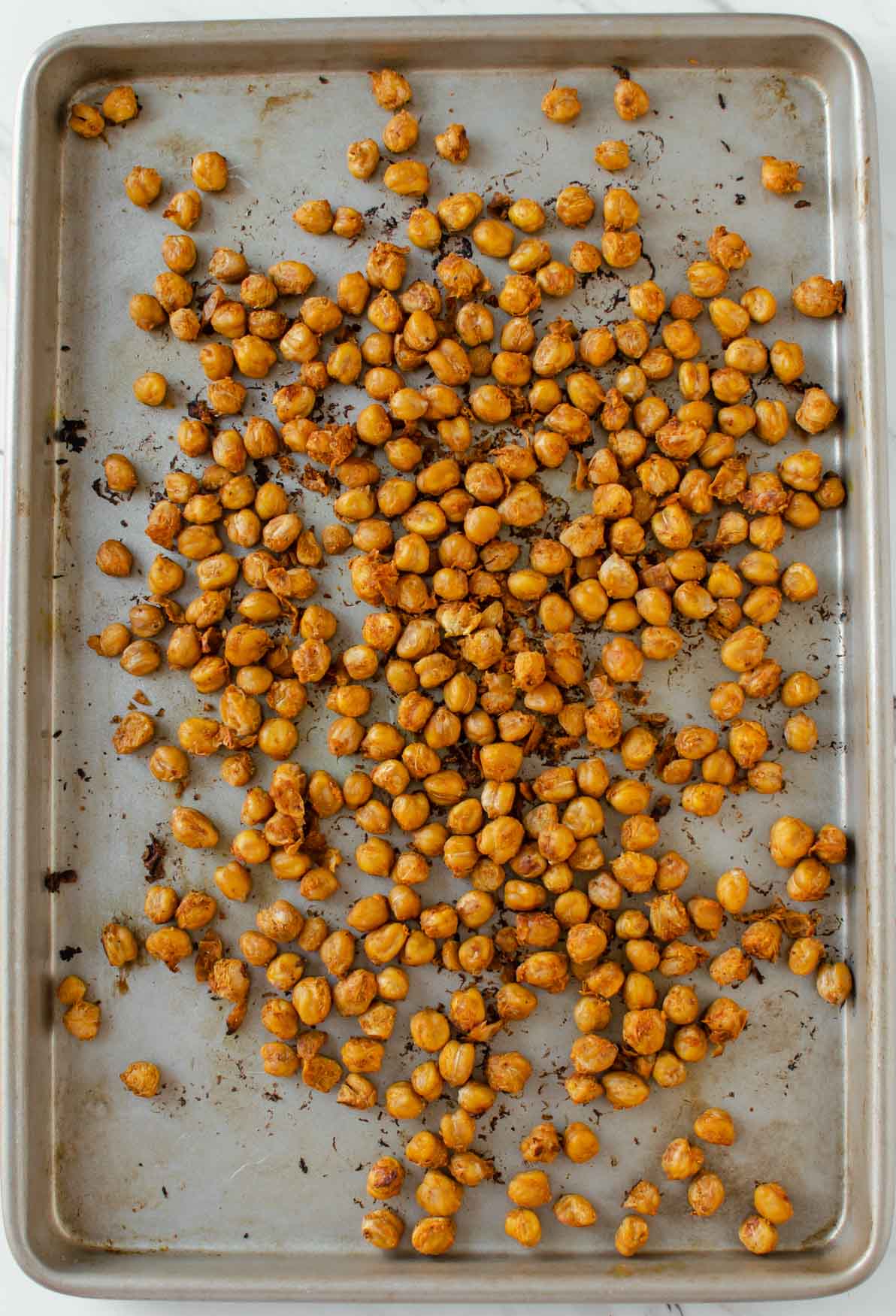 What goes with tikka masala?
Serve this chickpea tikka masala with homemade naan bread, vegetarian biryani or chicken biryani, rice pulao, homemade mango lassi etc. It will be a perfect party menu. For the weeknight meal, you can serve it with plain rice or pulao or simple wheat flatbread (chapati).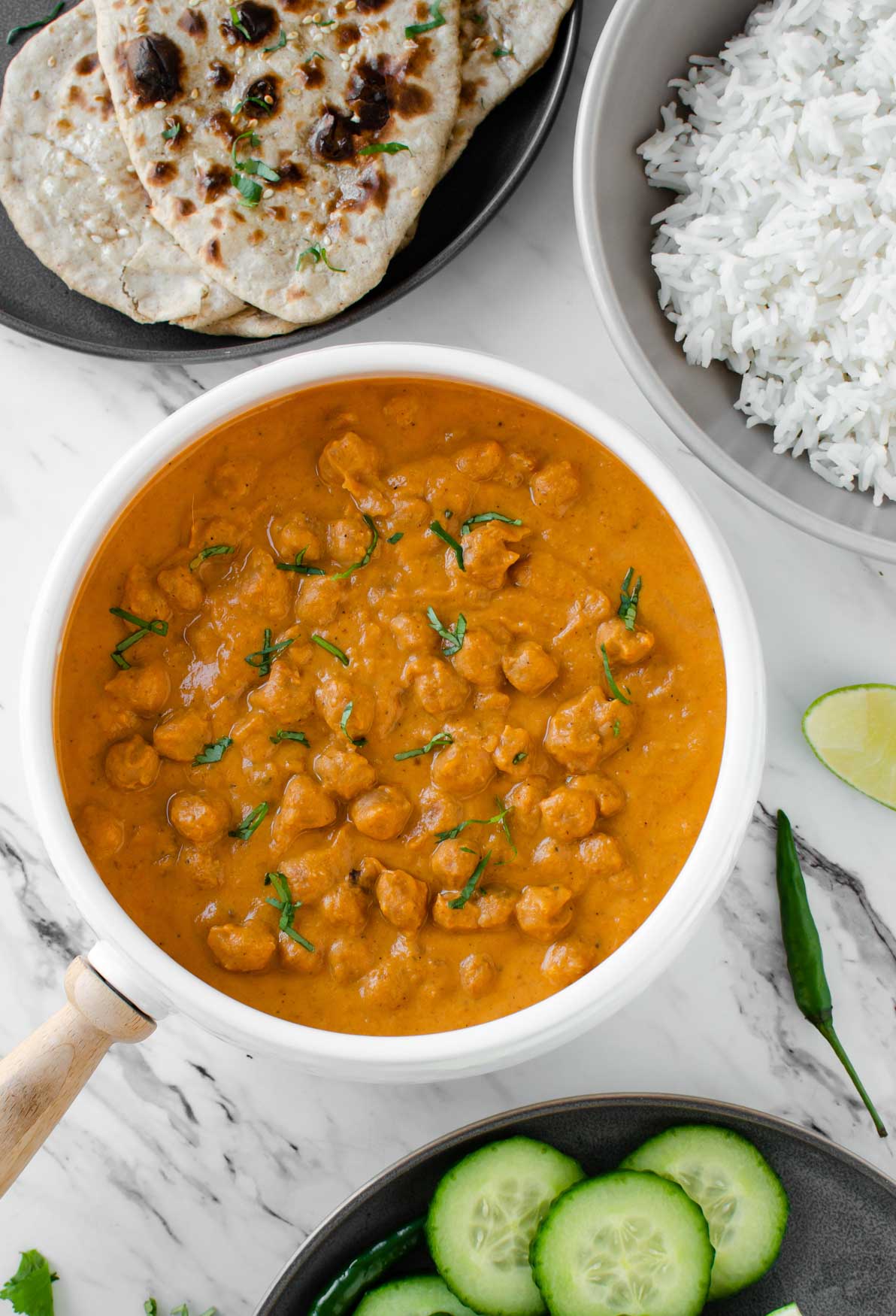 Vegetarian Tikka Masala – Helpful Tips!
Do not use overcooked chickpeas in this recipe. Preferably cook chickpeas at home. Just soak them for few hours and cook until tender, yet firm. You can use canned chickpeas too–just make sure they are not too soft to break easily. I use my Instant Pot to cook raw chickpeas. It takes 5-6 min to cook if chickpeas are soaked and around 30 min otherwise (without soaking).
Use fresh tomatoes for making the tikka masala sauce. It gives a nice fresh taste to the dish.
This dish is dairy-free or vegan. However, you can cheat and add a little cream at the end of cooking if you want

.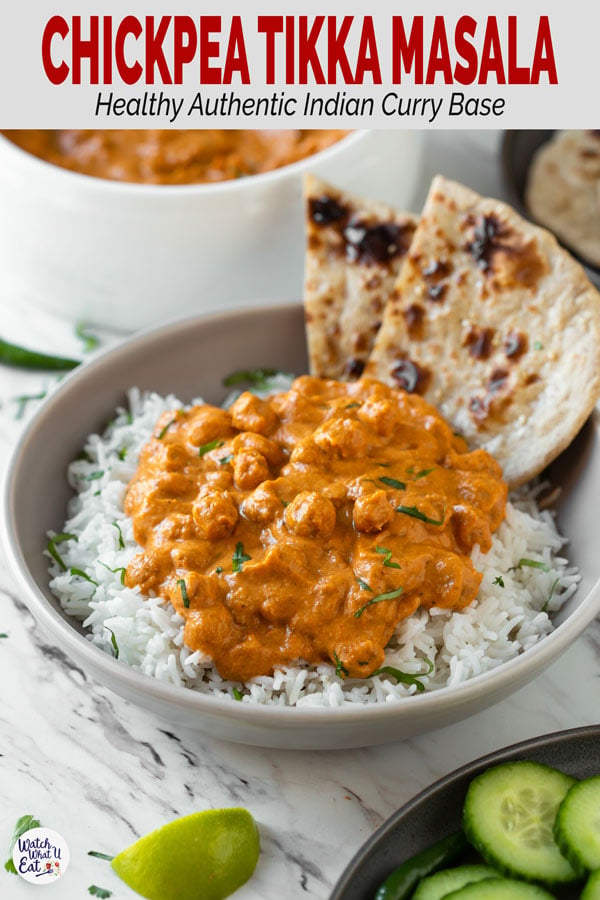 MORE UNIQUE INDIAN RECIPES YOU WILL LOVE TO TRY
Restaurant Style Chickpea Tikka Masala | Vegetarian Tikka Masala
Toasted chickpeas dunked in creamy tomato authentic tikka sauce to make this restaurant-style healthy chickpea tikka masala.
Ingredients
For Chickpea Tikka
2

cup

chickpeas cooked

2-3

garlic cloves finely minced

½"

ginger finely minced

¾

teaspoon

garam masala

½

tsp 

chili powder

1

tablespoon

lemon juice

½

tablespoon

oil

salt to taste
For Tikka Masala Sauce
1

small

onion cut in 8 pieces

4

medium

tomatoes cut in quarters

2-3

garlic whole cloves

½"

ginger peeled

and cut into 2-3 pieces

¼

cup

raw cashews

1

teaspoon

cumin powder

1 ½

teaspoon

coriander powder

2

teaspoon

oil

divided

½

teaspoon

chili powder

1

teaspoon

garam masala

salt to taste
Instructions
Chickpea Tikka
Preheat oven to 400 F.

In a medium mixing bowl add and mix all the ingredients listed under Chickpea Tikka above. Spread it evenly on a nonstick baking tray.

Bake the chickpeas in preheated oven for 10 min. Using a spatula stir them and again continue baking for 10 more min.
Tikka Masala Sauce
Meanwhile, heat 1 teaspoon oil in a large frying pan or skillet. Add whole garlic cloves, ginger, and onion. Cook the onion until translucent for 2-3 min.

Then add tomatoes and raw cashews. Cook them until tomato softens and gives sauce like consistency for about 4-5 min.

Now add cumin powder and coriander powder. Mix well and transfer this mixture to the blender jar, add 1 cup water and blend until smooth and creamy.

Heat remaining oil in the frying pan on low heat. Add chili powder and cook it slightly until fragrant.

Add blended tomato mixture and bring it to boil.

Now add garam masala and salt to taste. Mix well and simmer (cover with lid) on low heat for 5 min.

Finally, add roasted chickpeas, garnish with cilantro and serve warm.
Notes
You can add little more water if you do not want the sauce to be too thick for your liking.
Use freshly ground roasted cumin and coriander seeds powder whenever possible. It really adds an amazing aroma and flavor to the dish. I usually roast around 1 teaspoon cumin and 2 teaspoon coriander seeds (for this recipe) together in a frying pan. And using a stone molcajete I crush the roasted seeds into powder.
For more useful tips see the Helpful Tips section above.
Nutrition
Tried this recipe?
Tag us on Instagram @watchwhatueat or tag #watchwhatueat! OR leave us a comment & rating below. Your feedback is very important to us.
This page may include affiliate links that help us to deliver free recipes and maintain this blog.