Enjoy authentic Indian flavors in this homemade healthy chickpea tikka masala. A perfect vegetarian dish for a weeknight meal or to serve at a party.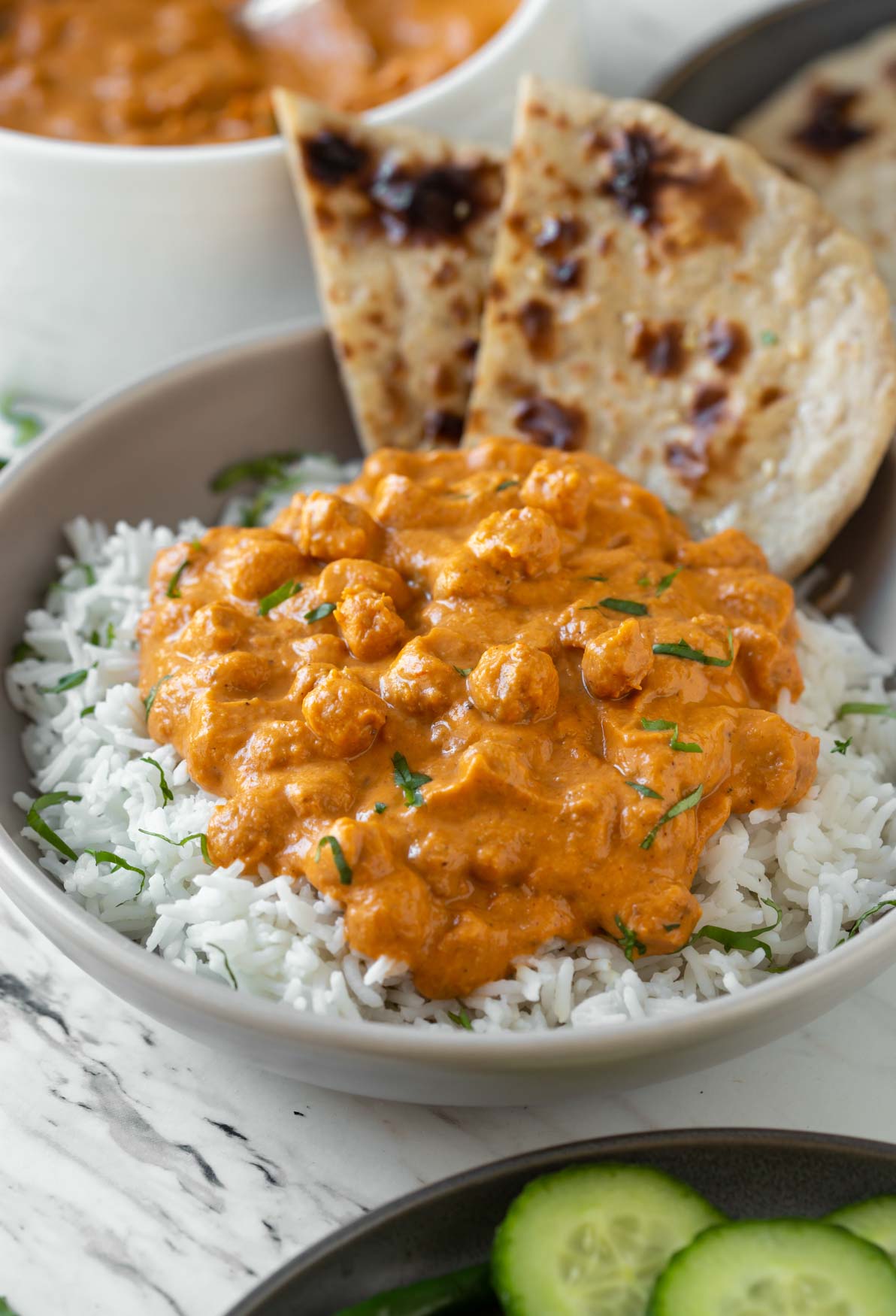 Jump to:
Have you ever tried tikka masala dishes in any Indian restaurant and wondered how they make it? Then you have come to the right place.
Here I am sharing with you our all-time favorite chickpea tikka masala recipe.
Usually, you will find paneer or chicken tikka masala in Indian restaurants. However, going out of the box, I make this recipe using chickpeas.
Why chickpeas?
Because chickpeas are among some of the perfect options for making a protein-rich meatless dish, and you still get all the authentic flavors in this recipe. I am sure you won't miss chicken or paneer (Indian cottage cheese) in this dish.
Let's get started.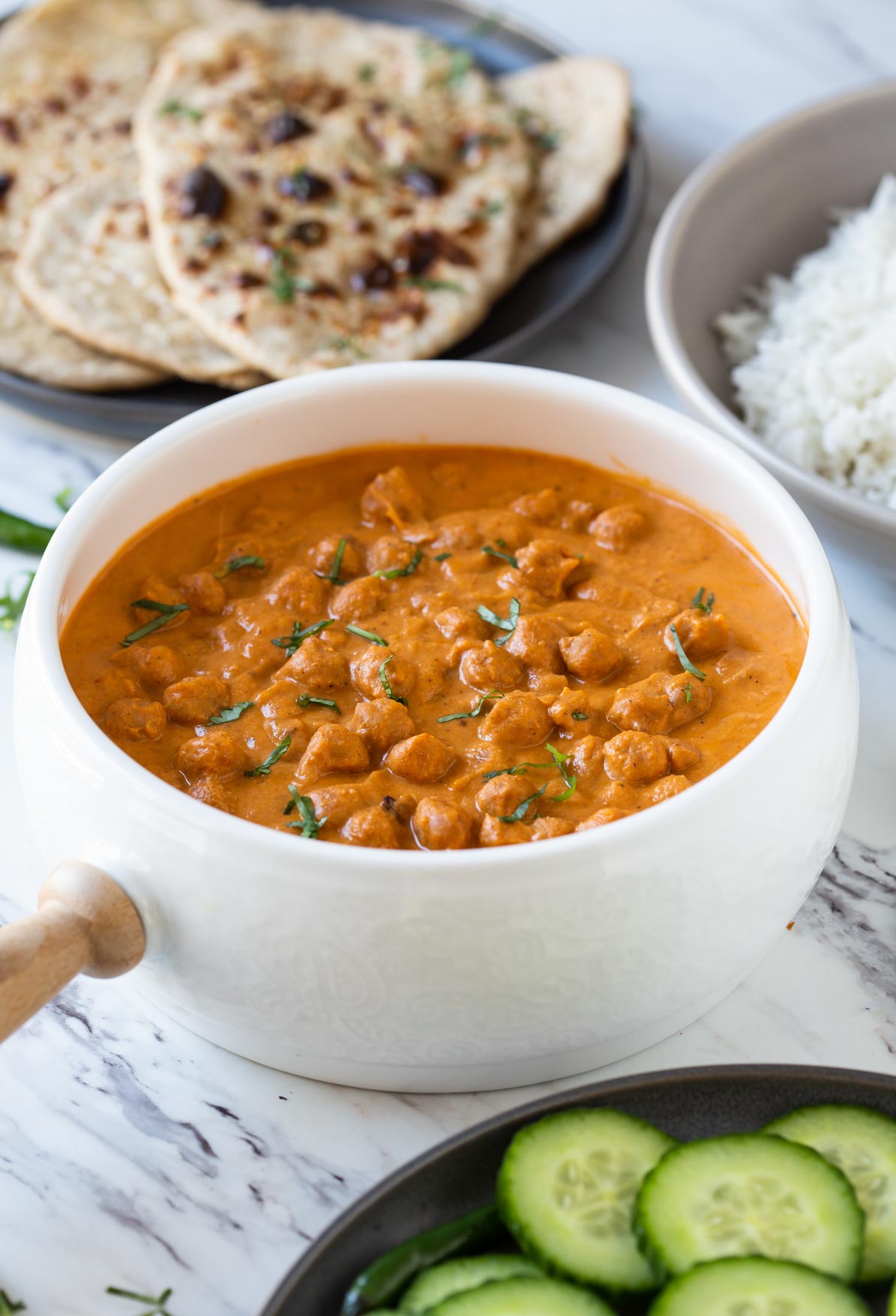 Key Ingredients
Chickpeas – you will need cooked chickpeas to prepare this dish. You can either cook them at home or use canned chickpeas.
Garlic and ginger – add raw ginger pieces and garlic cloves to the sauce. Use fresh garlic and ginger, it makes a lot of difference in the taste.
Onion and tomato – cut onion and tomato into thick pieces to prepare the gravy base.
Cashews – helps to thicken the sauce and make the dish creamy.
Spices – tikka masala sauce is rich in spices, so you will need garam masala (a classic blend of Indian spices), ground coriander, and ground cumin to add flavors. Additionally, use some chili powder to add some heat and nice color to the final dish.
Oil – Use your choice of cooking oil. I prefer using avocado or olive oil suitable for sauteing and grilling.
Find the full list of ingredients and quantity in the recipe card below.
Recipe Substitutions/Variations
Raw almonds – Use whole almonds instead of cashews to thicken the sauce. Add some water and then boil/blanch them in the microwave for 3 mins. This helps to loosen the skin. Allow them to cool down, remove the skin and then use these peeled almonds instead of cashews in the recipe.
Replace cashews – if you are allergic to nuts, use heavy whipping cream or whole milk to prepare the sauce base. Also, some readers have successfully made it with coconut milk.
Broth – use chicken or vegetable broth to prepare the sauce instead of water.
Use tofu/paneer – add grilled tofu/paneer tikka instead of roasted chickpeas.
Chicken – follow this chicken tikka masala recipe to make this dish using chicken.
How To Make Restaurant-Style Chickpea Tikka Masala
This recipe involves two steps:
1. Making Roasted Chickpea Tikka
a. In a medium mixing bowl, add cooked chickpeas. Mix them with oil, finely minced fresh garlic and ginger, garam masala, chili powder, and lemon juice. Also, add salt to taste.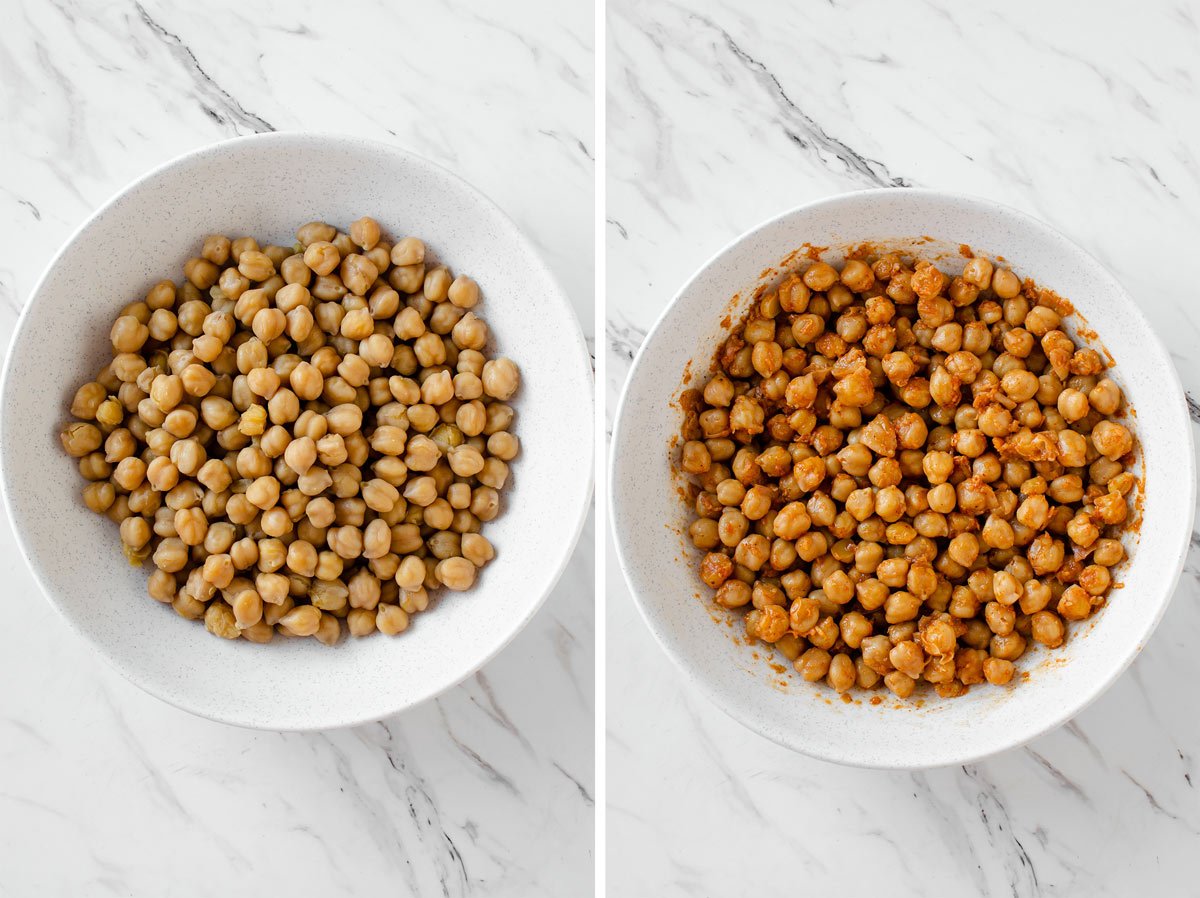 b. Bake these spiced chickpeas in a preheated oven to develop the roasted taste.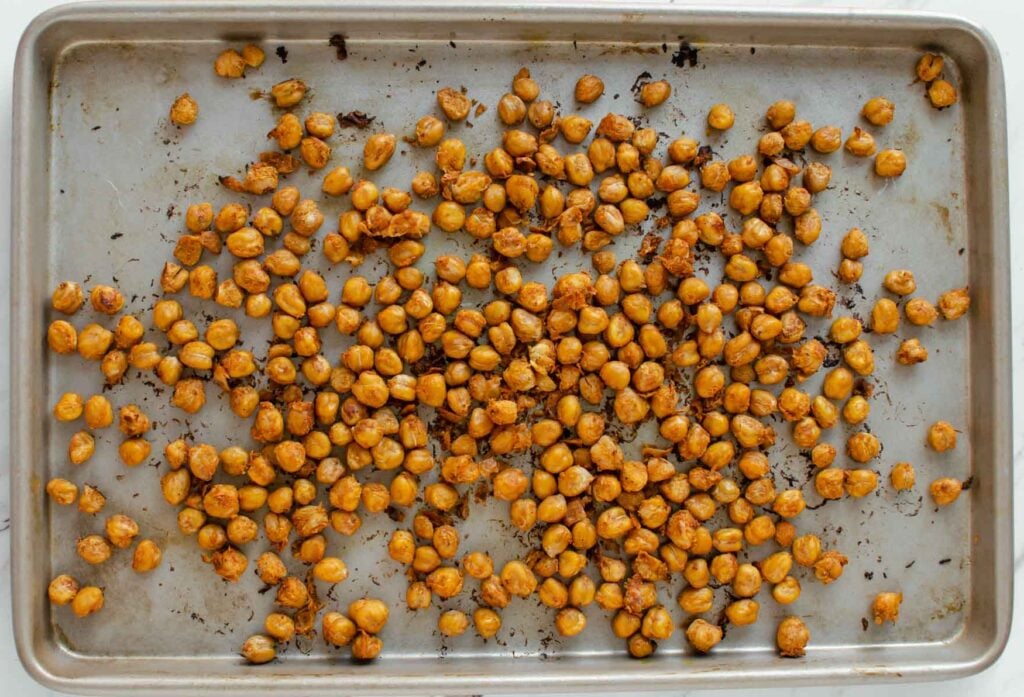 2. Preparing authentic tikka masala sauce
a. To prepare the sauce, cook onion, garlic, ginger, tomato, and raw cashews in oil. In the end, add ground cumin and ground coriander.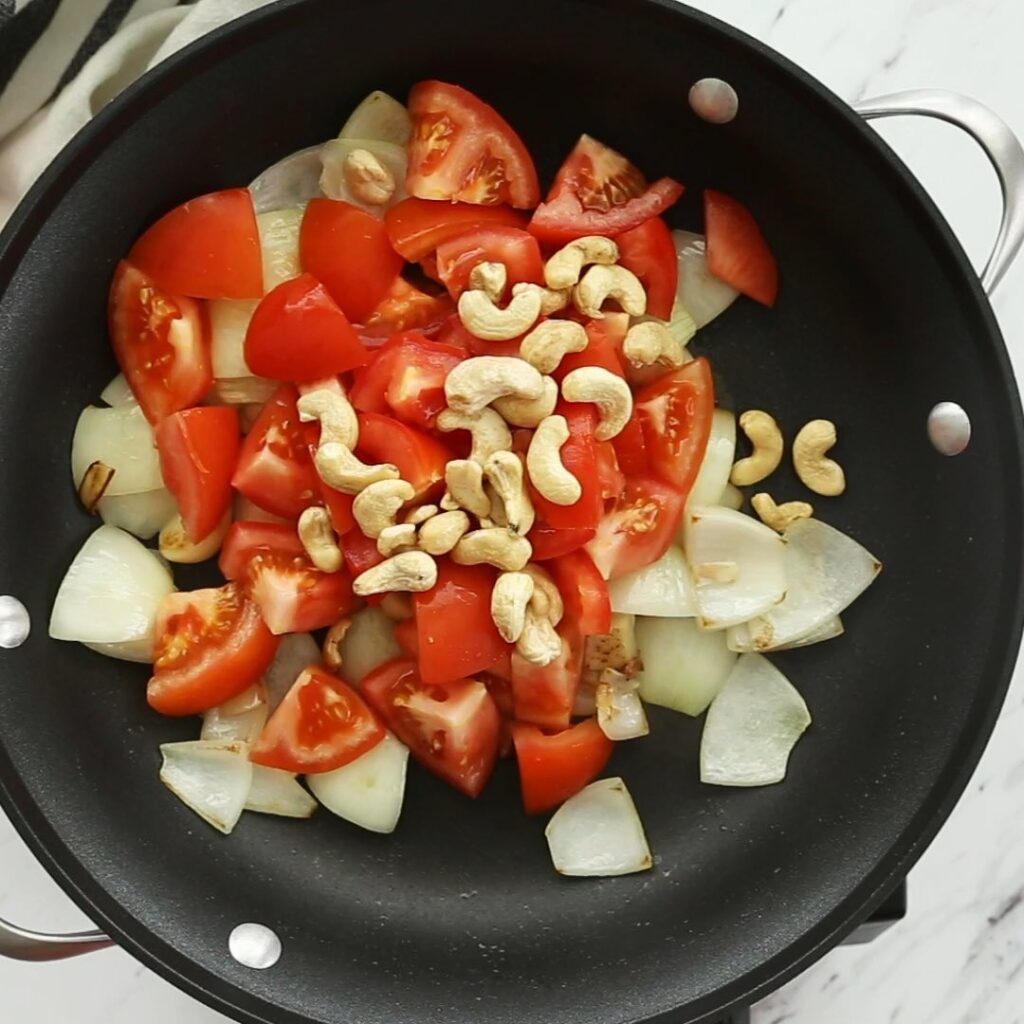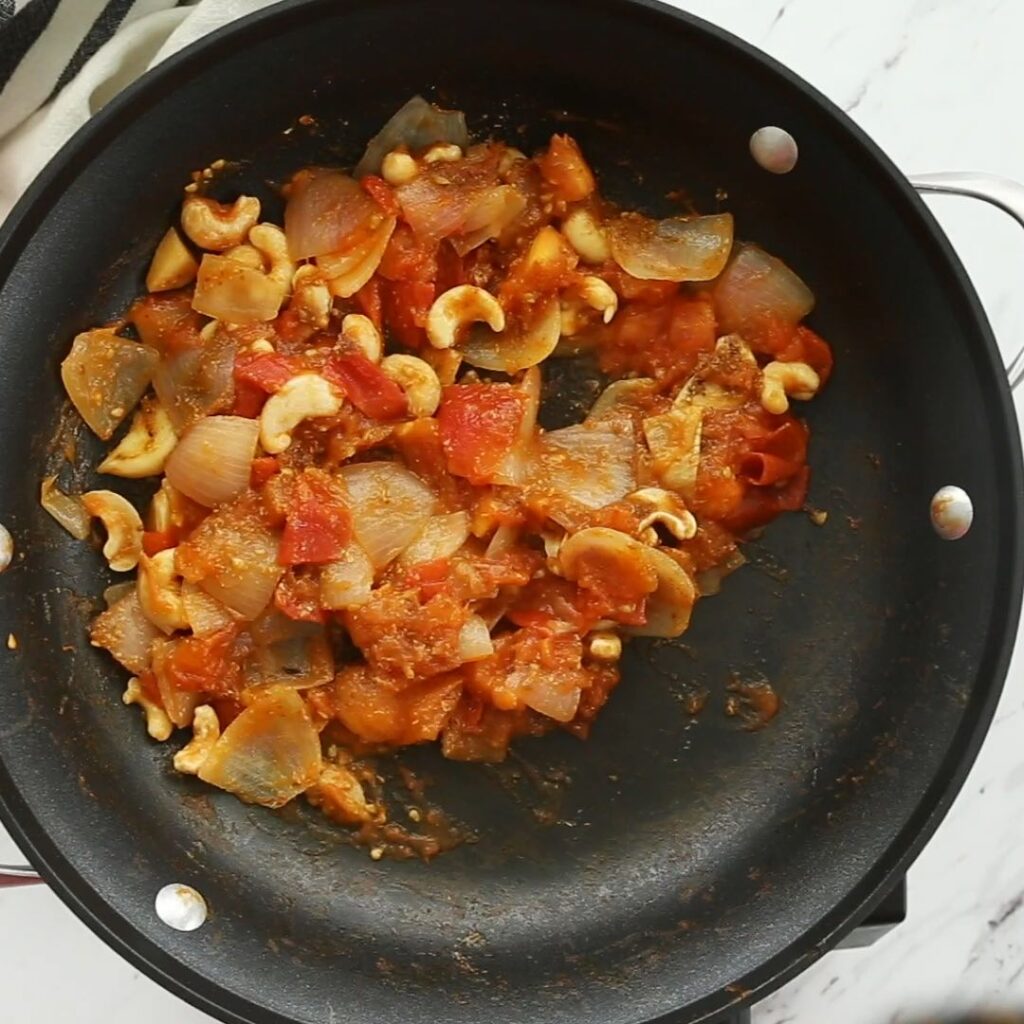 b. Blend this masala base with little water in a blender to a smooth puree.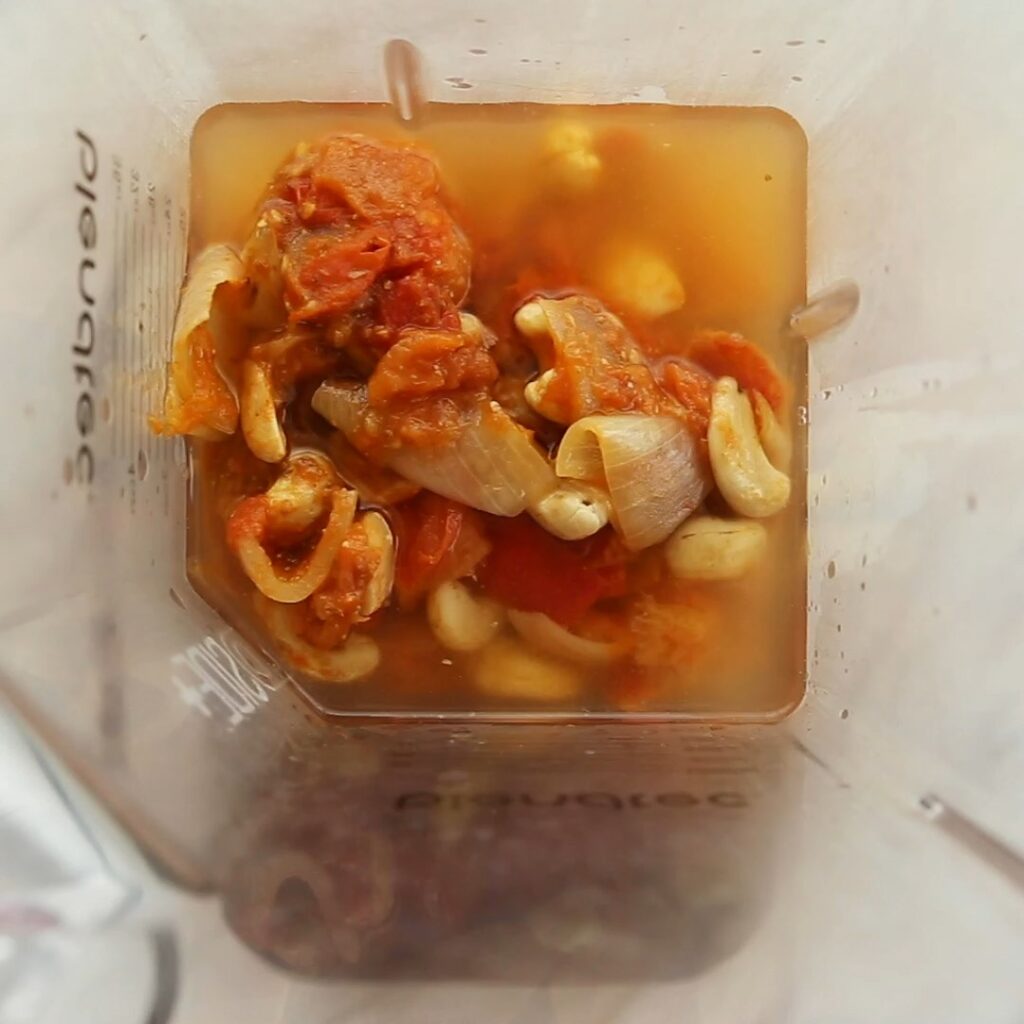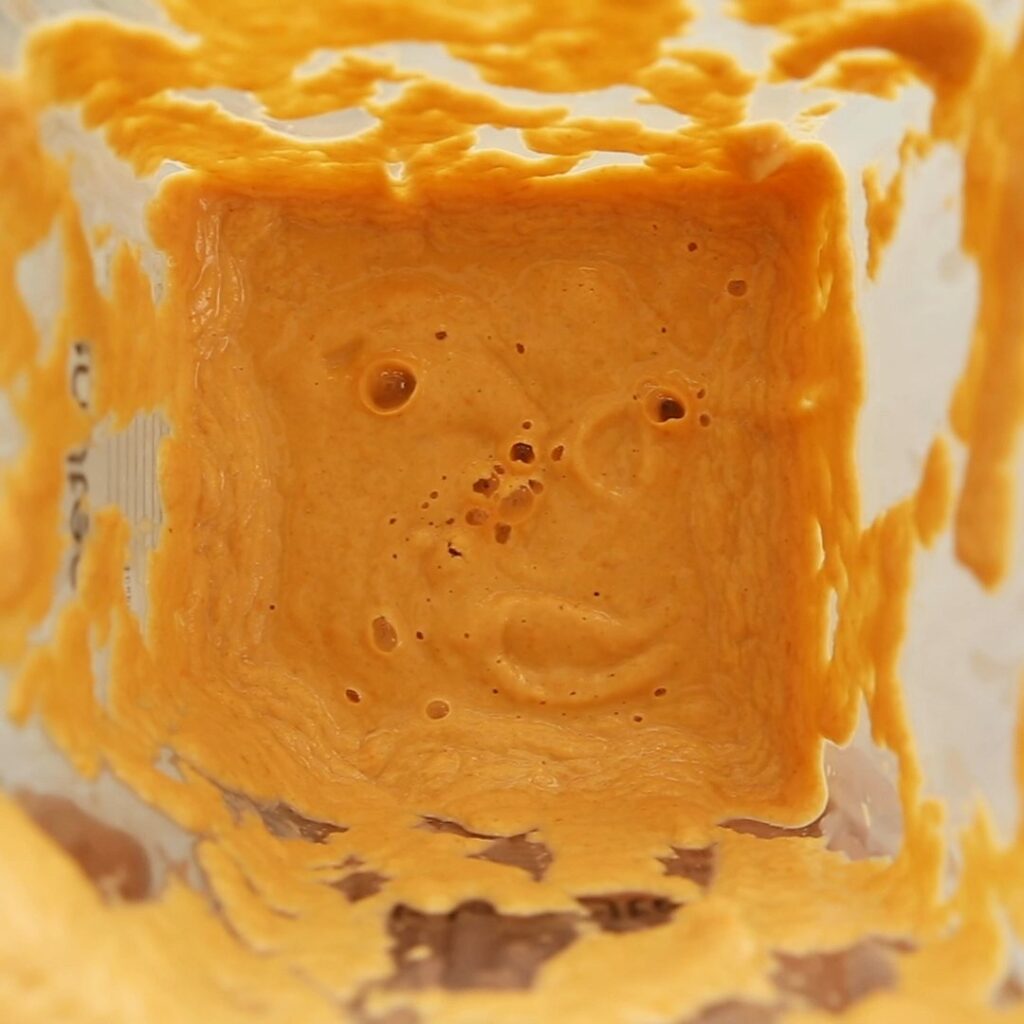 c. Fry some chili powder in oil in the frying pan and add the prepared onion-tomato puree. If you do not want to use chili powder, skip this step and add puree directly to the pan.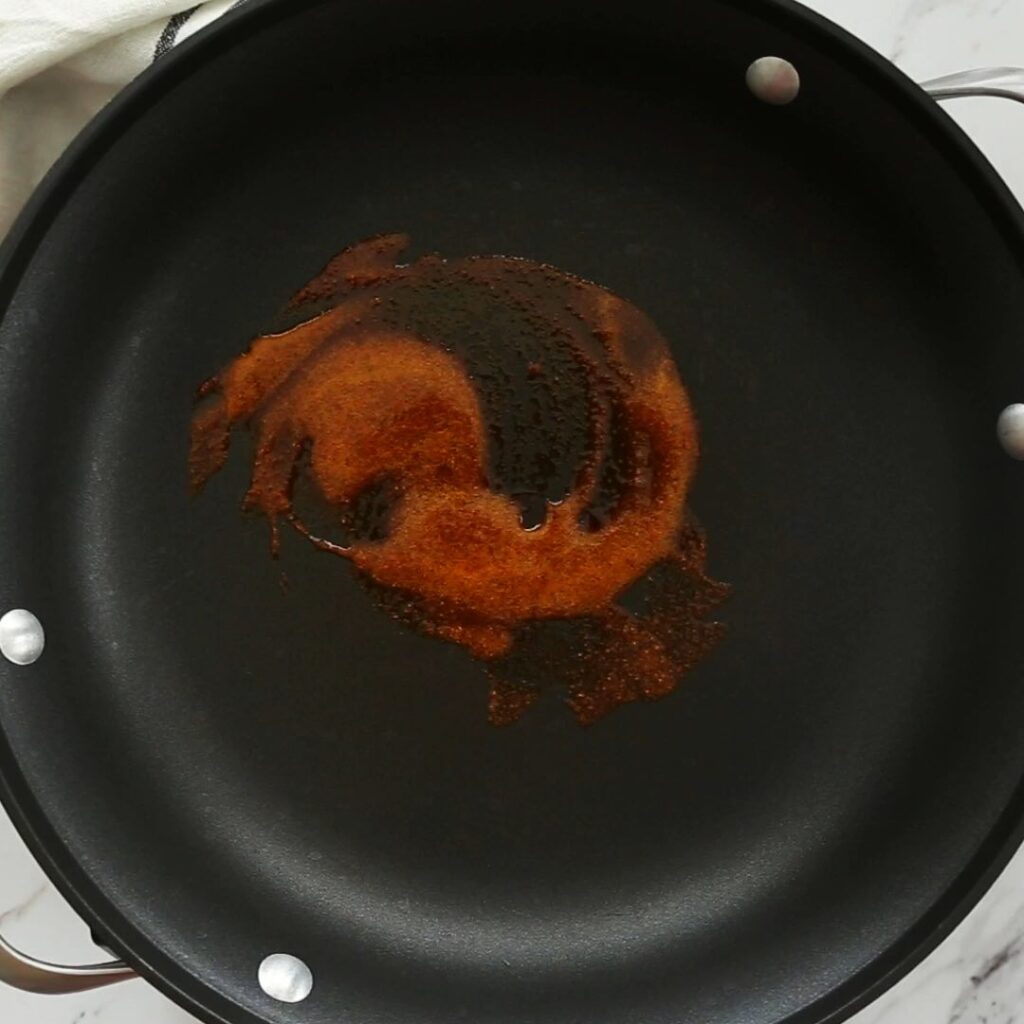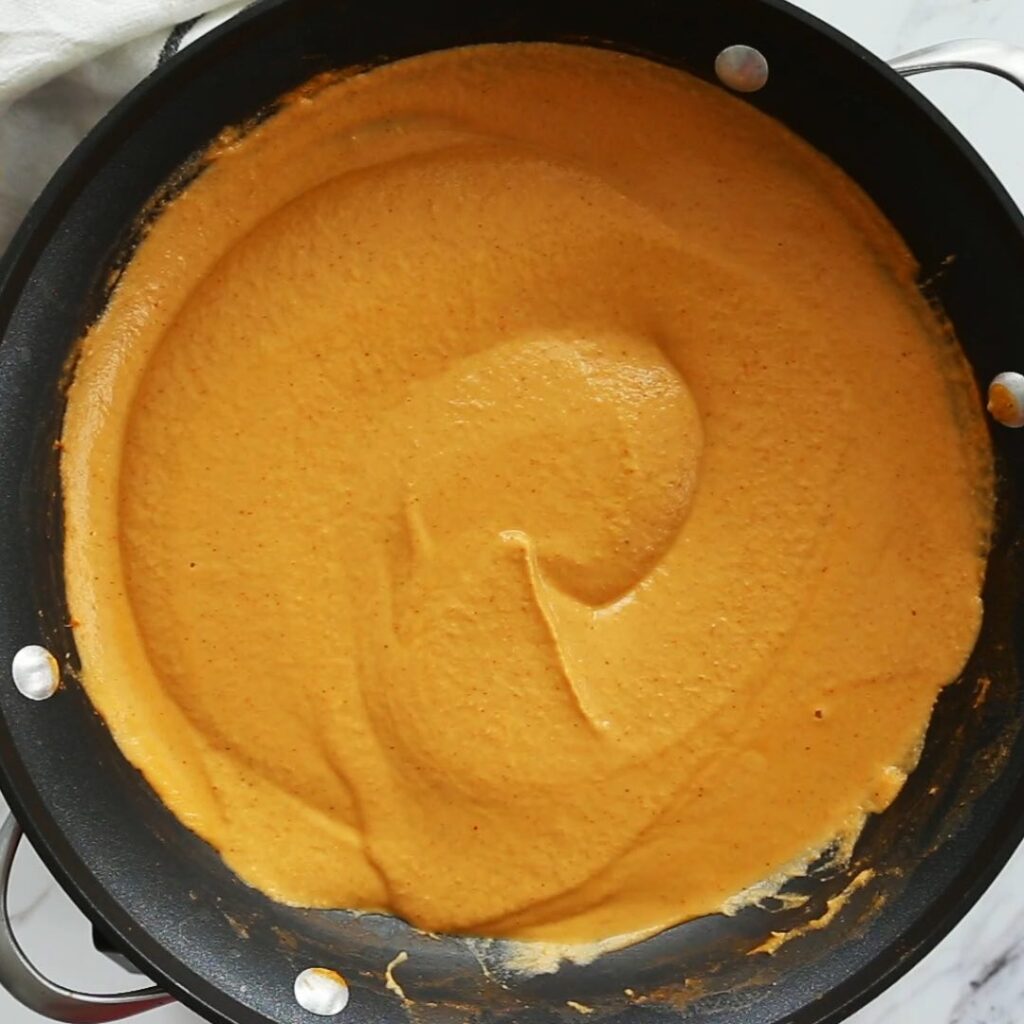 d. Finally, add some garam masala and salt according to taste. Once the sauce is ready, add toasted chickpeas. Mix well and serve warm. Find detailed step-by-step instructions in the recipe card below.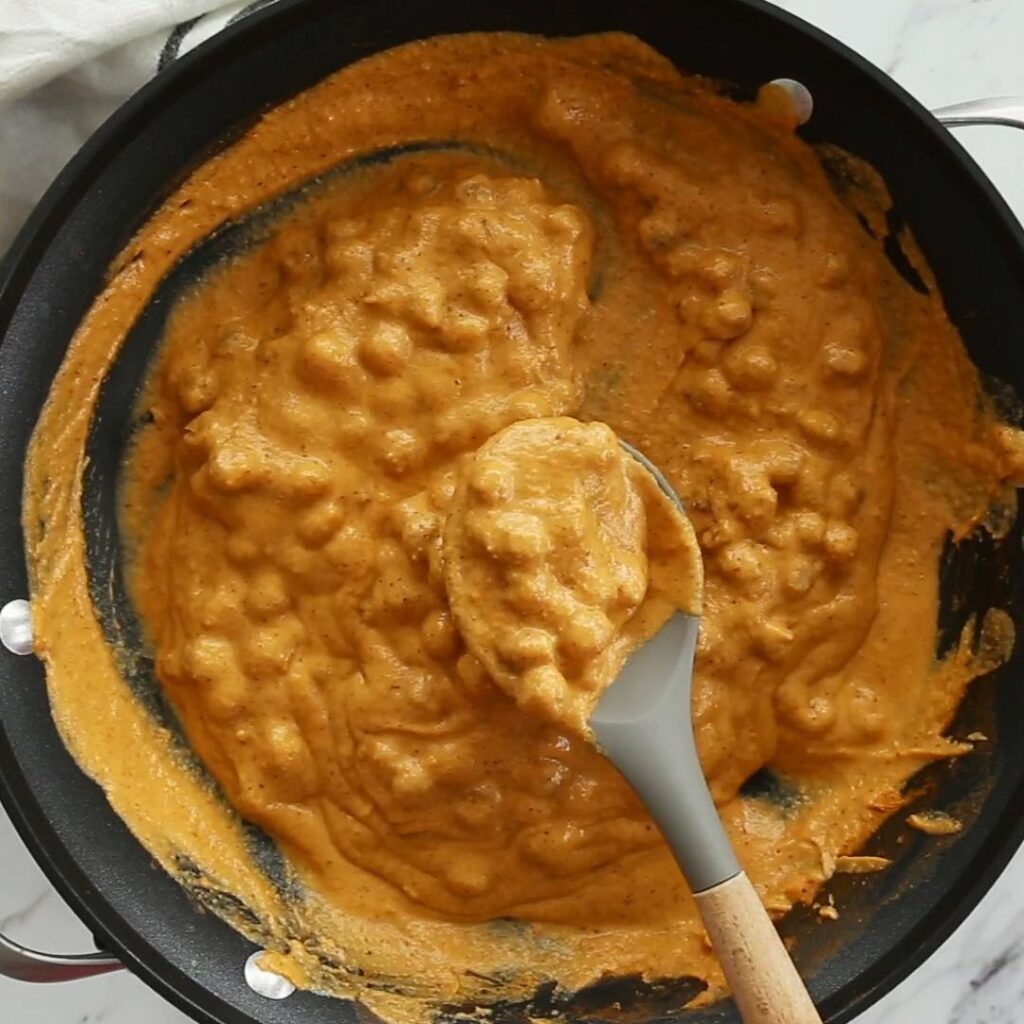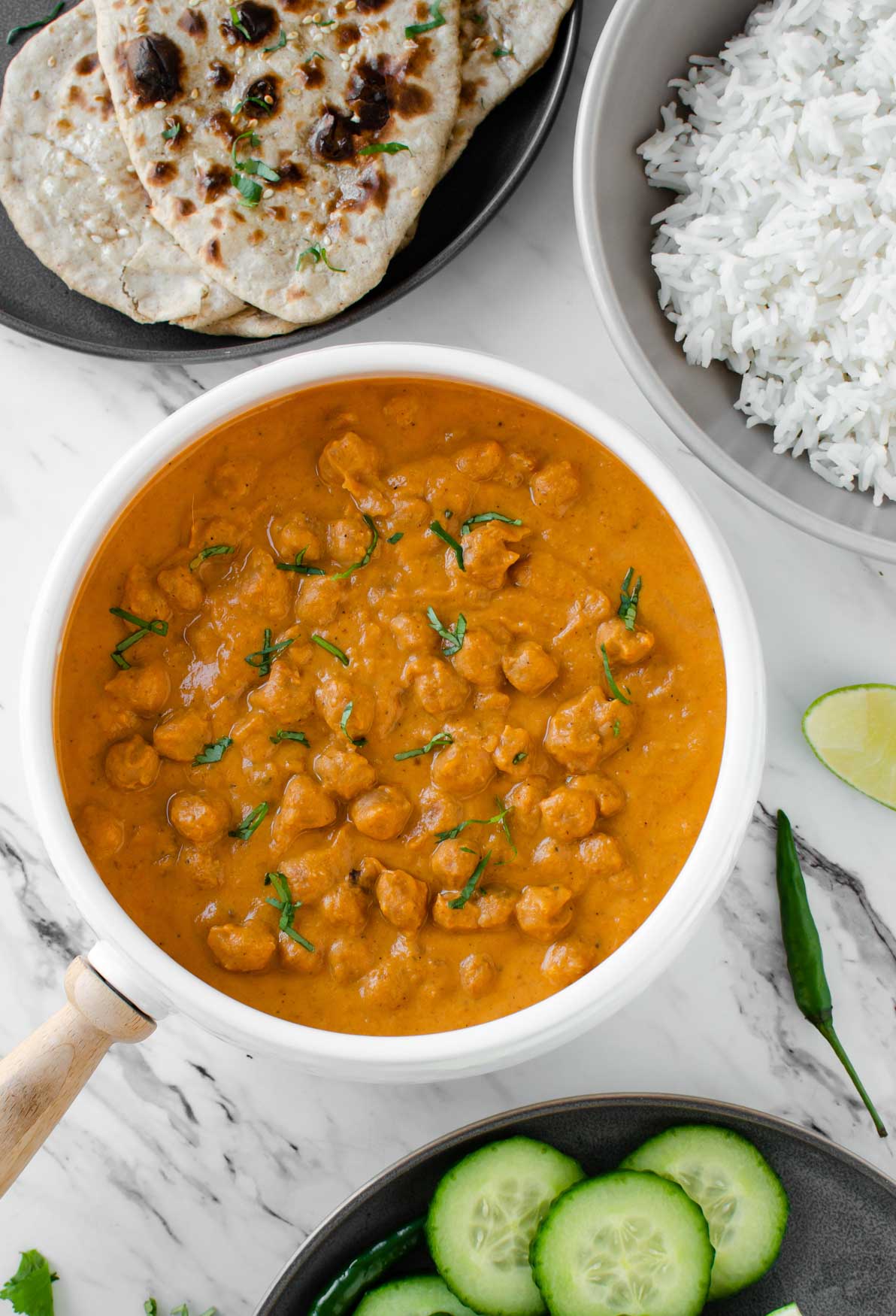 Helpful tips!
Do not use overcooked chickpeas in this recipe. Preferably cook chickpeas at home. Just soak them for a few hours and cook until tender yet firm. You can also use canned chickpeas–just make sure they are not too soft to break easily. I use my Instant Pot to cook raw chickpeas. It takes 5-6 minutes to cook if chickpeas are soaked and about 40 minutes otherwise (without soaking).
Use fresh tomatoes to make the sauce. It gives a nice fresh taste to the dish.
This dish is dairy-free or vegan. However, you can cheat and add a little heavy whipping cream at the end of cooking if you want to make the dish richer in taste

.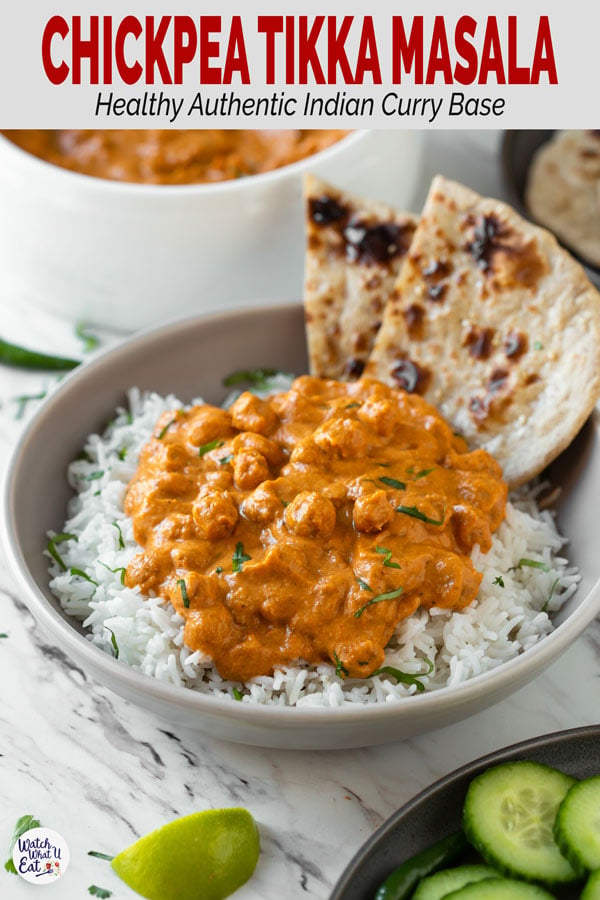 Recipe FAQs
How to store and use leftovers?
Let the leftover tikka masala cool down completely, then store it in the air-tight container in the refrigerator for 2-3 days.
Reheat the leftovers on the stovetop or in the microwave until steamy hot. Serve warm.
Can I freeze this chickpea masala?
Yes, freeze the leftovers in freezer-friendly containers or bags for up to one month. However, I always prefer using it while it is fresh.
How can I get the rich orange color as in the photos?
Deep red-colored tomatoes and chili powder give a rich orange color to this dish. You can also add a bit of concentrated tomato paste to enhance the color.
Can I use coconut milk?
Yes, you can add some coconut milk to give a creamy texture to the sauce.
Love this recipe? Please leave a 5-star ⭐⭐⭐⭐⭐ rating in the recipe card below & a review in the comments if you REALLY like this recipe. Thank You!
📖 Recipe
Vegetarian Chickpea Tikka Masala
Toasted chickpeas dunked in creamy tomato tikka sauce to make this authentic and restaurant-style healthy chickpea tikka masala.
Ingredients
For Chickpea Tikka
2

cup

chickpeas cooked

2-3

garlic cloves

finely minced

½″

ginger

finely minced

¾

teaspoon

garam masala

½

tsp 

chili powder

1

tablespoon

lemon juice

½

tablespoon

oil

salt to taste
For Tikka Masala Sauce
1

small

onion cut in 8 pieces

4

medium

tomatoes

cut in quarters

2-3

garlic whole cloves

½″

ginger peeled

and cut into 2-3 pieces

¼

cup

raw cashews

1

teaspoon

cumin powder

1 ½

teaspoon

coriander powder

2

teaspoon

oil

divided

½

teaspoon

chili powder

1

teaspoon

garam masala

1

cup

water

salt to taste
Instructions
Roasted Chickpea Tikka
Preheat oven to 400 F.

In a medium mixing bowl add and mix all the ingredients listed under Chickpea Tikka above. Spread it evenly on a nonstick baking tray.

Bake the chickpeas in preheated oven for 10 min. Using a spatula stir them and again continue baking for 10 more min.
Tikka Masala Sauce
Meanwhile, heat 1 teaspoon oil in a large frying pan or skillet. Add whole garlic cloves, ginger, and onion. Cook the onion until translucent for 2-3 min.

Then add tomatoes and raw cashews. Cook them until tomato softens and gives sauce like consistency for about 4-5 min.

Now add cumin powder and coriander powder. Mix well and transfer this mixture to the blender jar, add 1 cup water and blend until smooth and creamy.

Heat remaining oil in the frying pan on low heat. Add chili powder and cook it slightly until fragrant.

Add blended tomato mixture and bring it to boil.

Now add garam masala and salt to taste. Mix well and simmer (cover with lid) on low heat for 5 min.

Finally, add roasted chickpeas, garnish with cilantro and serve warm.
Video
Notes
Use vegetable or chicken broth (or stock) instead of water to prepare the sauce.
You can add a little more water if you do not want the sauce to be too thick for your liking.
Use freshly ground roasted cumin and coriander seeds powder whenever possible. It really adds an amazing aroma and flavor to the dish. I usually roast around 1 teaspoon cumin and 2 teaspoon coriander seeds (for this recipe) together in a frying pan. And using a stone molcajete, I crush the roasted seeds into powder.
For more useful tips, see the Helpful Tips section above.
Nutrition
Tried this recipe?
Tag us on Instagram @watchwhatueat or tag #watchwhatueat! OR leave us a comment & rating below. Your feedback is very important to us.