Make sauteed eggplant with tomatoes for an easy and healthy, wholesome meal. It is a quick and delicious recipe for a busy time. You'll need just a few basic ingredients to prepare it.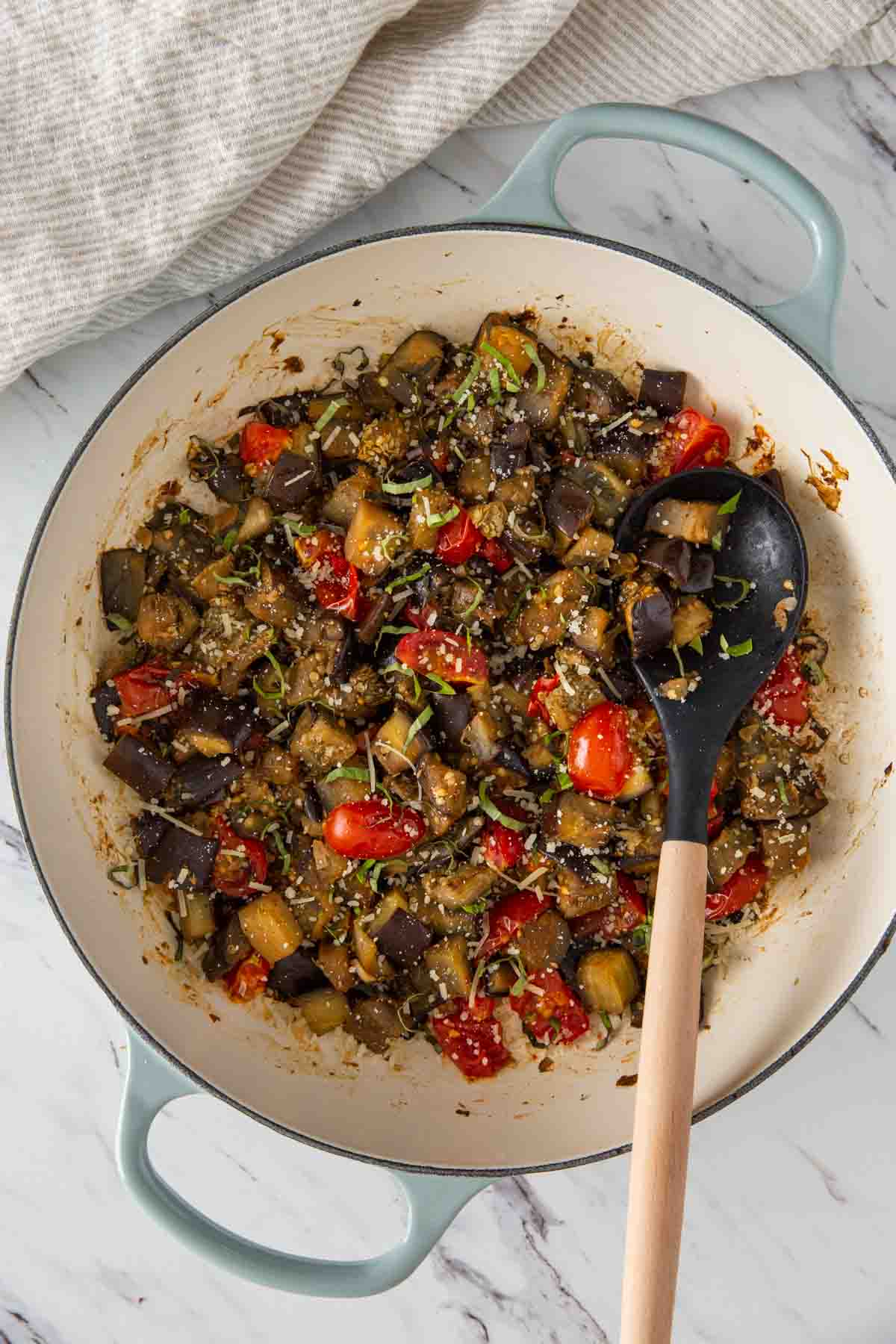 Eggplant is our favorite veggie in the house, so much so that I grow it in my backyard during summertime. We love making healthy eggplant parmesan in Air Fryer, Indian-style eggplant curry, mashed masala eggplants, and babaganush regularly.
Here I am sharing a quick recipe to prepare Italian-style sautéed eggplant with tomato.
Jump to:
What is special about this dish
Quick and easy recipe to prepare
Perfect for a healthy side to pair with Italian dishes
Needs simple ingredients
Full of flavors
Ingredients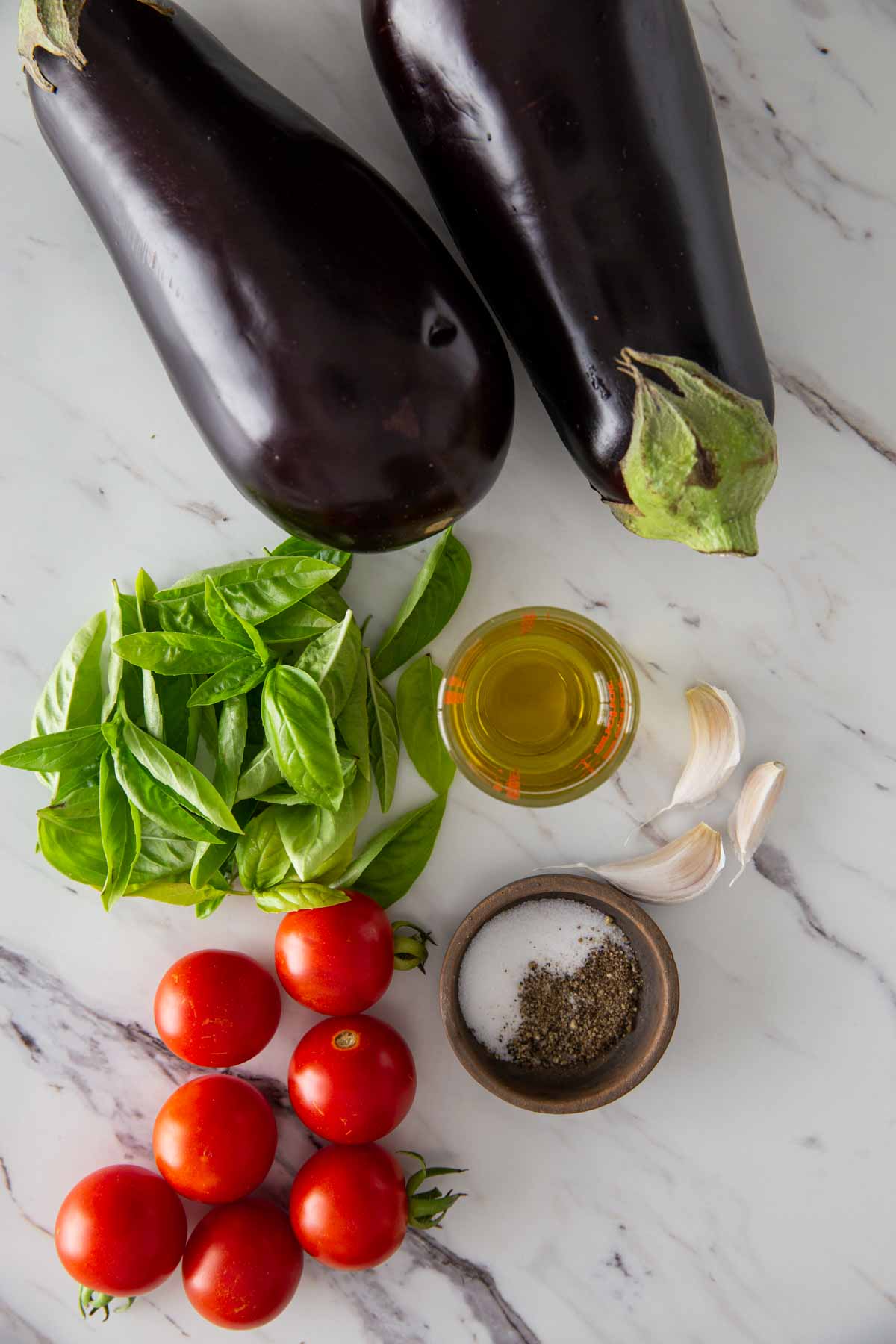 Eggplant – either diced aubergine or big-size eggplant will work in this recipe. Always buy firm and fresh-looking eggplants. Also, avoid getting over matured eggplant. They may have seeds and will not taste great in this recipe.
Tomato – Most of the time, I use Roma tomatoes in cooking. However, you can also use cherry tomatoes or tomatoes on the vine.
Garlic – use freshly chopped garlic for the best flavors.
Herbs – I season this dish with dried oregano and salt. For garnishing, you can use fresh parsley or basil leaves.
Oil – I do use a little cooking oil for sauteing garlic and veggies. Once cooking is done, I drizzle extra virgin olive oil for a nice taste.
Preparation tips
"Rinse the eggplant and tomatoes under running water to remove any dirt. Trim the stems and dice the eggplant into 1-2″ pieces. Similarly, dice the tomatoes into 1-2″ pieces. If you prefer, you can also remove the pulp and seeds from the tomato before dicing."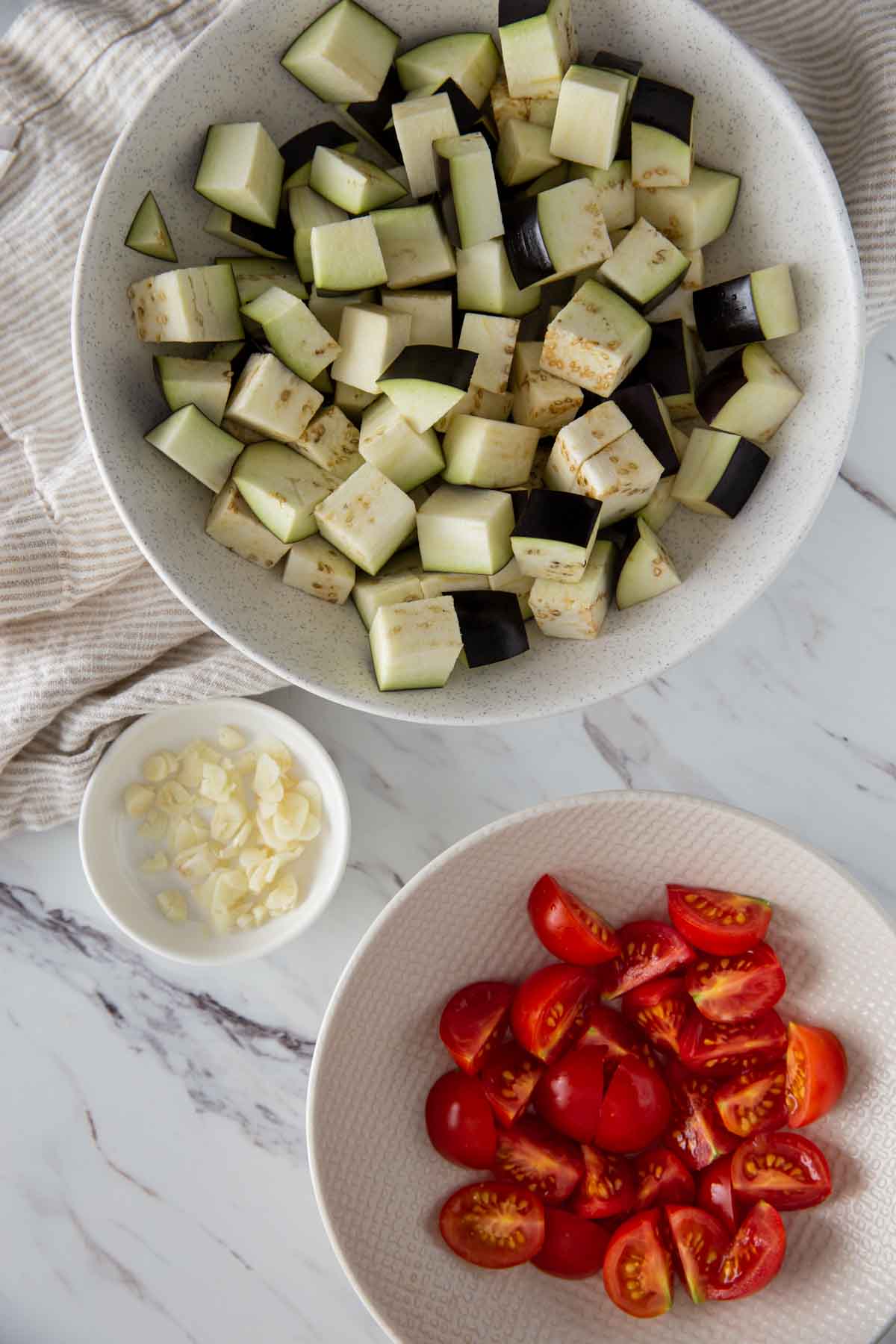 Why does eggplant turn brown after cutting?
Eggplant contains an enzyme called polyphenols. After cutting, this compound reacts with oxygen in the air and undergoes oxidation, which results in a brown color.
This reaction is not harmful; however, it changes the look and feel of the eggplant. To prevent it from happening, you can 1) keep the eggplant pieces submerged in water or rub lemon juice or vinegar on the exposed surfaces, 2) immediately cook them, or 3) immediately store the pieces in an air-tight container or zip-lock bag after cutting.
How to make sauteed eggplant and tomatoes?
Step 1
In a frying pan, heat some oil on medium heat. Add chopped garlic and saute until lightly brown or fragrant.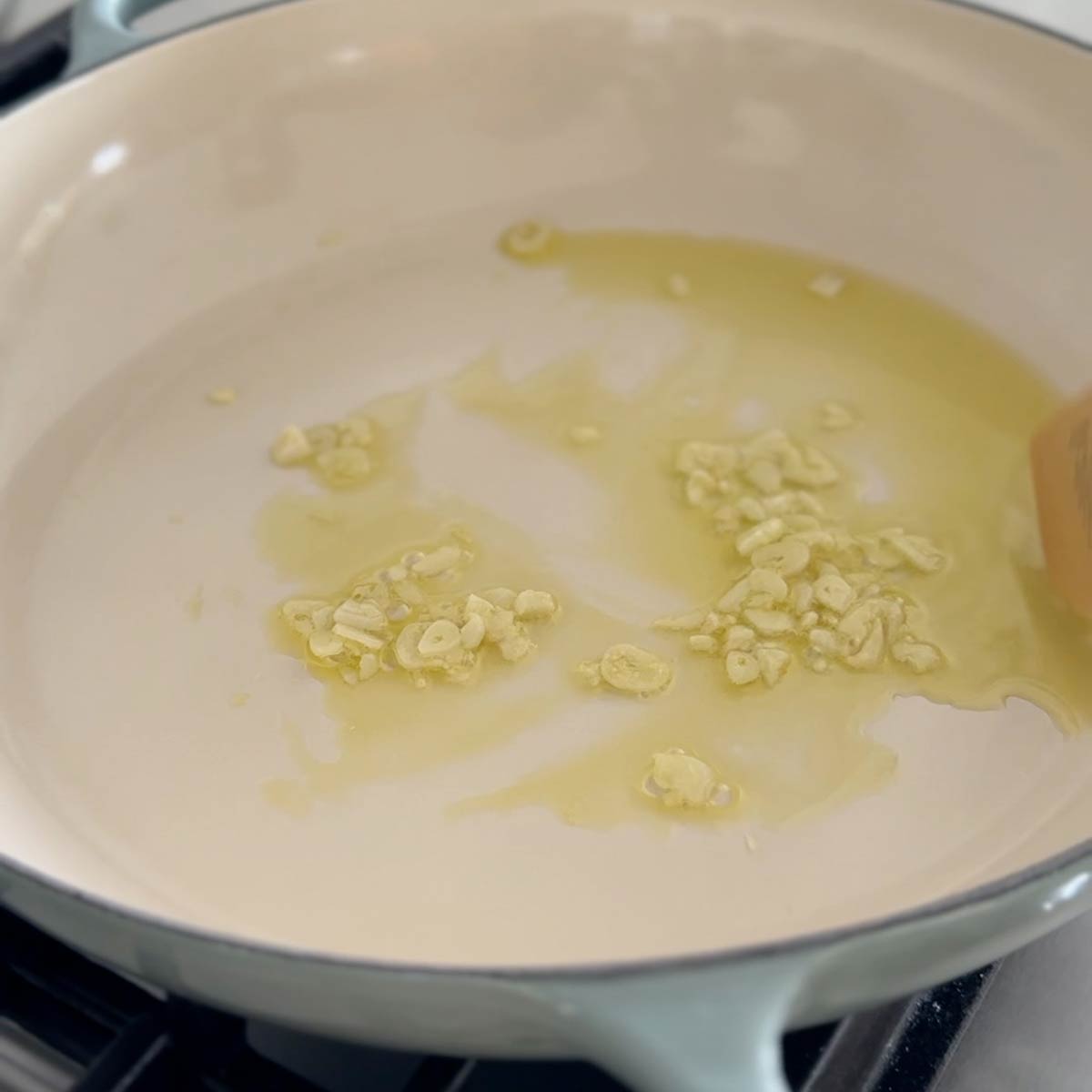 Step 2
Add diced eggplant and sauté for 2-3 minutes. Cover the pan and cook it on low heat for 6-8 min.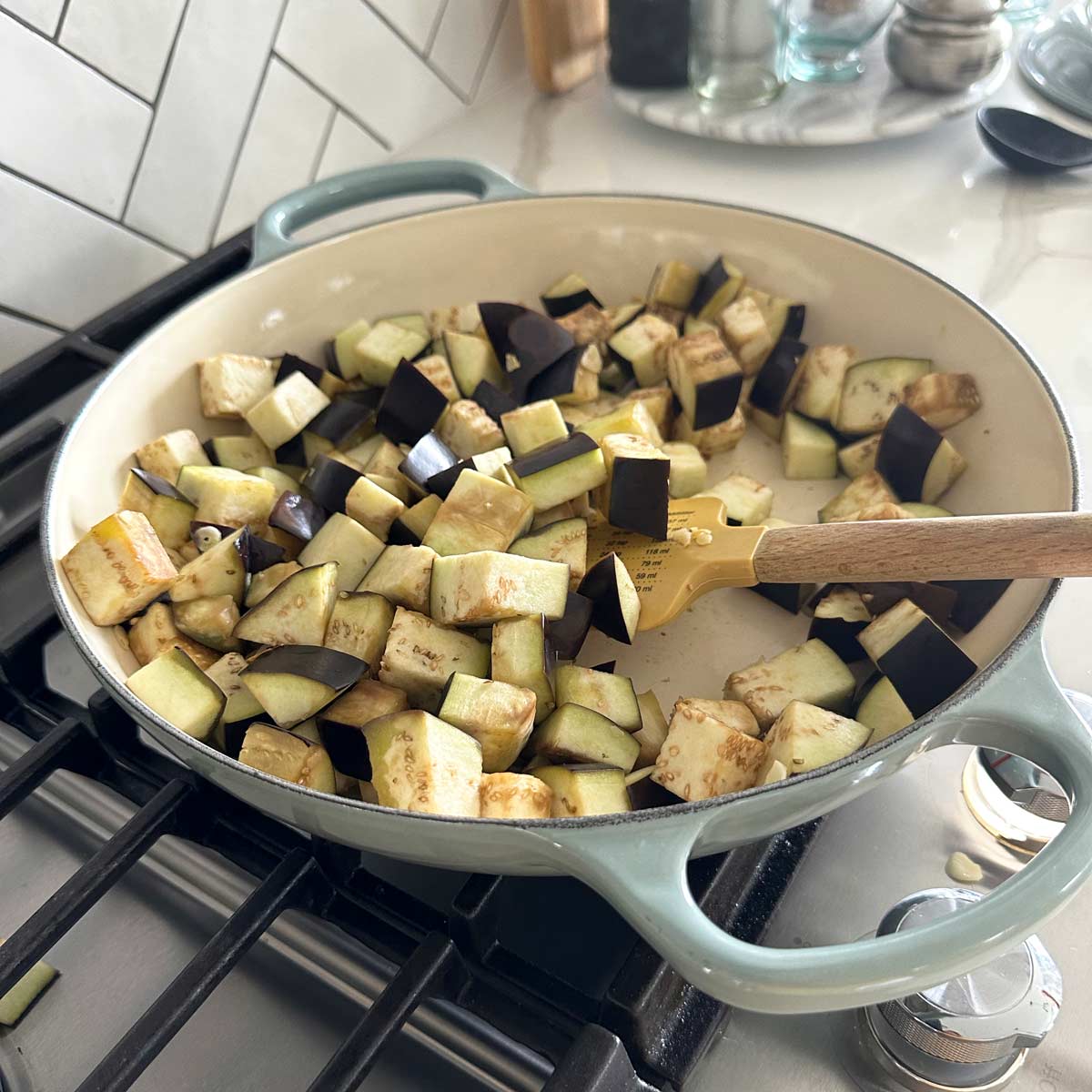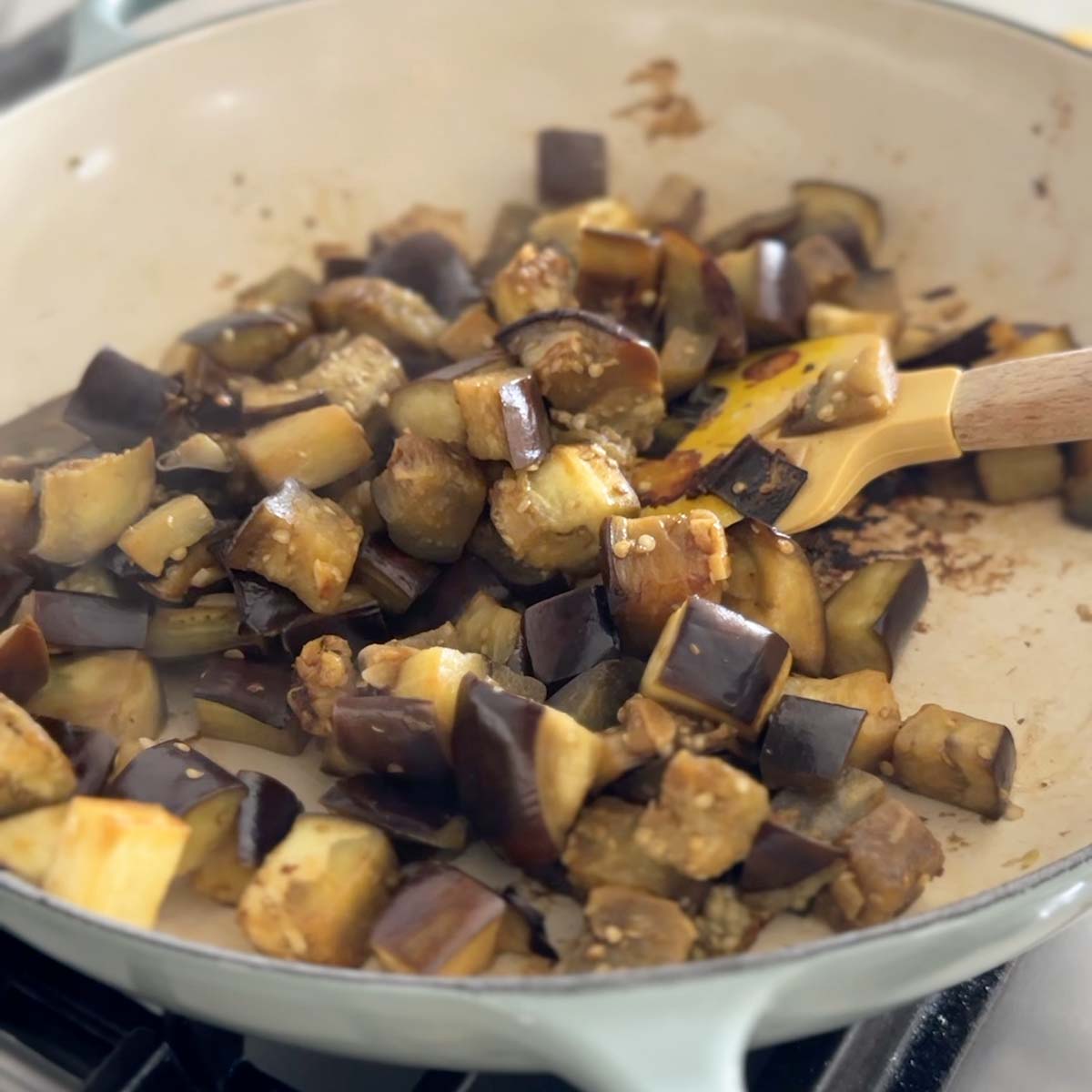 Step 3
Add cherry tomatoes, salt, and black pepper and mix well. Cover and cook the mixture for 2 min.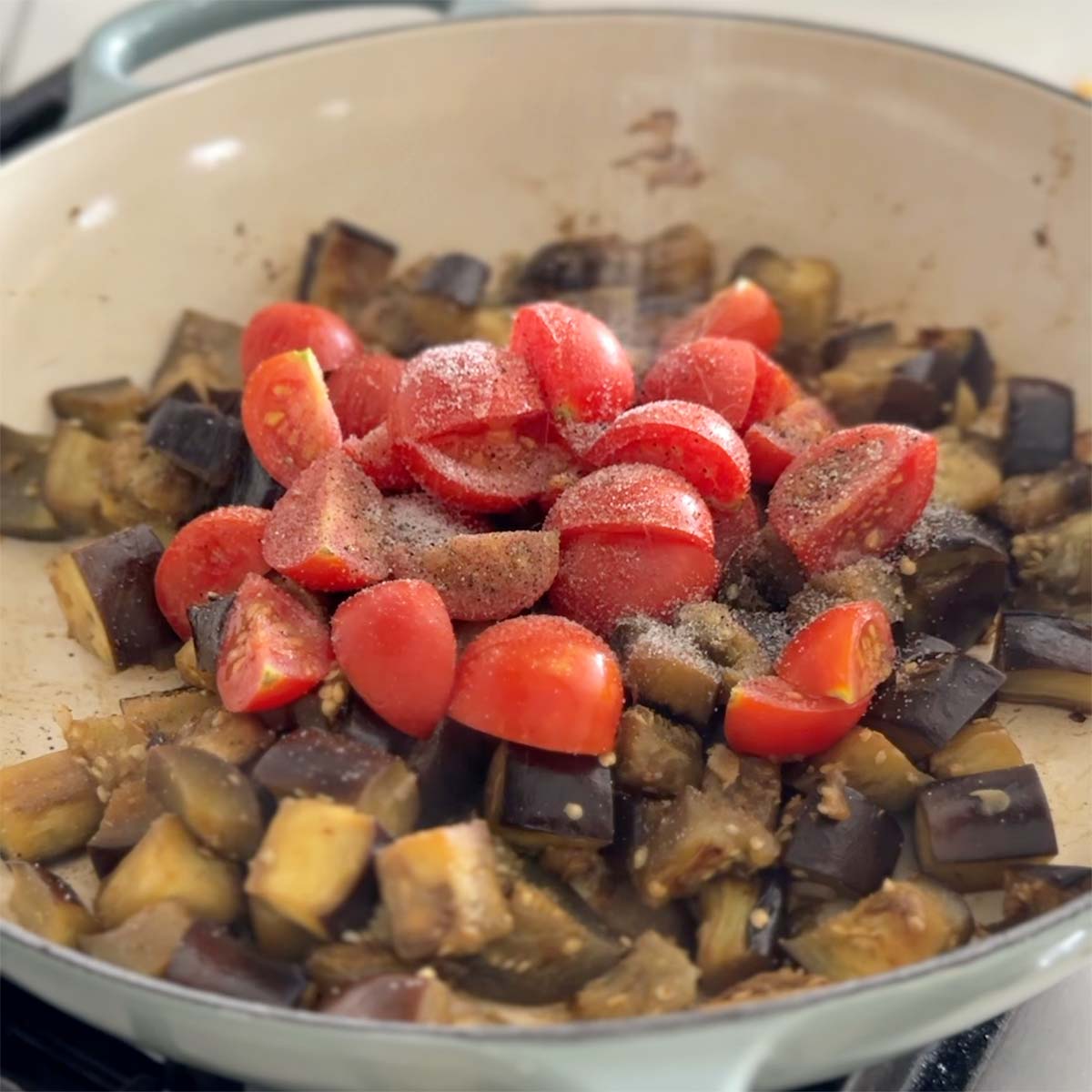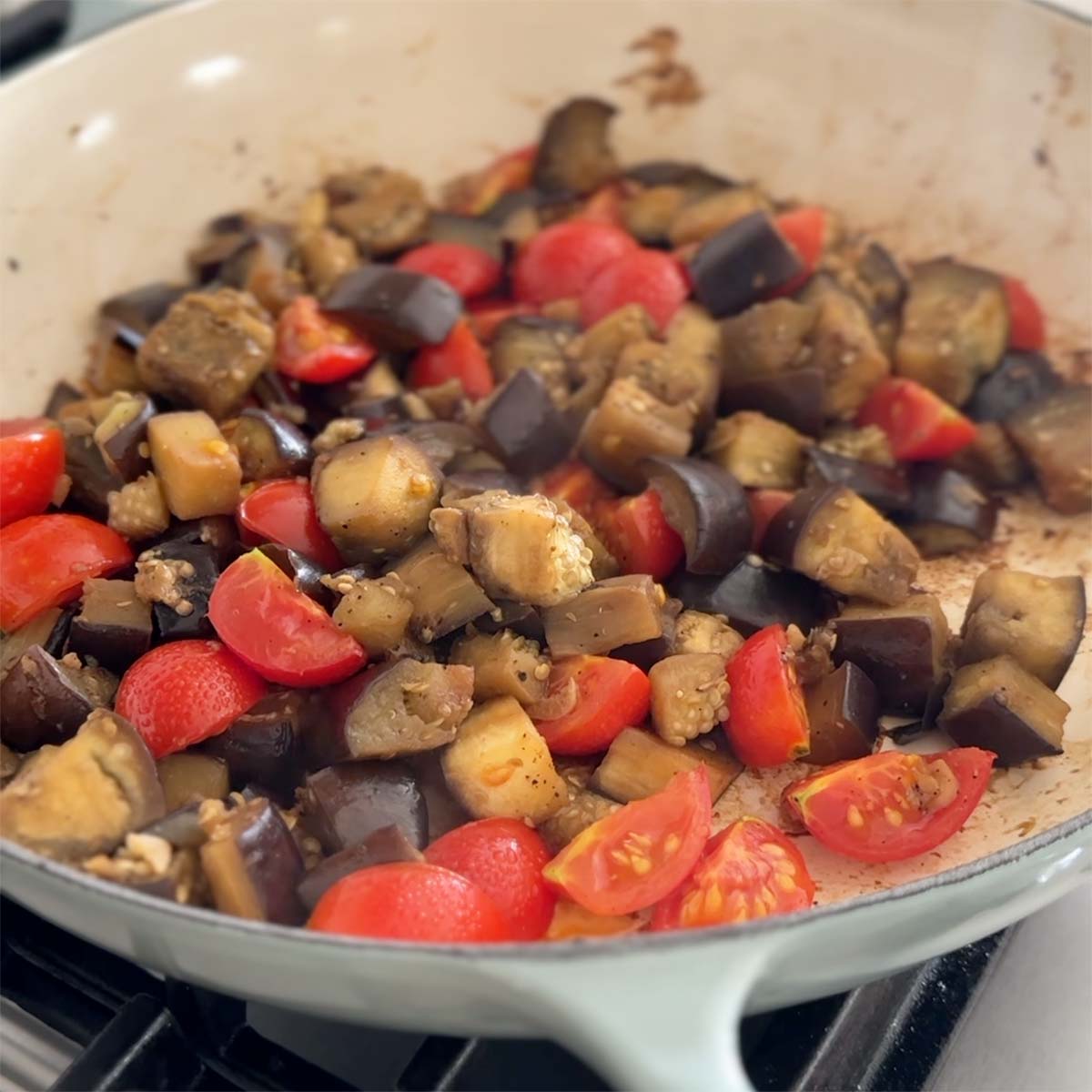 Step 4
Garnish with fresh basil leaves. Optionally, add parmesan cheese to enhance the flavor. Serve warm.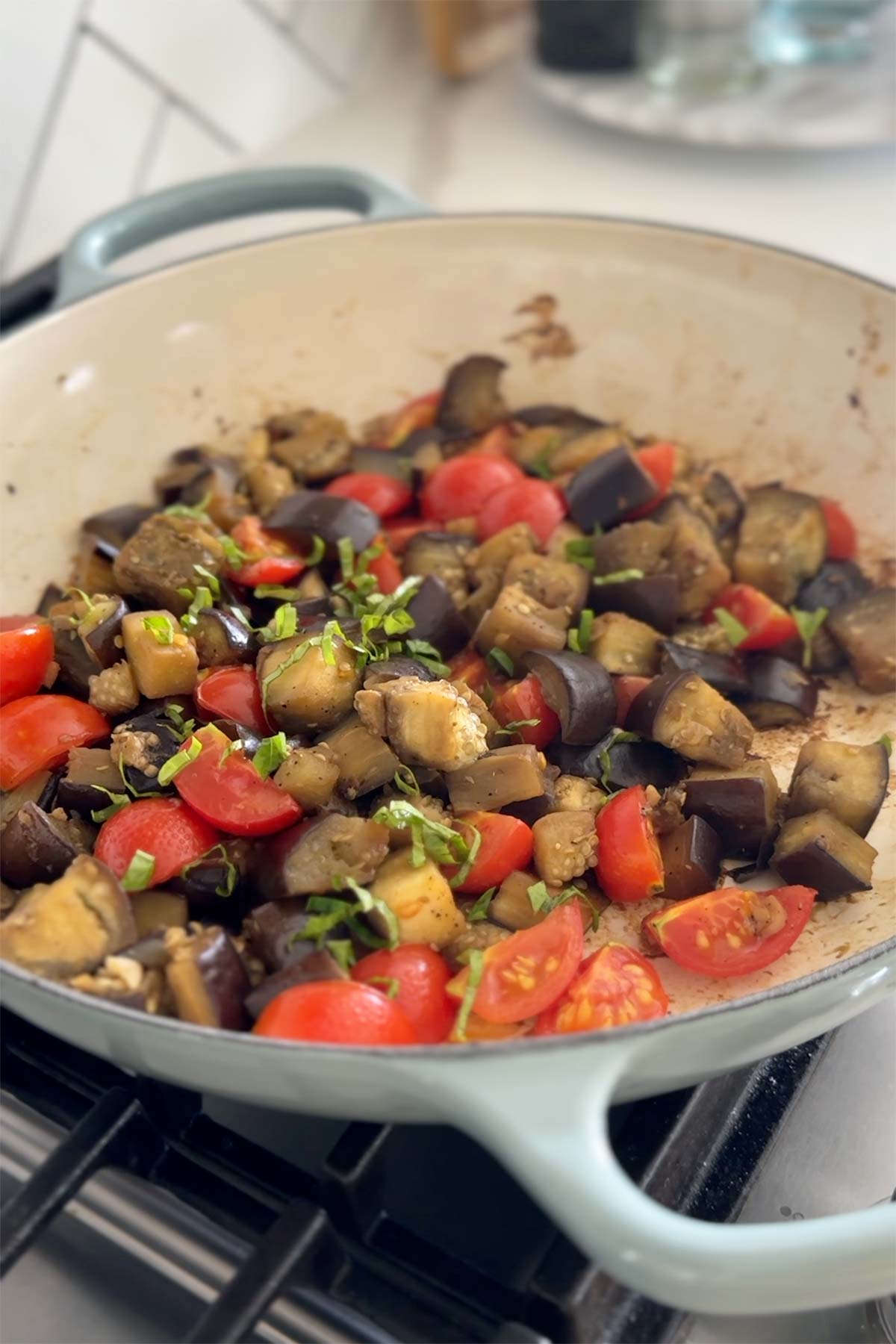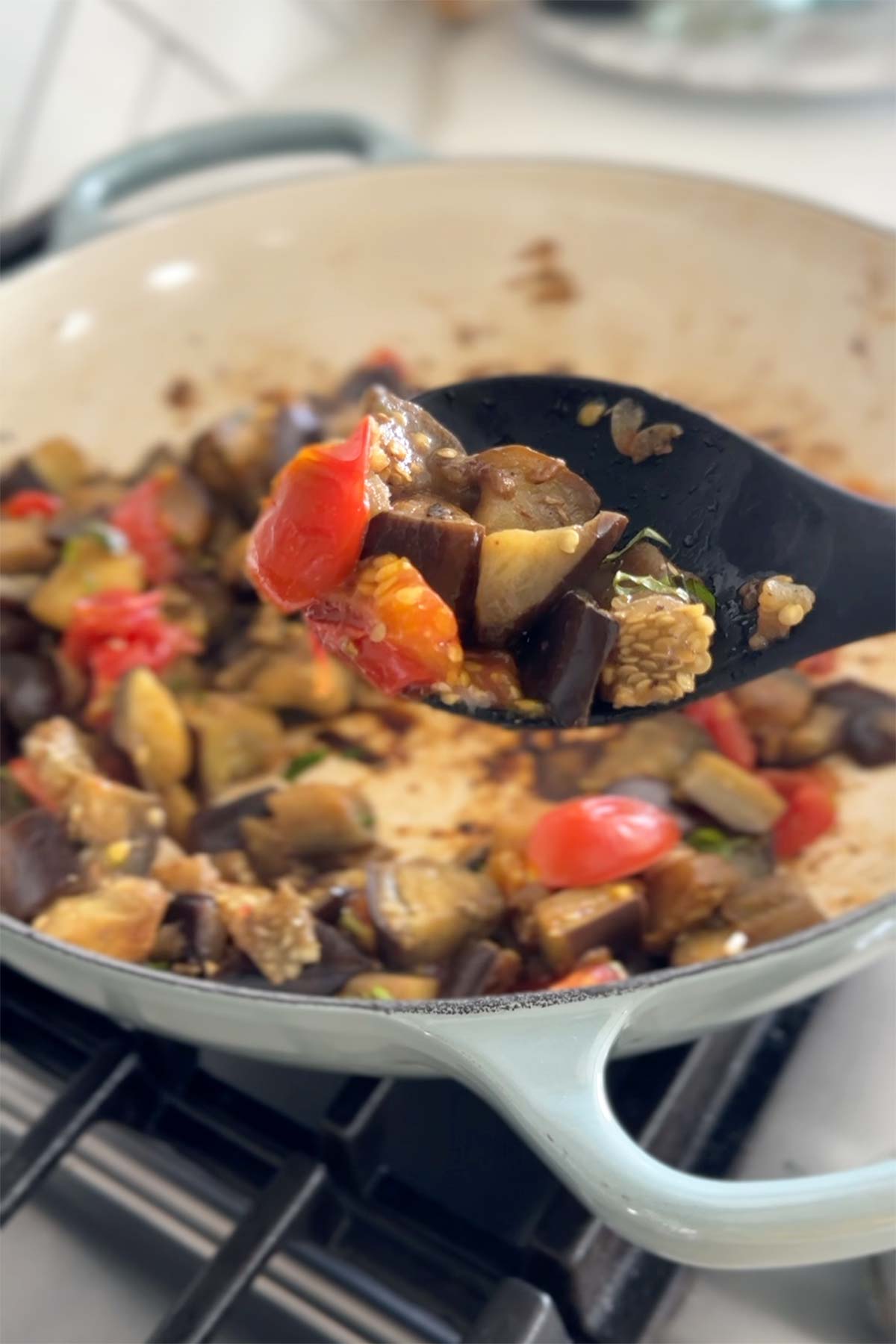 Serving suggestions
Helpful Tips
Dice the eggplant as evenly as possible; this will help ensure even cooking.
Avoid overcooking the eggplant, as this can result in mashed eggplants.
Use a non-stick pan to prevent the eggplant from burning or sticking to the base. However, I mostly use my enameled cast-iron pan for sauteing veggies and roasting chicken. It sometimes develops a brown layer from roasting, which I deglaze with some water, adding a nice flavor to the dish. If you're using a heavy cast-iron pan for this recipe, just be cautious and stir the eggplant frequently to avoid burning, as burnt bits can ruin the taste.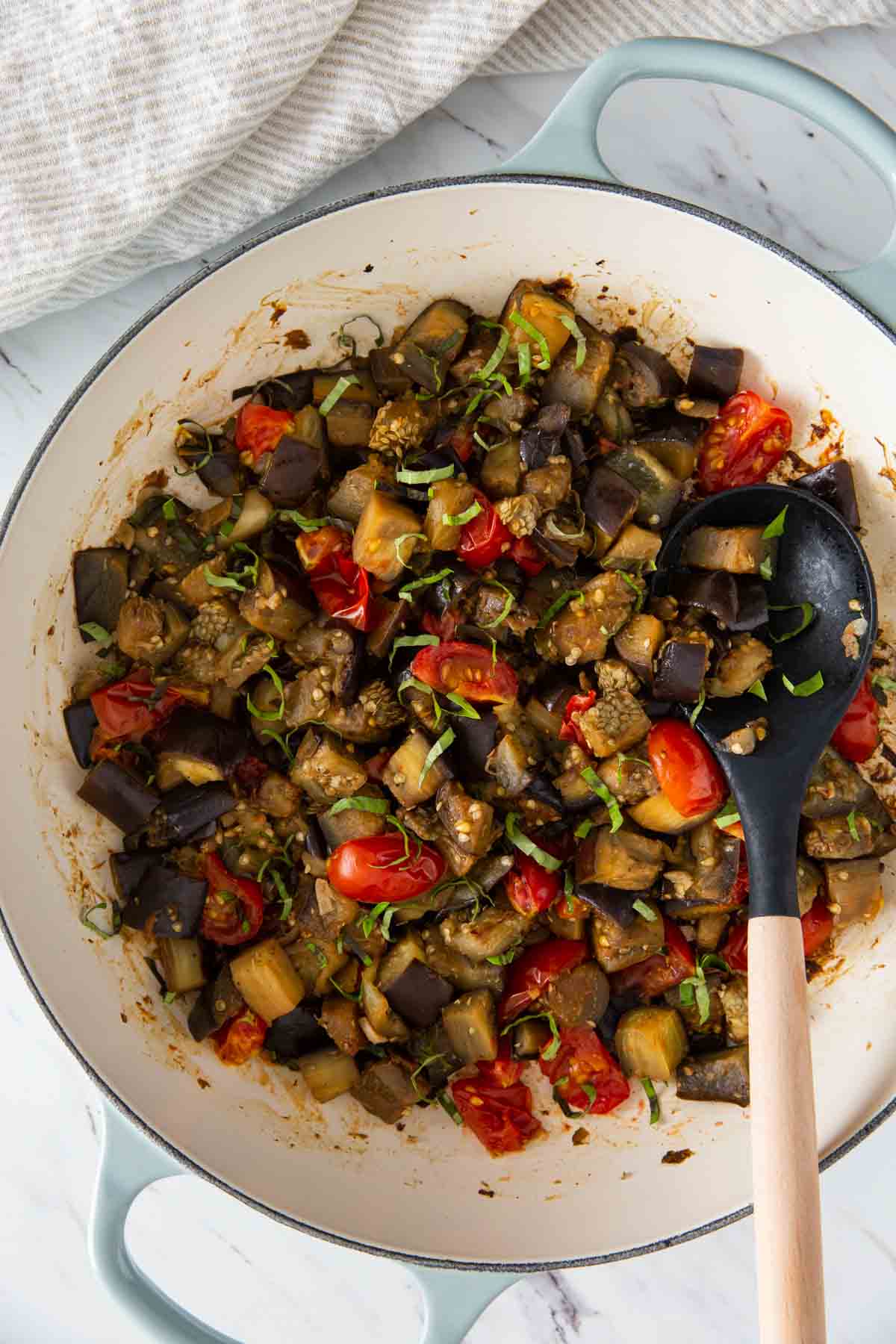 Recipe variations
Here are some variations you can try with this eggplant and tomato recipe:
Add sardines or anchovies (canned fish) once the eggplant is done cooking for more protein and flavor.
Consider adding diced bell peppers, zucchini, squash, etc., to make this dish richer in veggies. Add these vegetables along with the eggplant to the frying pan.
You can omit tomatoes in this recipe and make sautéed eggplant with garlic and other seasonings mentioned above.
If you're following a vegan diet, you can skip using Parmesan cheese. It's optional and doesn't affect the taste of the dish.
To get a bit of heat in the dish, add a pinch of red pepper flakes while sautéing the eggplant and tomatoes.
Experiment with fresh herbs like parsley or rosemary for added flavor and freshness.
FAQs
How to store and reuse leftovers?
Let the leftovers cool down completely, and then store in an air-tight container in the refrigerator for 2-3 days.

Sprinkle some water and reheat leftovers in a small pan on the stovetop until steamy hot or microwave it for 1-2 min.
Is it necessary to peel the eggplant before cooking?
No. The eggplant skin is soft and edible and cooks very easily. Therefore, there is no need to peel the eggplant before cooking.
More Italian-inspired dishes to try
Love this recipe? Please leave a 5-star ⭐⭐⭐⭐⭐ rating in the recipe card below & a review in the comments if you REALLY like this recipe. Thank You!
📖 Recipe
15 Min Sauteed Eggplant And Tomatoes
Prepare quick and easy sautéed eggplant and tomatoes with fresh garlic and herbs in just 15 minutes. It's perfect to serve as a side, over pasta, or as a dip for appetizers.
Ingredients
2

large

eggplants (around 1.5 lb)

diced into 1-2 inch pieces

6-7

cherry tomatoes

cut into quarters

2

garlic cloves

finely chopped

1

teaspoon

cooking oil

salt and pepper

2

tablespoon

chopped fresh basil
Instructions
Heat cooking oil in a large skillet on medium heat,

Add fresh chopped garlic and cook until fragrant for about 30-40 seconds.

Add diced eggplant and saute with garlic and oil for 1 min. Cover and cook it on low heat for about 6-8 mins.

Then add tomatoes, salt and pepper, mix well. Cover and cook for 2 more mins.

Sprinkle some freshly chopped basil and serve warm. Optionally drizzle some extra virgin olive oil and parmesan cheese before serving.
Notes
Do not cut eggplants well in advance. It will cause enzymatic browning when cut eggplant is exposed to air. Therefore, cut it into pieces just before you are ready to cook.
Use regular tomatoes like roma or tomatoes on the vine if you do not have cherry tomatoes. Just dice it into 1-2" size pieces.
Use a cast iron pan for even heating and a delicious roasted taste in the dish.
If you are vegan, skip using parmesan cheese.
Tried this recipe?
Tag us on Instagram @watchwhatueat or tag #watchwhatueat! OR leave us a comment & rating below. Your feedback is very important to us.