This post was sponsored by Anova as part of an Influencer Activation for Influence Central and all opinions expressed in my post are my own.
Learn to make healthy Sous Vide chicken thighs with minimal preparation. A perfect lazy meal for busy times. And, get the restaurant-style texture of meat protein at home using Sous Vide cooking.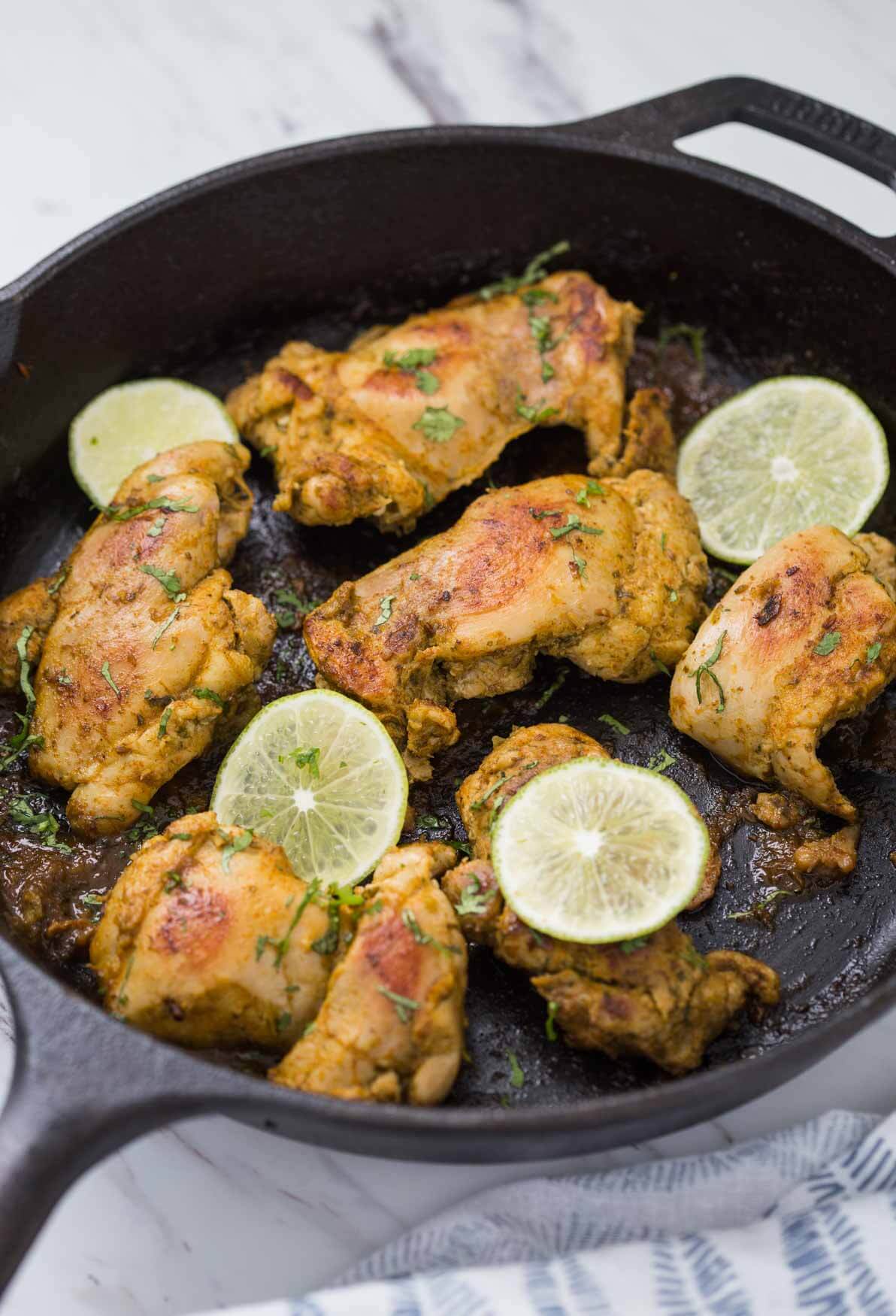 What Is Sous Vide cooking?
Sous Vide means under vacuum.
As the name suggests, Sous Vide cooking involves cooking vacuum-sealed food in a precisely-controlled water bath. This is the technique most high-end restaurants use to get the perfect level of doneness in the meat dishes.
As a Food Engineer by education and training, who has studied different cooking methods, I can confidently say that Sous Vide cooking produces results that are impossible to obtain in any other cooking method.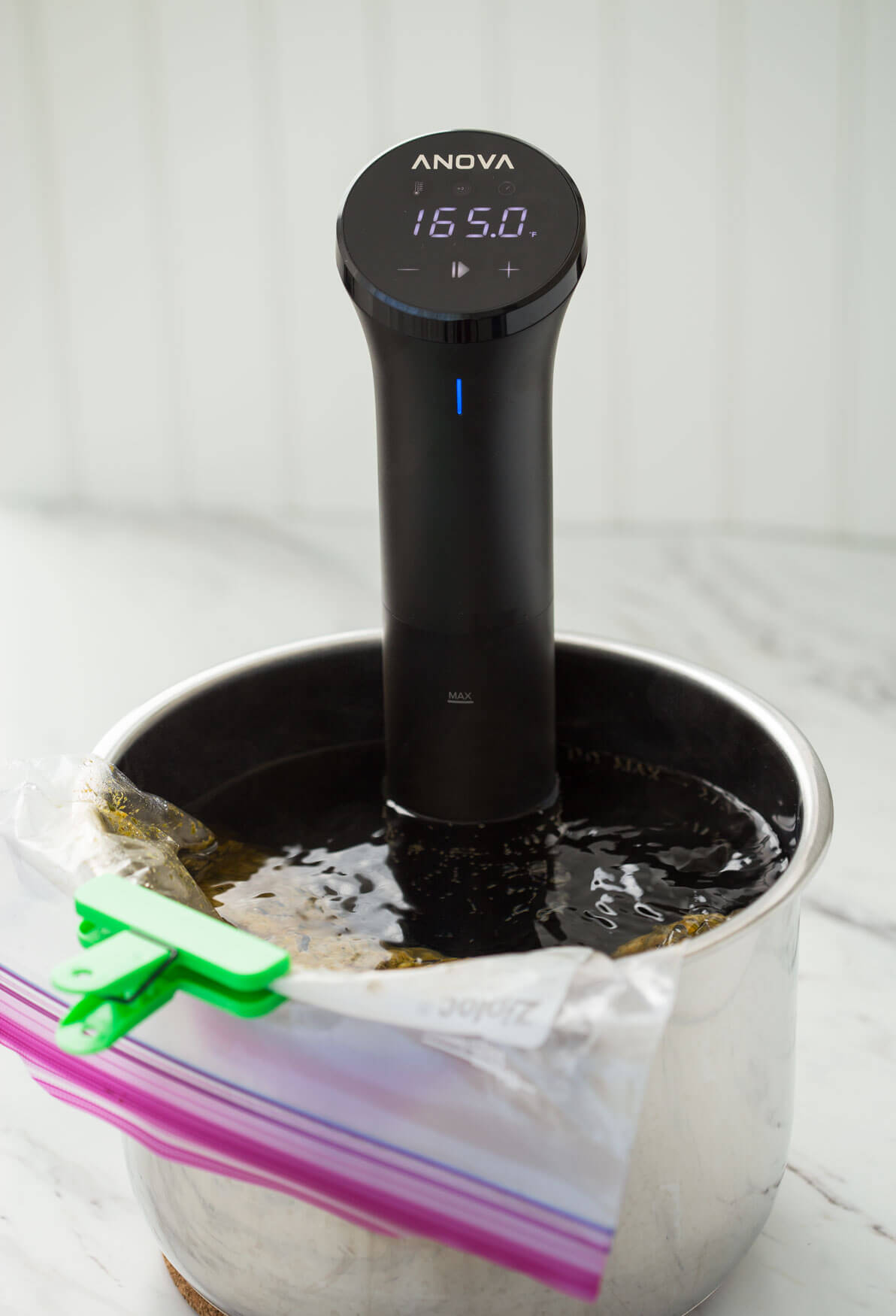 Sous Vide cooking at home
Thanks to Anova for making it possible to cook food Sous Vide style at home. Using the Anova Precision Cooker we can easily prepare restaurant-style quality dishes at home with consistent results easily.
Simply hang your veggies and meat proteins in a water bath with the Sous Vide cooker until you are ready to eat. No loss in quality and no question of overcooking. Such is the benefit of using a Sous Vide cooker.
Are you new to Sous Vide cooking?
Don't worry, make these cilantro lime chicken thighs Sous Vide style to learn and experience the results first-hand at home. Follow the step-by-step process to prepare chicken using the Sous Vide cooker described below.
Ingredients for cilantro lime chicken thighs
Chicken thighs – I use organic boneless and skinless chicken thighs for this recipe
Fresh cilantro – use a generous amount of fresh cilantro. Thoroughly wash it before using
Lime – use fresh lime juice
Garlic – use fresh whole garlic cloves
Jalapeno – to add some heat and color to the dish. Remove the seeds or skip it altogether if you want a mild taste
Spices – use smoked paprika, cumin, salt, and black pepper to flavor the chicken
Cooking oil – I prefer using olive oil suitable for cooking at high heat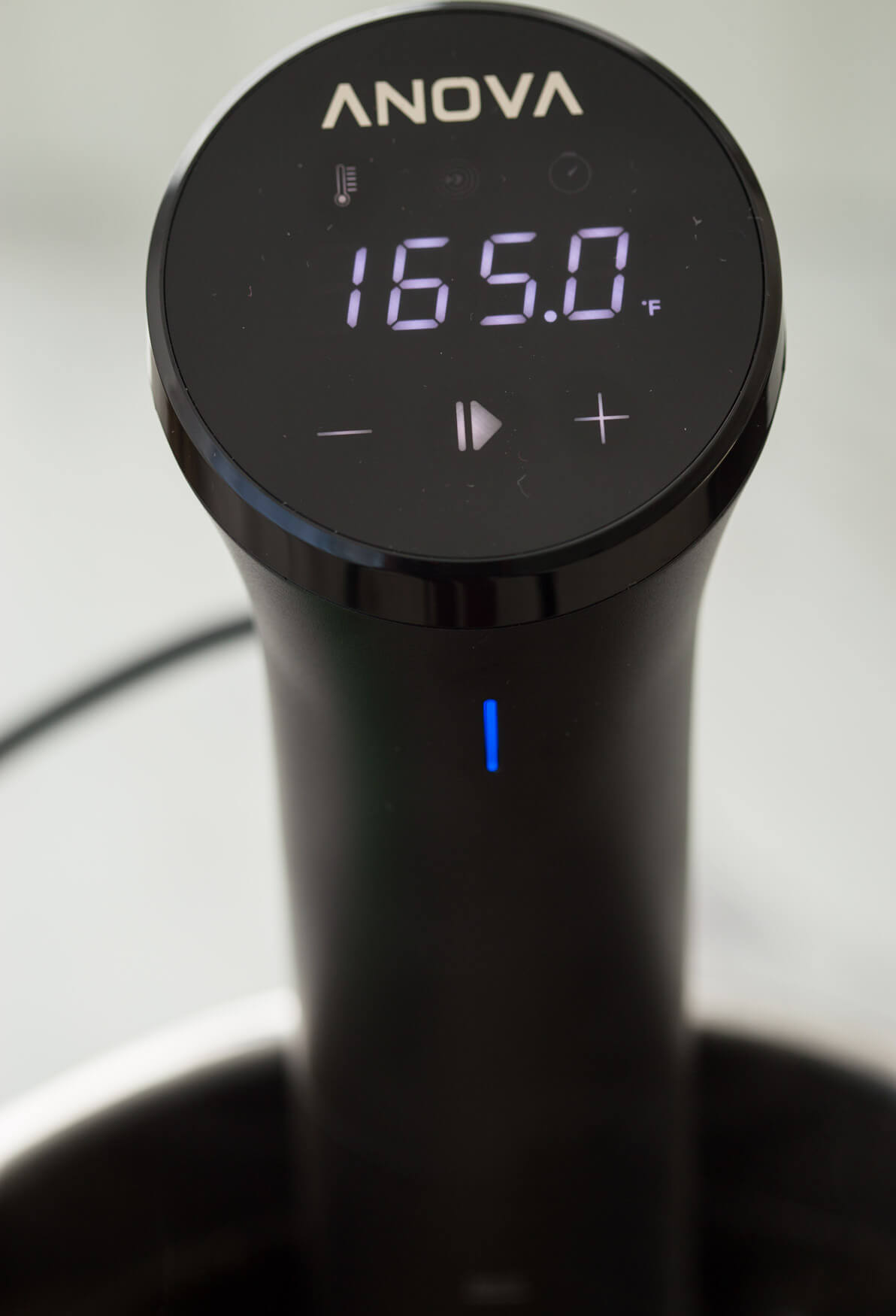 What you will need for Sous Vide cooking?
Sous Vide Cooker – This is a must-have as we are making chicken thighs Sous Vide style. For this recipe, I am using the Anova Precision Cooker Nano in my kitchen. It is easy to use, reliable, and has very few buttons to control it. You can also control it through your phone. Just download the Anova app, and it will detect your cooker when it is on. It is a perfect holiday gift for the chef in your family!
Sealable Bags – you will need them to hold your food. You can either use food-safe Ziploc bags, stasher/food saver bags, or vacuum-seal bags.
Water bath – a large pot or a heat safe container to create a water bath.
How to Sous Vide chicken thighs?
Preparing Sous Vide cooker for the cooking:
Fill a large and deep stockpot with water. Then, clip your Sous Vide cooker (mine is Anova Nano) to the pot. Ensure the water level is between the min and max mark on the Anova Cooker for best results. Now turn on the machine and set it to your desired temperature. For this recipe, we are setting the cooker to 165F. Also, make sure there is enough space to completely immerse the chicken into the pot.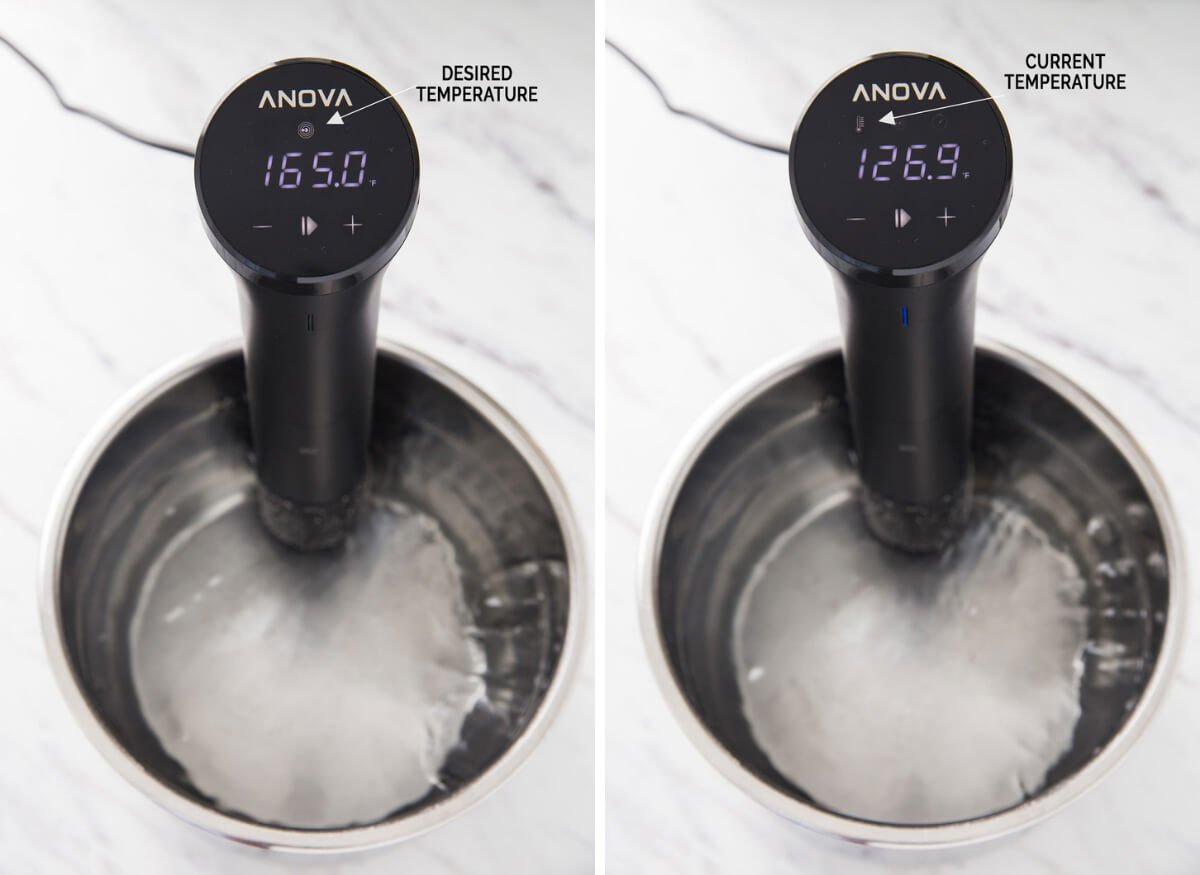 Prepare Cilantro Lime Marinade:
In a small blender jar combine fresh cilantro, garlic cloves, roughly chopped jalapeño, paprika, cumin seeds, lime juice, salt, and pepper. Then blend this mixture till you get a thick and coarse consistency.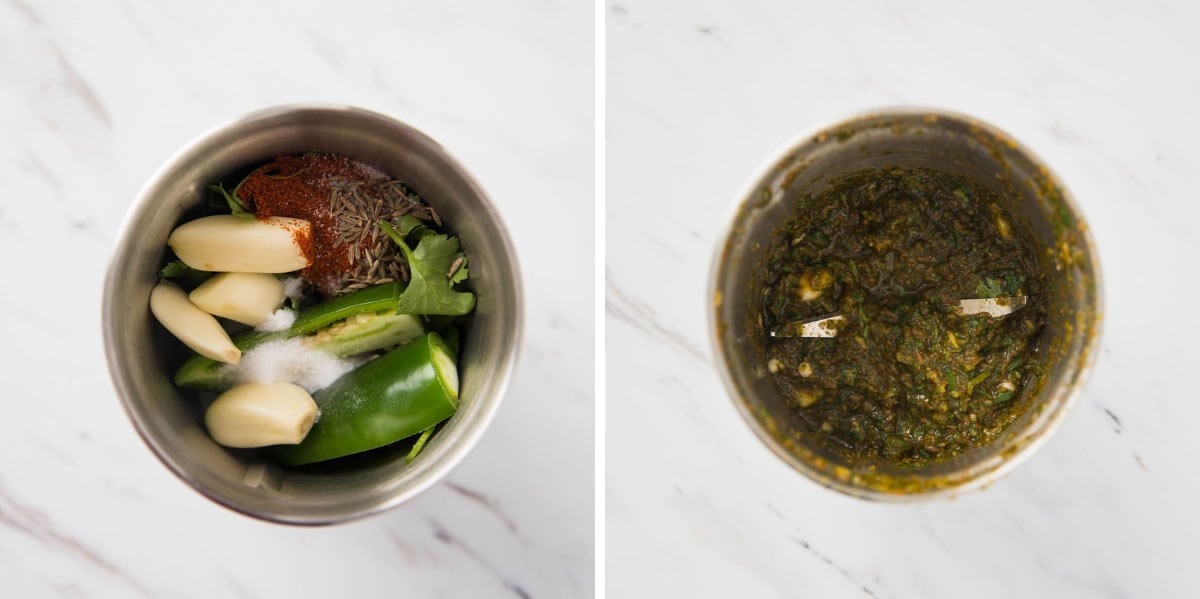 Marinating chicken thighs:
Pat dry chicken thighs using a kitchen paper towel and put them in a large Ziploc bag. Then add the prepared cilantro mixture, close the bag, and using clean hands gently rub the bag to coat the marinade evenly on the chicken thighs. You can marinate the chicken well in advance or the day before to get a more flavorful dish.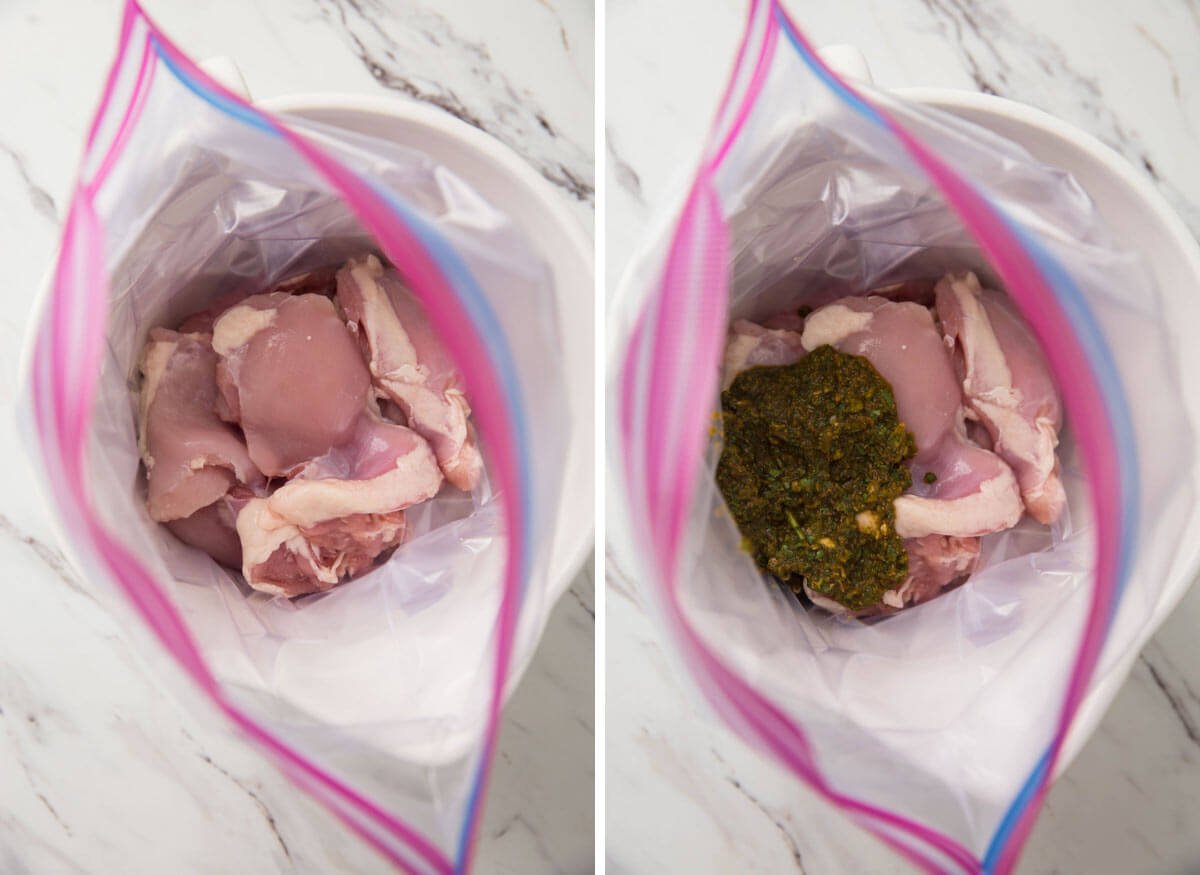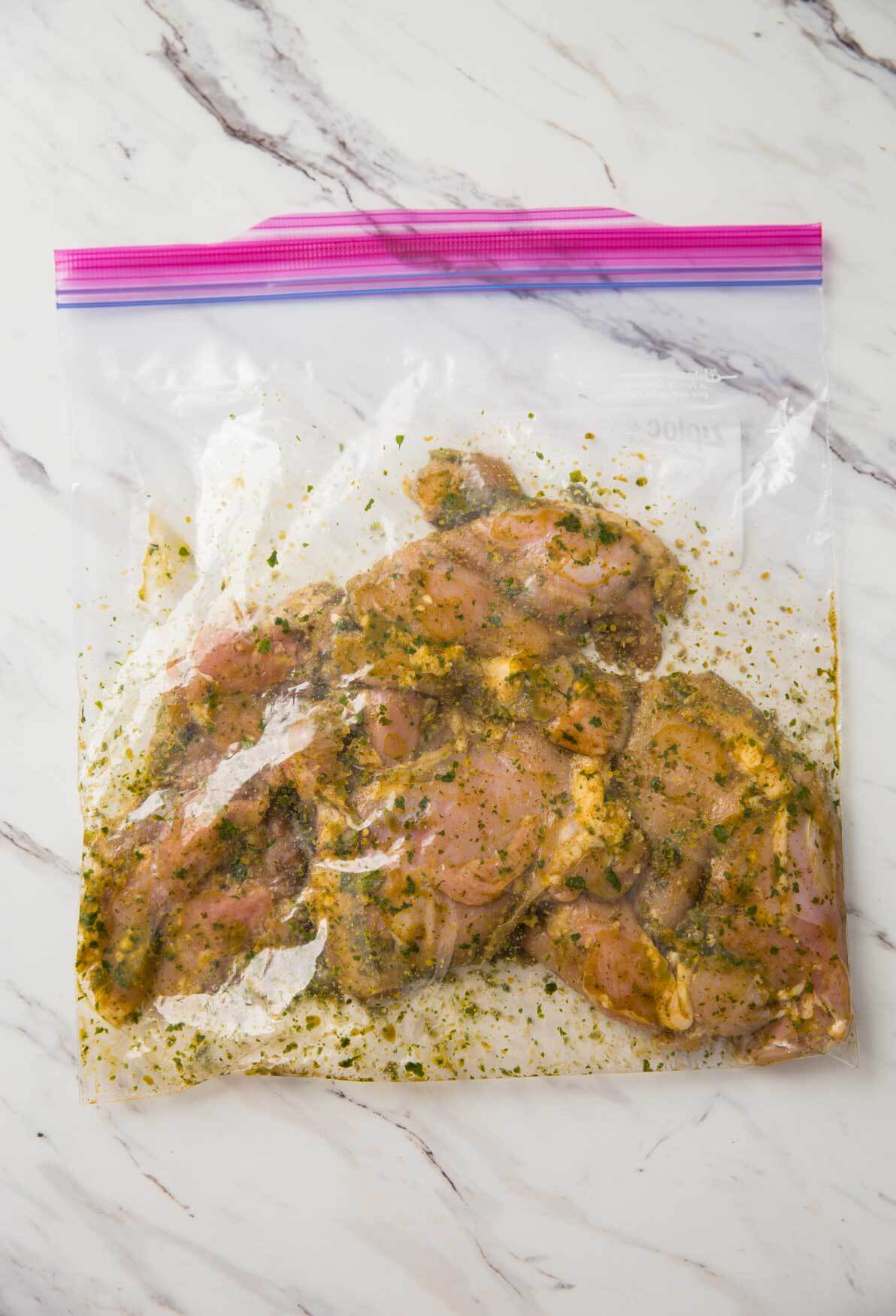 Chicken Thighs Sous Vide Cook Time:
Open the Ziploc bag with the marinated chicken slightly on one side. Slowly slide it in the preheated Sous Vide water bath. It will help the air to escape from the bag and then seal the bag completely. Set the cooking timer for 2 hours. It is recommended to cook the boneless chicken thighs for 2-4 hours at 165F for a tender and juicy texture.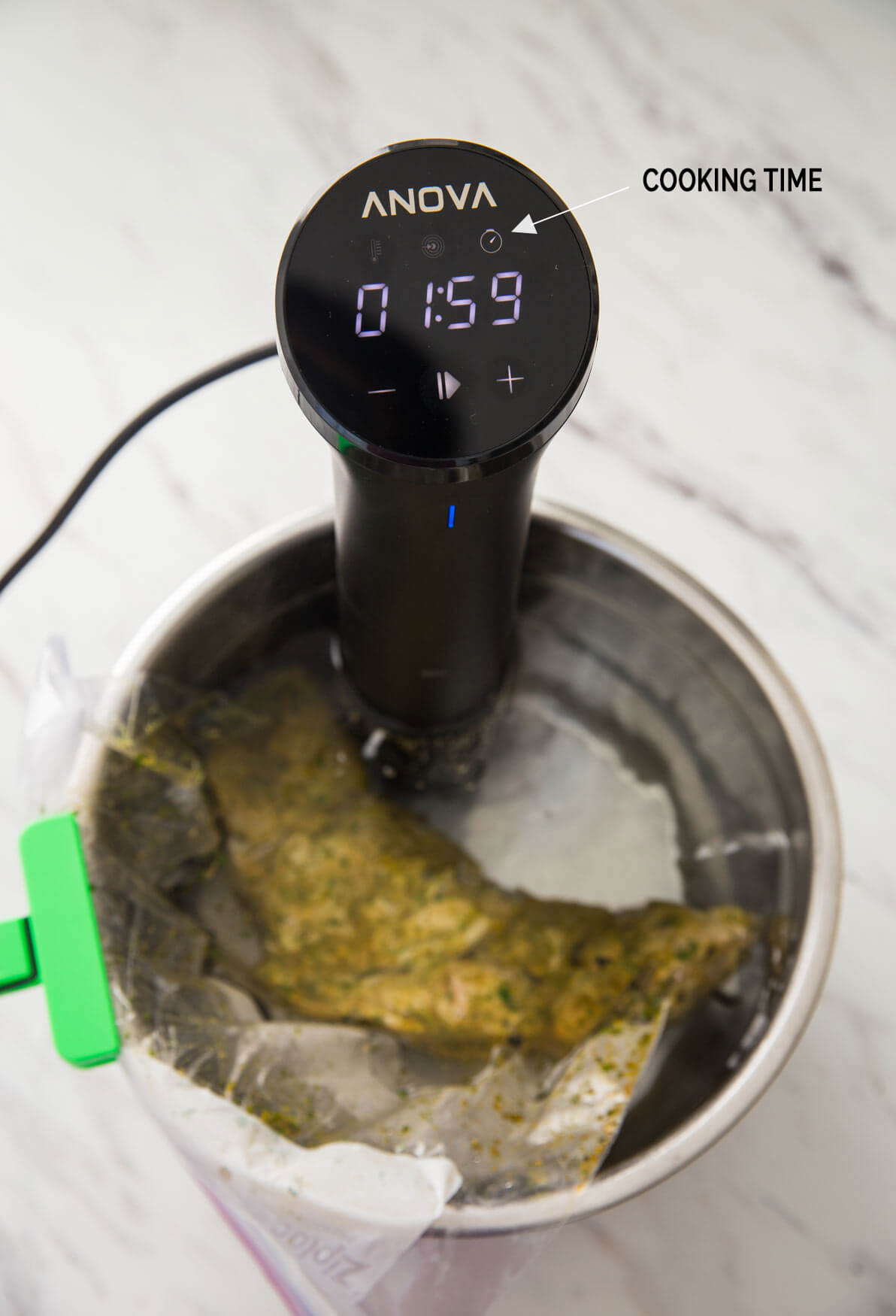 Sous Vide cooked chicken
The chicken cooked via the Sous Vide process maintained the same soft texture and color inside out. I personally felt the Anova Sous Vide Cooker did a very good job of keeping a uniform water bath temperature throughout the cooking process. This resulted in uniform and even cooking. Since the cooking temperatures don't exceed 212F, the meat proteins don't toughen up, which we normally experience when cooking meat products at high temperatures using other methods.
To achieve a soft and juicy texture of the meat protein, Sous Vide cooking is ideal and the consistency is unmatched compared to other traditional cooking techniques.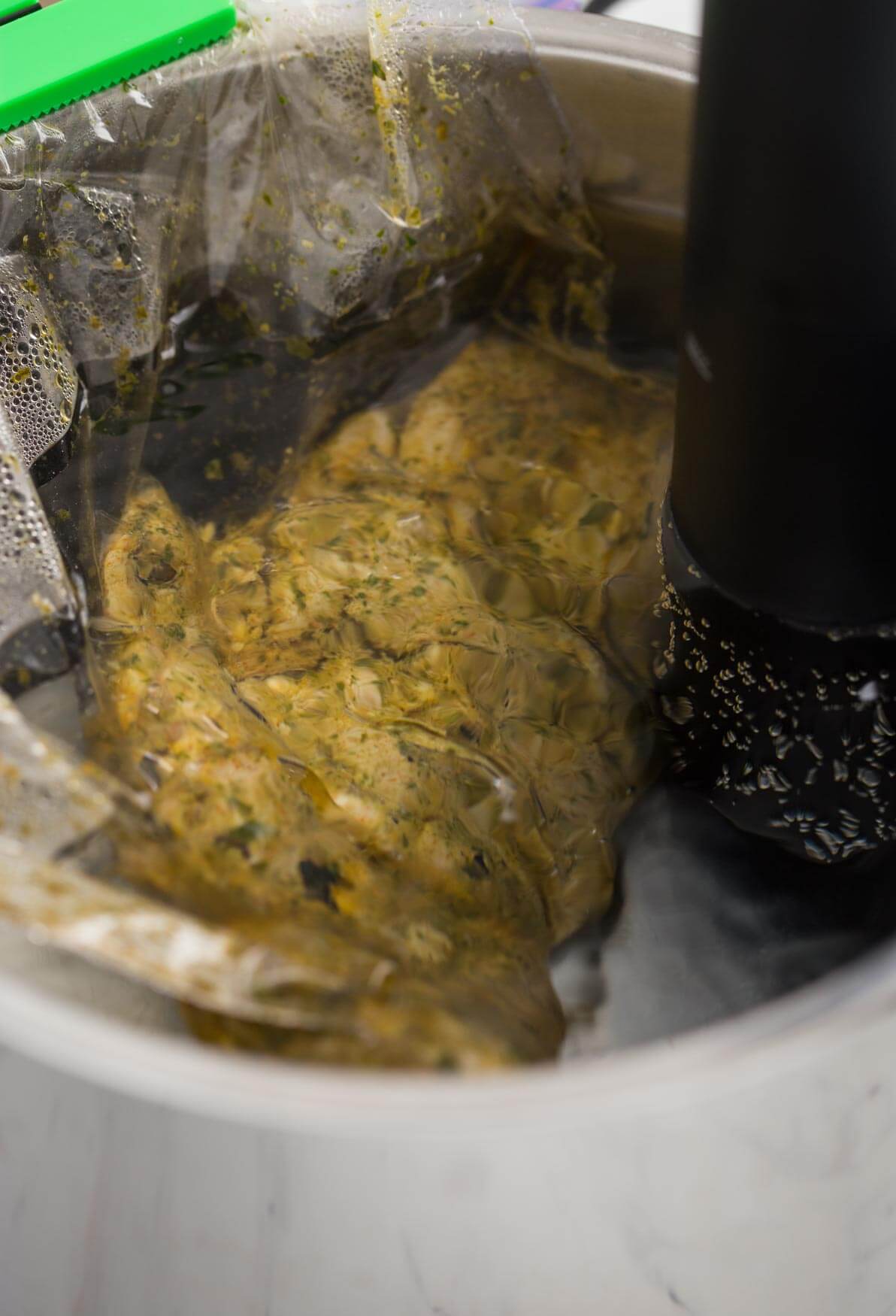 How to get the delicious crust on Sous Vide chicken thighs?
After cooking the chicken thighs Sous Vide style, they won't look like the final dish. You can still eat them as they are fully cooked but, to get the finished look on the dish you will have to do a quick searing on the stovetop. Don't worry, it won't change the texture of the chicken inside.
Once the cooking timer is over, remove the chicken carefully from the bag leaving behind all the juices. Heat some oil in a cast-iron pan on medium to high heat. Once the pan is perfectly hot, place the cooked chicken pieces. Cook them for 2-3 min and then flip and cook for another 1-2 min. Remove the chicken from the pan and then add all the chicken juices/drippings. Cook the juice for 2-3 min until you get the desired consistency. Turn off the heat and then add back the chicken pieces to the sauce. Serve warm.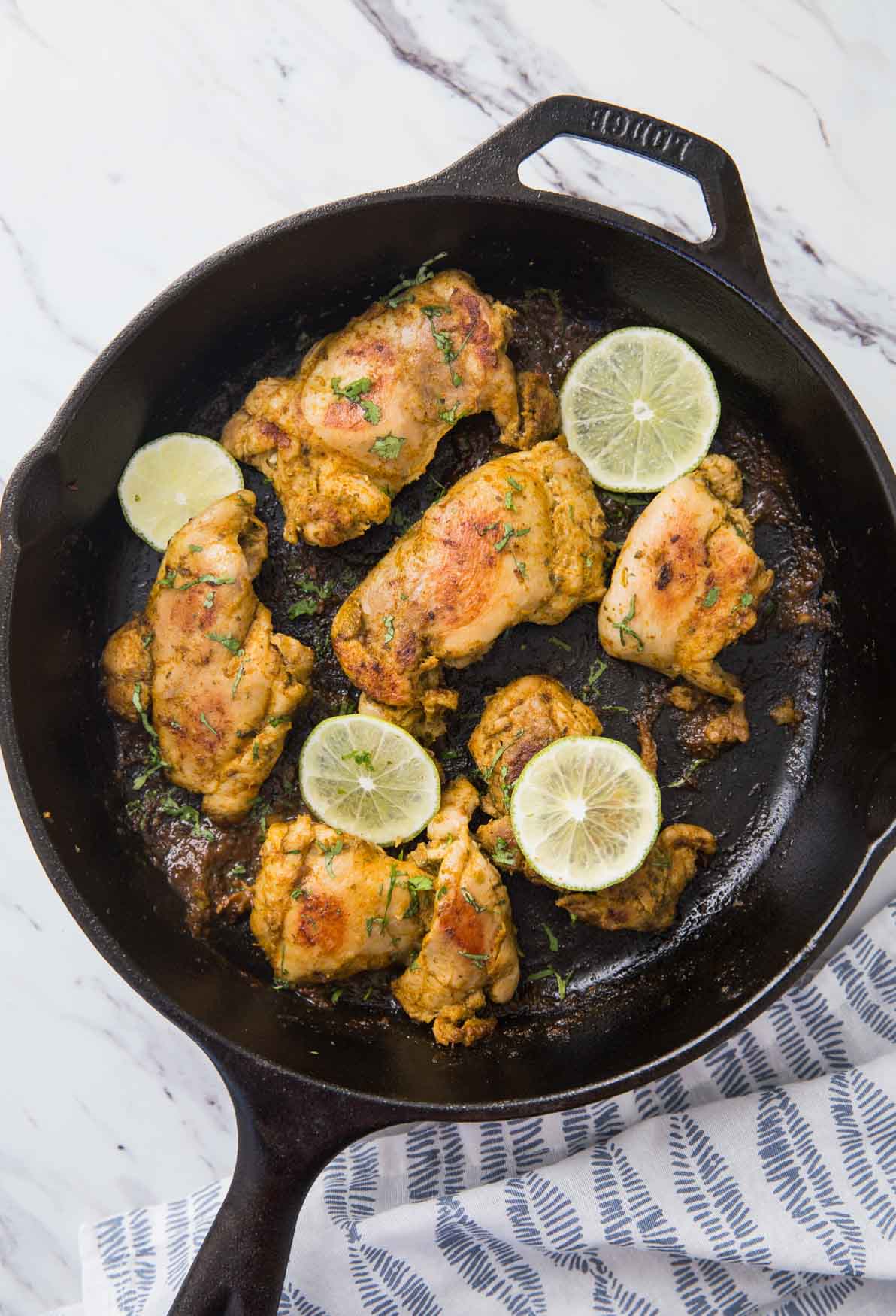 Recipe Variations
Marination – You can use your favorite marinade to prepare chicken thighs. For example, try these spice combinations from chicken tandoori, chicken tikka, or barbecue chicken.
Helpful tips!
Buying chicken – buy organic, naturally grown chicken, whenever possible. It does make a difference in taste. To cut the amount of cholesterol, buy skinless chicken thighs.
Sous vide water bath – deep stockpot for heating the water is essential. I used a stainless steel pot from my 5 quarts Instant Pot. It worked perfectly with my Anova Precision Cooker Nano.
Also, use a trivet under the water bath to save your countertop or furniture from getting damaged due to heat.
To minimize preheating time and to bring the water bath to the desired temperature quickly, use somewhat warm water, to begin with.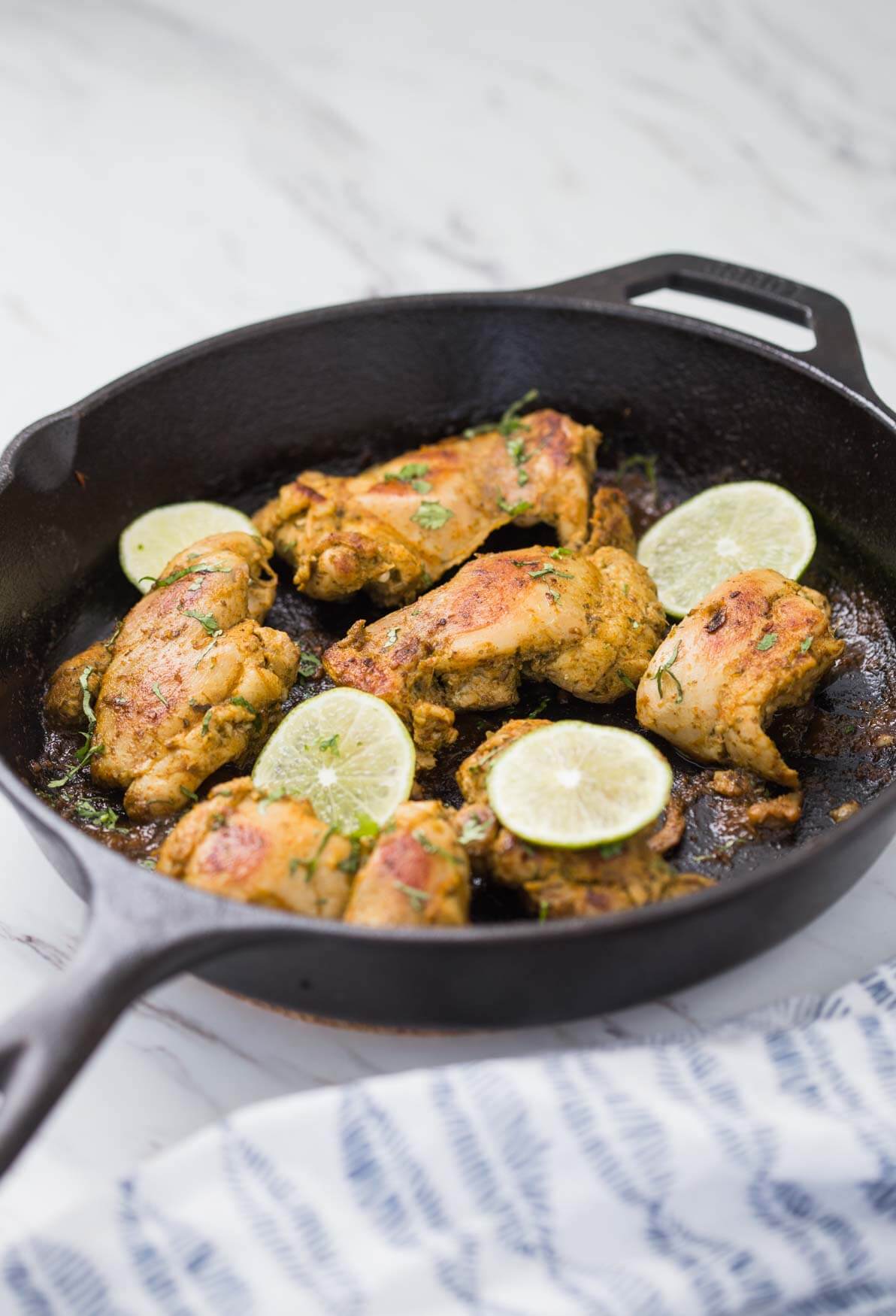 Serving Suggestions!
More Chicken Recipes That You Will Love
📖 Recipe
Sous Vide Chicken Thighs
Make these healthy Cilantro Lime Chicken Sous Vide style to get restaurant-like cooked chicken at home. A quick and easy recipe that needs very little prep time. Sous Vide can cook these chicken thighs to perfection with a tender and juicy texture. Finally, sear them quickly in a hot pan to get a nice crust.
Ingredients
6

medium chicken thighs

2-3

garlic cloves peeled

1

jalapeno

optional

½

cup

loosely packed fresh cilantro

plus more to garnish

1

teaspoon

smoked paprika

1

teaspoon

cumin powder

2

tablespoon

lime juice

½

tablespoon

cooking olive oil

salt and pepper
Instructions
Fill water in a large pot and then clip the Sous Vide cooker on the side. Set the temperature to 165F to preheat the water.

Meanwhile, in a small blender jar, add garlic, jalapeno, cilantro, paprika, cumin, lime juice, salt, and pepper. Blend the mixture coarsely until everything combines well.

Pat dry the chicken thighs using a paper towel to remove excess moisture and place them in a Ziploc or stasher bag.

Add prepared cilantro lime marinade to the bag, close it and mix well to coat the chicken thighs with the marinade.

Try to remove as much air as possible from the bag and then close it.

Immerse the bag with chicken in the preheated water bath and set the timer to 2 hours. Clip the upper side of the bag to the pot to prevent the water from going inside.

Once the timer is over, remove the bag from the water bath. Take out the chicken pieces carefully, leaving behind the juices or drippings.

Heat some oil in a cast-iron pan over medium to high heat. Place the chicken thighs and cook them for 2-3 min on high heat. Flip the chicken and cook for another 1-2 min on the other side.

Take the chicken pieces out and add the remaining juice/drippings from the bag. Cook for 2-3 min or until the sauce starts to thicken.

Add back the chicken thighs, garnish with fresh cilantro, and serve warm.
Notes
You can mix the cilantro lime marinade with chicken in a mixing bowl and then place it in a sealable bag like Ziploc or stasher bags or vacuum seal bags.
Instead of pan-searing, you can also grill the chicken for a smokey taste.
Carefully handle the chicken after the Sous Vide cooking is over because it will be so tender it can easily fall apart.
Nutrition
Tried this recipe?
Tag us on Instagram @watchwhatueat or tag #watchwhatueat! OR leave us a comment & rating below. Your feedback is very important to us.